Dealing with PDF files online is very easy with this PDF editor. You can fill out illinois ag990il form here in a matter of minutes. To have our tool on the cutting edge of convenience, we strive to adopt user-driven features and improvements regularly. We are routinely thankful for any feedback - join us in revampimg the way you work with PDF files. Here is what you will have to do to get started:
Step 1: Click the "Get Form" button in the top area of this page to get into our editor.
Step 2: Using our advanced PDF editing tool, you can actually do more than just fill in forms. Try each of the features and make your documents seem sublime with custom textual content added in, or fine-tune the original input to excellence - all that comes along with the capability to insert almost any graphics and sign the file off.
It will be easy to fill out the form using out practical tutorial! Here's what you must do:
1. It's very important to complete the illinois ag990il form properly, hence pay close attention when filling out the parts containing these particular blanks: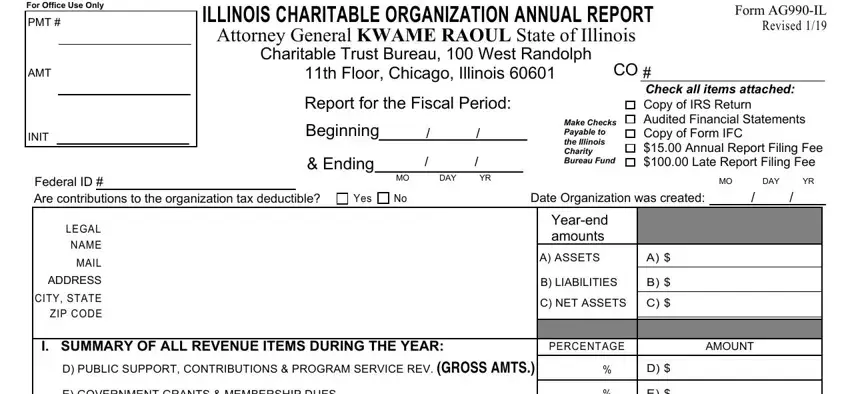 2. Right after the previous array of blank fields is done, go on to type in the applicable information in all these: E GOVERNMENT GRANTS MEMBERSHIP, F OTHER REVENUES, G TOTAL REVENUE INCOME AND, II SUMMARY OF ALL EXPENDITURES, H OPERATING CHARITABLE PROGRAM, I EDUCATION PROGRAM SERVICE EXPENSE, TOTAL CHARITABLE PROGRAM SERVICE, J JOINT COSTS ALLOCATED TO PROGRAM, K GRANTS TO OTHER CHARITABLE, L TOTAL CHARITABLE PROGRAM SERVICE, M MANAGEMENT AND GENERAL EXPENSE, N FUNDRAISING EXPENSE, O TOTAL EXPENDITURES THIS PERIOD, III SUMMARY OF ALL PAID FUNDRAISER, and Q TOTAL FUNDRAISERS FEES AND.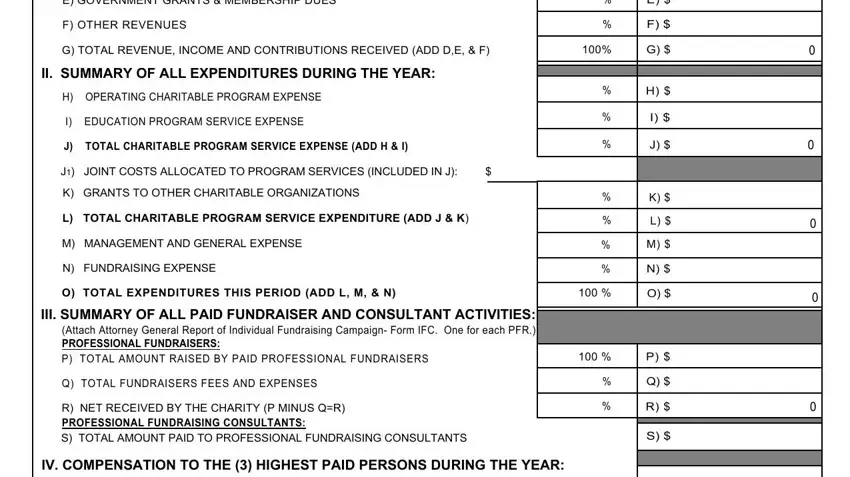 3. The next stage is normally easy - fill out every one of the blanks in T NAME TITLE, U NAME TITLE, V NAME TITLE, V CHARITABLE PROGRAM DESCRIPTION, CHARITABLE PROGRAM HIGHEST BY, List on back side of instructions, CODE, W DESCRIPTION, X DESCRIPTION, and Y DESCRIPTION to complete this process.

4. This next section requires some additional information. Ensure you complete all the necessary fields - IF THE ANSWER TO ANY OF THE, YES, WAS THE ORGANIZATION THE SUBJECT, HAS THE ORGANIZATION OR A CURRENT, EVER BEEN CONVICTED BY ANY COURT, DID THE ORGANIZATION MAKE A GRANT, ANY OFFICER DIRECTOR OR TRUSTEE, HAS THE ORGANIZATION INVESTED IN, TRUSTEE OWNS MORE THAN OF THE, IS ANY PROPERTY OF THE, DID THE ORGANIZATION USE THE, ATTACH FORM IFC, a DID THE ORGANIZATION ALLOCATE, LITERATURE COSTS BETWEEN PROGRAM, and b IF YES ENTER i THE AGGREGATE - to proceed further in your process!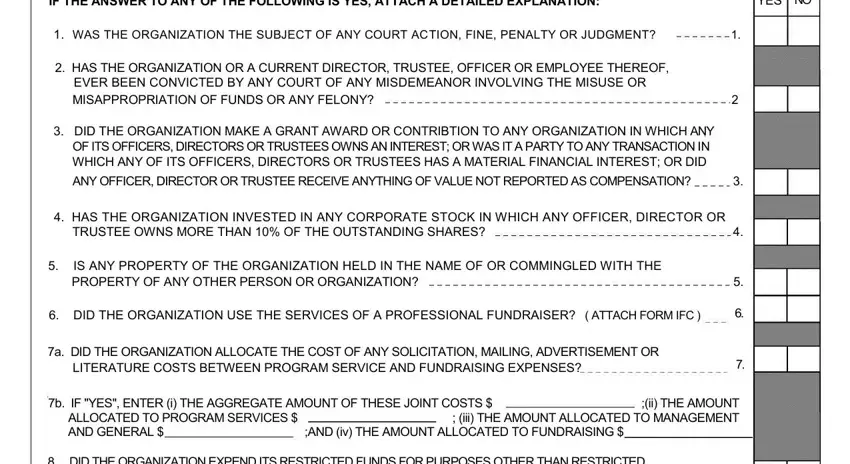 It is easy to make an error when completing your ATTACH FORM IFC, for that reason be sure you take another look prior to when you send it in.
5. This pdf should be wrapped up by filling in this area. Below you will find a comprehensive set of blanks that require specific information to allow your form submission to be complete: DID THE ORGANIZATION EXPEND ITS, PURPOSES, HAS THE ORGANIZATION EVER BEEN, SUSPENDED OR REVOKED BY ANY, WAS THERE OR DO YOU HAVE ANY, MISAPPROPRIATION COMMINGLING OR, LIST THE NAME AND ADDRESS OF THE, THREE LARGEST ACCOUNTS, NAME AND TELEPHONE NUMBER OF, ALL ATTACHMENTS MUST ACCOMPANY, and UNDER PENALTY OF PERJURY I WE THE.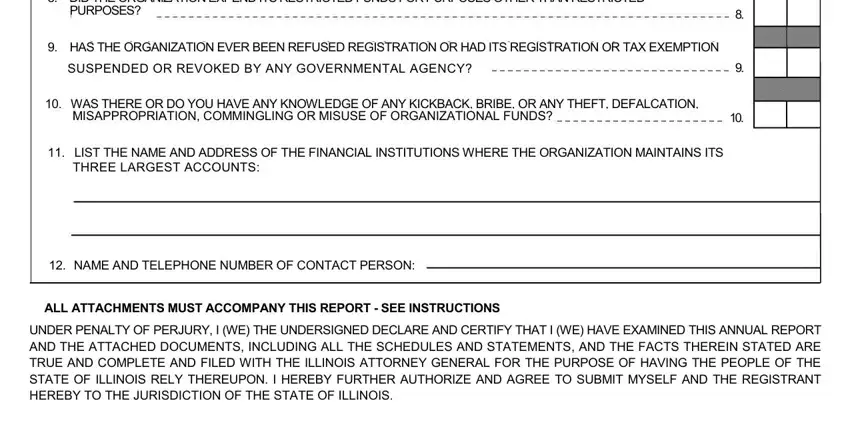 Step 3: Just after looking through the form fields, hit "Done" and you are good to go! Obtain the illinois ag990il form after you sign up for a free trial. Immediately view the pdf document within your FormsPal cabinet, with any edits and changes being automatically kept! Whenever you work with FormsPal, you're able to fill out documents without having to get worried about personal data breaches or entries being distributed. Our protected system helps to ensure that your private data is stored safely.