You can complete tax illinois gov form cpp 1 instantly by using our PDF editor online. The editor is continually updated by our team, receiving useful functions and turning out to be better. To get the ball rolling, take these easy steps:
Step 1: Access the form in our editor by clicking the "Get Form Button" at the top of this page.
Step 2: After you start the tool, you'll notice the document made ready to be completed. In addition to filling out various blanks, you might also perform other actions with the form, namely writing custom textual content, editing the initial text, adding graphics, signing the PDF, and much more.
As for the fields of this specific form, here is what you need to do:
1. It is critical to fill out the tax illinois gov form cpp 1 accurately, thus be mindful when filling in the parts that contain these specific blanks: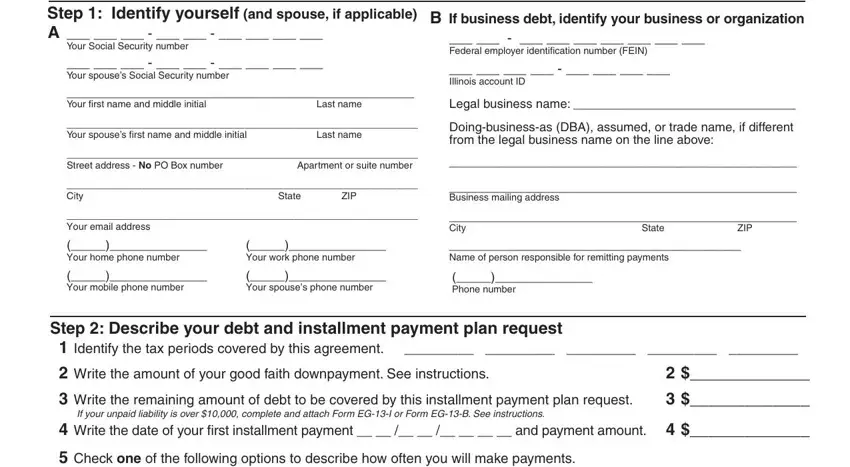 2. The third part would be to submit all of the following fields: One payment per month Date of, One payment per week Day of week, One payment every other week Day, Step Provide your financial, Financial institutions name, Mailing address, City, State, ZIP, Names on the account list all names, Routing number, Checking or, Savings, Find your routing number at the, and Account number.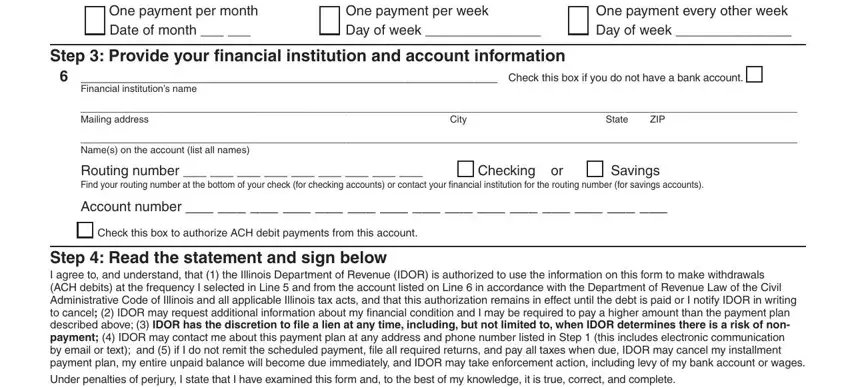 Many people often make errors when filling in One payment per month Date of in this area. Be sure to read again what you enter here.
3. This third segment is considered rather straightforward, Your signature or, Month day year, Department use only, Approved by assignee, Date approved by assignee, Approved by supervisor, Date approved by supervisor, CPP R, This form is authorized as, and Printed by the authority of the - these empty fields must be completed here.

Step 3: Proofread the details you've entered into the blanks and press the "Done" button. Find your tax illinois gov form cpp 1 the instant you register at FormsPal for a 7-day free trial. Immediately access the document from your FormsPal account page, with any edits and adjustments being conveniently kept! We don't share the information you type in when working with forms at our website.