Should you desire to fill out il form cbs 1 instructions, you don't have to download and install any kind of programs - simply use our online tool. To maintain our editor on the leading edge of convenience, we strive to implement user-oriented features and improvements on a regular basis. We're routinely grateful for any feedback - join us in revolutionizing PDF editing. It just takes a couple of easy steps:
Step 1: Click on the "Get Form" button at the top of this webpage to open our PDF editor.
Step 2: Once you launch the file editor, you will notice the form prepared to be completed. Aside from filling in different blanks, you can also perform various other things with the Document, specifically writing any text, editing the original text, inserting images, placing your signature to the document, and more.
As a way to complete this document, make sure that you provide the necessary information in each blank:
1. You will want to fill out the il form cbs 1 instructions correctly, therefore be attentive when working with the segments containing all of these blank fields: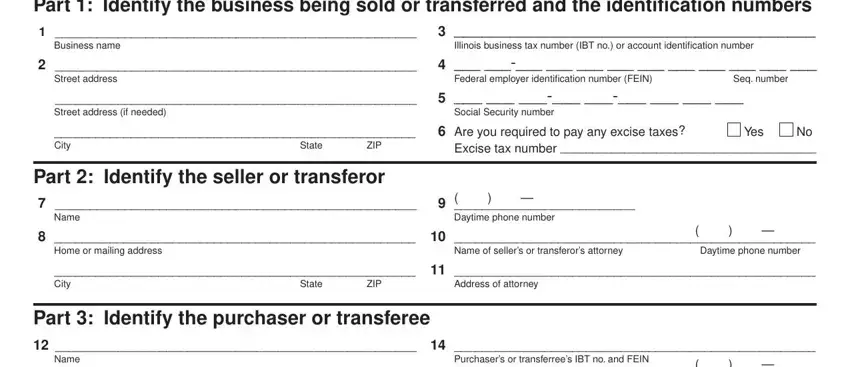 2. When the previous array of fields is completed, you have to add the needed specifics in Home or mailing address City, Name of purchasers or transferees, Daytime phone number, Address of attorney, State, ZIP, assets transferred, Part Describe the terms of sale, provide additional information as, Yes No Write the date to be, Cash sale Contract sale Complete, department to remain active, Yes No You must complete Line, Part Sign below This must be, and Daytime phone number so you can move forward further.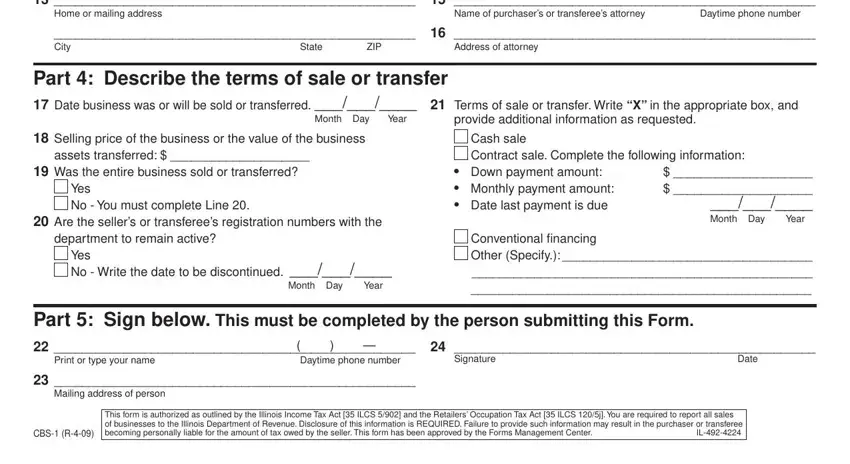 It's easy to make an error while completing the Home or mailing address City, and so make sure to take another look before you'll send it in.
Step 3: Immediately after proofreading the form fields you have filled in, click "Done" and you're good to go! Sign up with us now and immediately gain access to il form cbs 1 instructions, prepared for downloading. Every single change you make is conveniently kept , allowing you to change the file further as required. We do not share any information you type in whenever working with documents at our website.