Once you open the online PDF editor by FormsPal, you'll be able to fill out or modify il reg 1 right here and now. Our team is aimed at providing you with the ideal experience with our tool by constantly releasing new functions and upgrades. Our tool is now a lot more useful as the result of the latest updates! At this point, working with PDF files is a lot easier and faster than ever. To get started on your journey, go through these simple steps:
Step 1: Access the PDF in our tool by hitting the "Get Form Button" at the top of this page.
Step 2: This tool will let you modify most PDF documents in many different ways. Enhance it by including customized text, correct what is already in the document, and place in a signature - all when it's needed!
It is actually easy to complete the form using this detailed tutorial! Here's what you want to do:
1. The il reg 1 usually requires certain information to be typed in. Be sure that the subsequent fields are completed: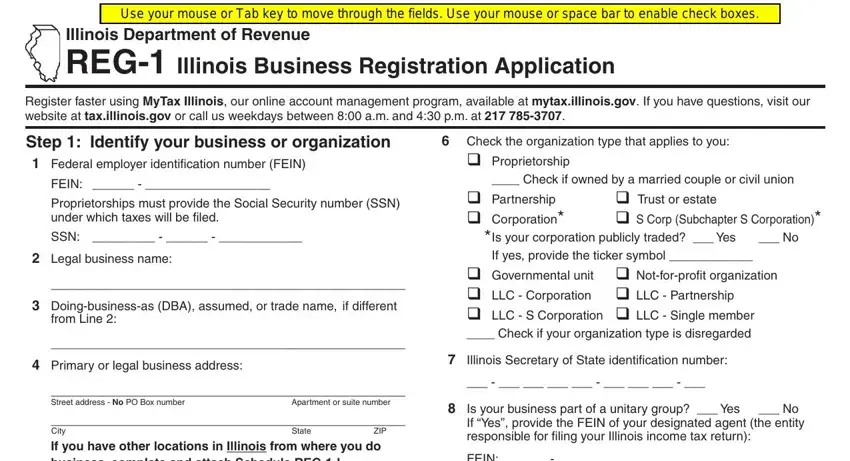 2. Your next part is usually to fill out these blanks: Mailing address if different from, Identify a contact person, Incareof name, Street address or PO Box number, Apartment or suite number, City, State ZIP, Name, Phone Ext, FAX, Email address, Step Identify your owners officers, Individuals, Name, and Title.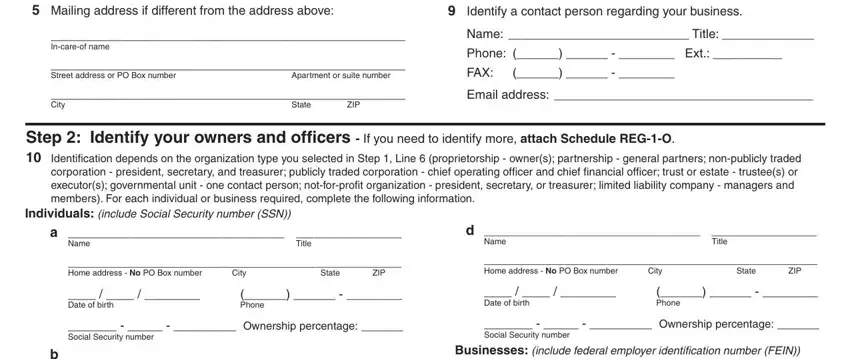 3. Within this step, review Date of birth, SSN, Name, Title, Home street address No PO, City State ZIP, Date of birth, SSN, REG N, Telephone, Name, FEIN, Legal address, City State ZIP, and Telephone. Each one of these will need to be completed with highest precision.

Be very careful while filling in Telephone and FEIN, because this is where most users make mistakes.
4. This next section requires some additional information. Ensure you complete all the necessary fields - Step Tell us about your business, Describe your business activities, Will you have employees Yes, Tell us when your Illinois payroll, Check all that apply to your type, Sales, General merchandise Retail, Sales to Illinois customers from, Check here if you have an, Soft drinks in sealed containers, Vehicle watercraft aircraft or, From vending machines, Tell us how many machines, Liquor at retail bar tavern, and Cigarettes - to proceed further in your process!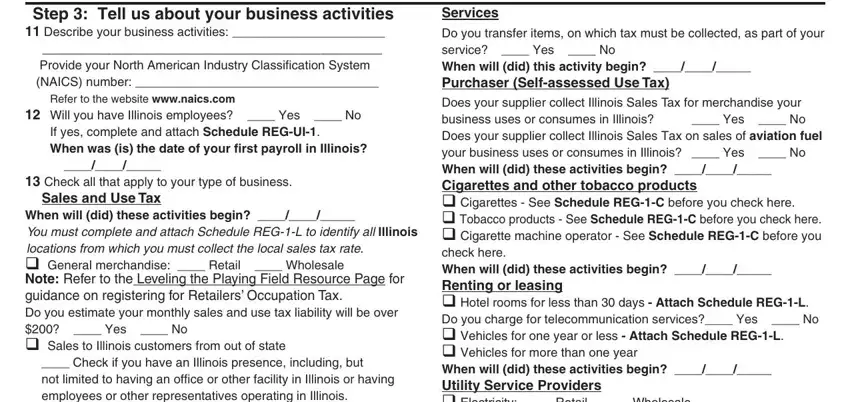 5. To conclude your document, this particular segment has a couple of additional blank fields. Typing in Services See Publication, Do you transfer items as part of, Use, If you purchase merchandise for, does your supplier collect the, Purchase natural gas from, Not listed Identify, When will did these activities, Step Check any schedule attached, Schedule REGL, Schedule REGO, Other information, Step Sign below Under penalties, Signature, and Title Date is going to finalize everything and you're going to be done in a short time!

Step 3: Right after you've looked over the information in the file's blank fields, press "Done" to complete your FormsPal process. Sign up with FormsPal today and instantly get il reg 1, prepared for downloading. Each change made is handily saved , so that you can edit the pdf at a later time if required. We don't share any details that you provide when filling out documents at our site.