illinois zero tolerance sworn statement can be completed online without any problem. Just open FormsPal PDF editor to perform the job fast. In order to make our editor better and simpler to utilize, we consistently come up with new features, considering suggestions coming from our users. It just takes a couple of easy steps:
Step 1: Click the "Get Form" button above on this webpage to access our PDF editor.
Step 2: When you access the tool, you'll see the document made ready to be filled out. In addition to filling in different blanks, you can also do other actions with the file, such as putting on your own textual content, editing the initial text, inserting graphics, signing the form, and much more.
With regards to the blank fields of this specific document, here's what you need to know:
1. For starters, once completing the illinois zero tolerance sworn statement, beging with the part that has the following blanks: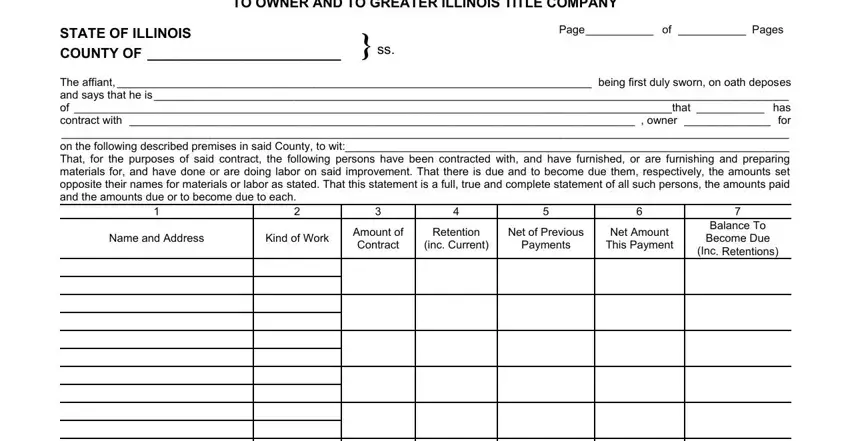 2. Once your current task is complete, take the next step – fill out all of these fields - TOTAL, AMOUNT OF ORIGINAL CONTRACT, EXTRAS TO CONTRACT, TOTAL CONTRACT AND EXTRAS, CREDITS TO CONTRACT, ADJUSTED TOTAL CONTRACT, WORK COMPLETED TO DATE LESS, NET PREVIOUSLY PAID NET AMOUNT, It is understood that the total, and I agree to furnish Waivers of Lien with their corresponding information. Make sure to double check that everything has been entered correctly before continuing!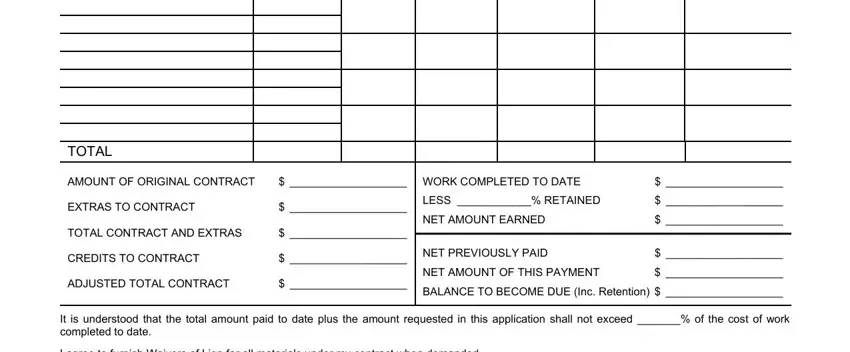 As to It is understood that the total and EXTRAS TO CONTRACT, ensure that you do everything right in this current part. Those two are considered the key fields in the file.
3. In this part, have a look at I agree to furnish Waivers of Lien, SIGNED POSITION, SEAL, Subscribed and sworn to before me, The above sworn statement should, Notary Public, Copyright Greater Illinois Title, and Universal Doc Ref GPIEFR. Each of these will need to be filled out with utmost precision.

Step 3: Once you have looked once again at the details in the document, click "Done" to complete your form. Try a free trial subscription at FormsPal and acquire immediate access to illinois zero tolerance sworn statement - which you may then make use of as you wish in your personal account page. FormsPal is focused on the privacy of all our users; we ensure that all personal data entered into our tool is kept secure.