Once you open the online tool for PDF editing by FormsPal, it is possible to fill out or change D1ELECTIONS right here. The tool is continually improved by us, acquiring awesome functions and turning out to be greater. To begin your journey, consider these easy steps:
Step 1: Click the orange "Get Form" button above. It'll open our pdf tool so you could begin filling out your form.
Step 2: After you access the file editor, you will see the document made ready to be filled in. In addition to filling out various blank fields, you could also perform other sorts of things with the file, specifically writing custom textual content, changing the original text, adding images, affixing your signature to the document, and a lot more.
This form will involve some specific details; to guarantee accuracy, please bear in mind the following suggestions:
1. Start filling out the D1ELECTIONS with a number of necessary blank fields. Consider all the necessary information and make certain nothing is omitted!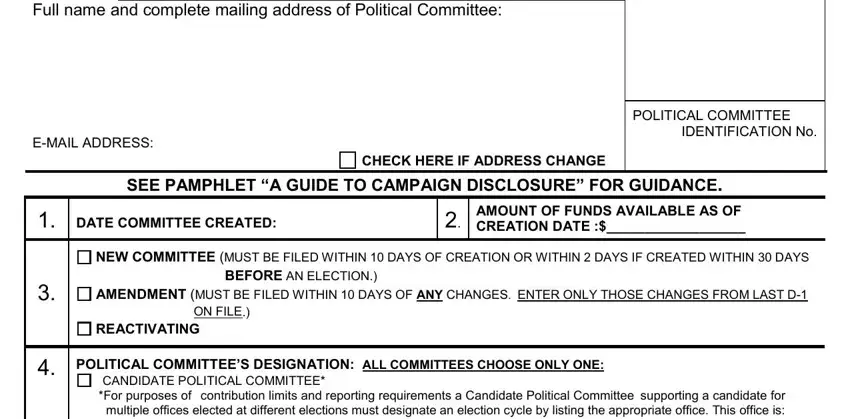 2. Just after the previous part is completed, go to enter the suitable details in all these: POLITICAL ACTION COMMITTEE, May not make direct contributions, POLITICAL COMMITTEES AREA OF, A THIS COMMITTEE WILL PRIMARILY, not applicable if operating, B POLITICAL PARTY AFFILIATION C, PURPOSE OF THE POLITICAL COMMITTEE, CANDIDATES THE COMMITTEE IS, NAME AND ADDRESS, OFFICE, and SUPPORT OPPOSE.
3. The third step is going to be easy - fill out all of the fields in CANDIDATES THE COMMITTEE IS, NAME AND ADDRESS, OFFICE, SUPPORT OPPOSE, THIS FORM MAY BE REPRODUCED, PAGE OF, Revised, and IF MORE SPACE FOR INFORMATION IS to conclude this part.

4. This section comes with all of the following blank fields to complete: COMMITTEE NAME, POLITICAL COMMITTEE IDENTIFICATION, REQUIRED COMMITTEE OFFICERS, POSITION, CHAIRMAN, TREASURER, NAME, MAILING ADDRESS DAYTIME PHONE, POSITION NAME MAILING ADDRESS OF, POSITION, NAME, LIST OF ALL FINANCIAL, IF AMENDING LIST ALL AS OF TODAYS, NAME, and MAILING ADDRESS AND PHONE NUMBER.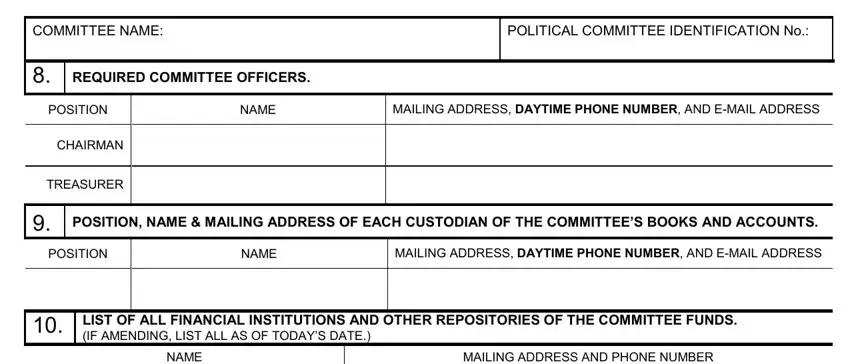 A lot of people often make mistakes while filling in POSITION in this part. You should definitely read again everything you enter right here.
5. This last point to complete this form is integral. Ensure that you fill out the necessary form fields, including NAME, MAILING ADDRESS AND PHONE NUMBER, DISPOSITION OF RESIDUAL FUNDS IN, RETURN TO CONTRIBUTORS IN AMOUNTS, IF MORE SPACE FOR INFORMATION IS, VERIFICATION BALLOT INITIATIVE, I DECLARE THAT THIS BALLOT, PRINTED AND WRITTEN SIGNATURE OF, DATE, VERIFICATION INDEPENDENT, I DECLARE THAT i THIS INDEPENDENT, and DATE, prior to using the form. If you don't, it could give you an incomplete and probably nonvalid form!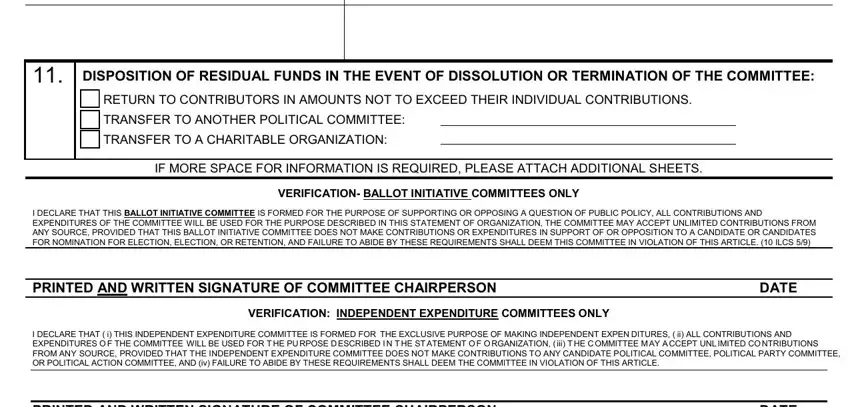 Step 3: Before moving on, make certain that all blanks are filled in correctly. As soon as you are satisfied with it, press "Done." Create a free trial account with us and gain direct access to D1ELECTIONS - download, email, or edit from your personal cabinet. FormsPal guarantees your information privacy by having a protected system that never saves or shares any type of private data provided. You can relax knowing your docs are kept safe when you use our editor!