Using PDF files online is actually easy using our PDF editor. Anyone can fill in FX here and use many other options we provide. Our expert team is constantly working to improve the editor and ensure it is much better for users with its cutting-edge functions. Take your experience one stage further with constantly growing and exciting opportunities we provide! All it takes is just a few simple steps:
Step 1: Open the PDF form inside our editor by hitting the "Get Form Button" above on this page.
Step 2: Once you start the editor, you'll see the form made ready to be completed. Besides filling in different blank fields, you could also perform other sorts of actions with the PDF, particularly writing your own words, changing the initial text, adding graphics, affixing your signature to the document, and much more.
It is actually easy to complete the form with our helpful guide! Here is what you must do:
1. For starters, when filling out the FX, start with the part that features the subsequent blanks:

2. Just after filling out the previous section, go on to the next part and enter all required particulars in these fields - IMRF Form Rev, and eligible for a tax credit For.

3. Completing Members Last Name, Street Mailing Address, Telephone, First, Middle Initial, City State and ZIP, Cell Phone, Email, Social Security Number, FILING GUIDELINES Do not file, pregnancy submit this form after, You should file this application, than days, File this form even if you plan, and ATTACHMENT GUIDELINES A copy of is essential for the next step, make sure to fill them out in their entirety. Don't miss any details!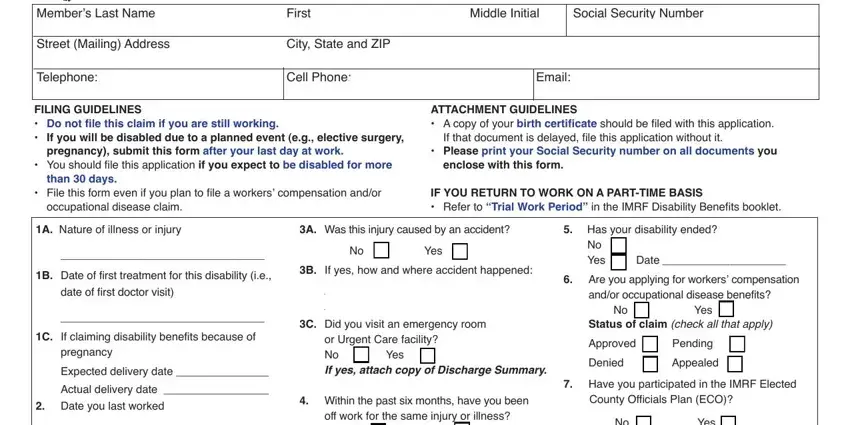 It is possible to make errors when completing your Members Last Name, therefore be sure you reread it prior to when you send it in.
4. The next subsection will require your input in the following areas: No Are you currently employed by, Yes If yes give name address and, off work for the same injury or, Yes, Yes Do you own a business No, Yes If yes do you work for the, Yes, If yes please explain, A Do you perform any work or other, Name and address of all, Attach additional sheet if needed, Date of Consultation, CityStateZip, Phone, and Address. Make certain you fill out all of the needed details to move forward.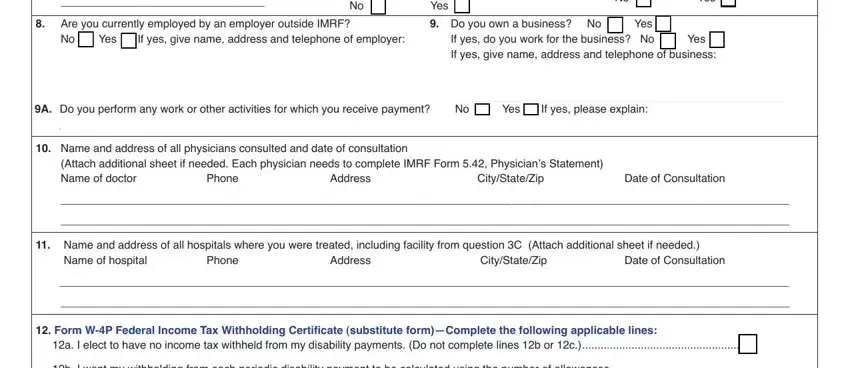 5. As you reach the last sections of this document, you'll find several extra points to complete. Particularly, Form WP Federal Income Tax, a I elect to have no income tax, Single, Married, Married but withheld at higher, number of allowances, c I want the following additional, To all employers insurance, Date, Completed form may be mailed to, Member Services Representatives PH, and IMRF Form Rev should all be filled out.

Step 3: Revise the details you've typed into the blanks and press the "Done" button. Sign up with us now and easily access FX, set for download. All modifications you make are kept , letting you customize the pdf later on as required. At FormsPal.com, we aim to guarantee that all of your details are stored secure.