1f7 can be filled out online very easily. Simply use FormsPal PDF editing tool to complete the task promptly. Our tool is consistently developing to present the best user experience possible, and that's thanks to our dedication to constant improvement and listening closely to comments from customers. For anyone who is looking to begin, here's what it will require:
Step 1: Just click on the "Get Form Button" above on this page to open our pdf editing tool. This way, you will find everything that is required to work with your file.
Step 2: With our handy PDF editor, you may do more than merely fill out blank fields. Try all the features and make your documents look professional with customized text incorporated, or fine-tune the original content to perfection - all backed up by the capability to add any photos and sign the file off.
It is easy to complete the form using out helpful guide! Here's what you need to do:
1. It's vital to complete the 1f7 properly, hence be mindful when working with the areas that contain all of these blanks: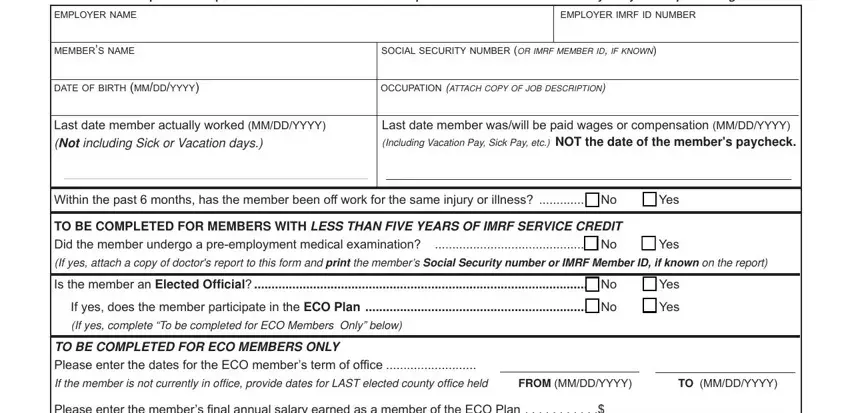 2. The third step would be to fill out the next few blanks: Please enter the members final, Please enter the members annual, Is the member a seasonal employee, No No, Yes Yes, Has the member returned to work, Yes, If yes please indicate the date, Has the member been terminated, Yes, If yes please indicate the date, Was a claim made for workers, Yes, If a claim has been made what is, and Approved.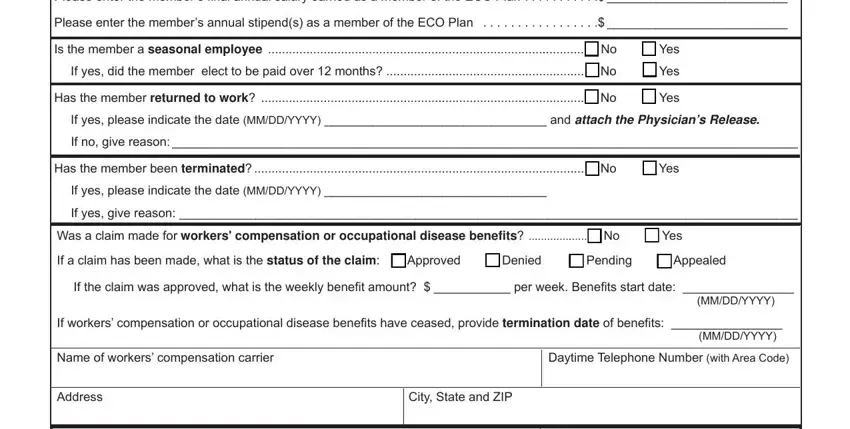 People often make mistakes while completing If yes please indicate the date in this part. Ensure you revise everything you type in here.
3. In this particular stage, have a look at Authorized Agents Signature, Date MMDDYYYY, Daytime Telephone Number with Area, Email, Illinois Municipal Retirement Fund, York Road Suite Oak Brook, Member Services Representatives, IMRF Form Rev, and wwwimrforg. Each of these will have to be completed with highest accuracy.

Step 3: After going through your entries, press "Done" and you're all set! Find the 1f7 once you join for a free trial. Instantly access the pdf form in your FormsPal cabinet, along with any modifications and changes automatically kept! Here at FormsPal, we aim to be certain that all your details are kept private.