admission assessment forms and can be filled in online very easily. Simply use FormsPal PDF editing tool to get it done quickly. To maintain our editor on the cutting edge of practicality, we work to integrate user-oriented capabilities and improvements regularly. We're always looking for feedback - help us with reshaping how we work with PDF forms. If you are seeking to get going, here is what it will take:
Step 1: Hit the "Get Form" button in the top part of this page to get into our editor.
Step 2: This editor grants the opportunity to customize almost all PDF documents in a variety of ways. Improve it by writing any text, correct original content, and add a signature - all readily available!
Be mindful while filling out this pdf. Make sure each and every blank is done correctly.
1. Whenever completing the admission assessment forms and, ensure to incorporate all of the important blanks in their associated area. This will help facilitate the process, allowing for your information to be handled promptly and properly.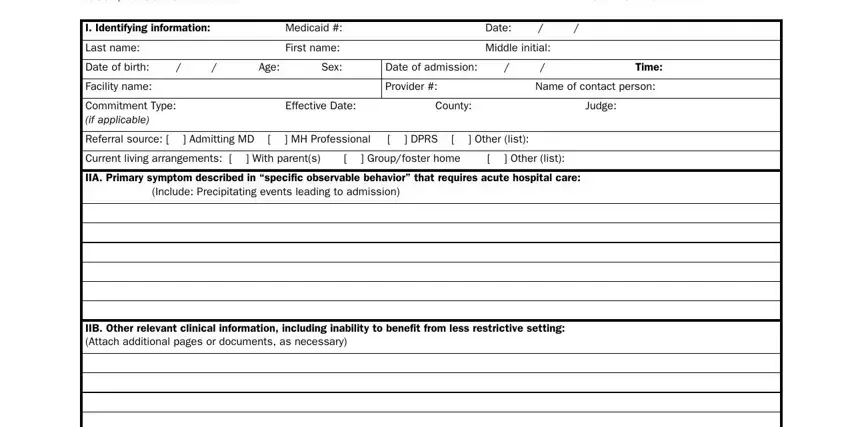 2. Once your current task is complete, take the next step – fill out all of these fields - IIC Psychiatric medications, IID Present and past drugalcohol, Name of chemical, Current use, IIE Past psychiatric treatment, Number of previous inpatient, Dates of most recent inpatient, Previous ambulatoryoutpatient, III Admitting diagnosis Axis I, IV Additional diagnosis Axis I and, V Functional assessment scores DSM, VI No of hospital days requested, Projected discharge date required, VII Aftercare Plan, and Provider or Facility with their corresponding information. Make sure to double check that everything has been entered correctly before continuing!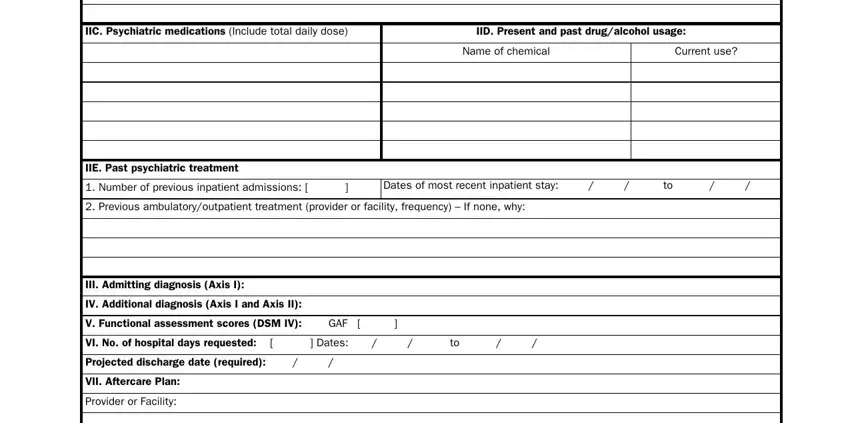 Concerning IIE Past psychiatric treatment and Projected discharge date required, be sure that you review things here. Both of these could be the most important ones in the document.
3. In this specific step, look at Frequency, Signature Attending MD, Date, Print name, Provider number, and Provider license number. All these will have to be filled in with greatest awareness of detail.

Step 3: Right after you have reviewed the information entered, click "Done" to conclude your document generation. Join us today and instantly get access to admission assessment forms and, prepared for downloading. All alterations made by you are saved , letting you customize the pdf at a later stage if required. FormsPal is dedicated to the privacy of all our users; we always make sure that all information processed by our tool continues to be secure.