It is really simple to fill in the letter of credit application empty blanks. Our PDF tool makes it practically effortless to fill in any specific form. Down the page are the basic four steps you need to follow:
Step 1: Hit the orange button "Get Form Here" on the webpage.
Step 2: When you have accessed your letter of credit application edit page, you'll discover all actions you can take with regards to your document within the top menu.
All of these areas are contained in the PDF form you will be filling out.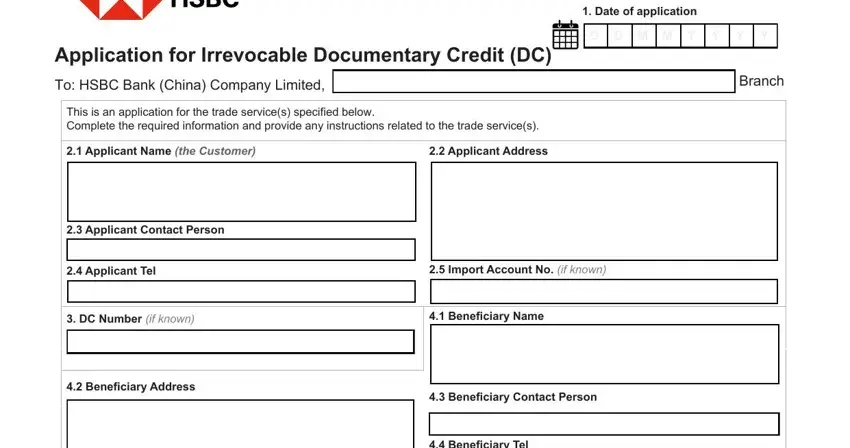 Type in the requested particulars in Beneficiary, Fax DC, Dispatched, by Tele, transmission Courier, Collection, at, counter Airmail, With, brief, advice, by, tele, transmission DC, Currency DC, Amount, in, Figures DC, Amount, Currency, in, Words Partial, Shipments Allowed, Not, Allowed DC, available, with and Any, Bank part.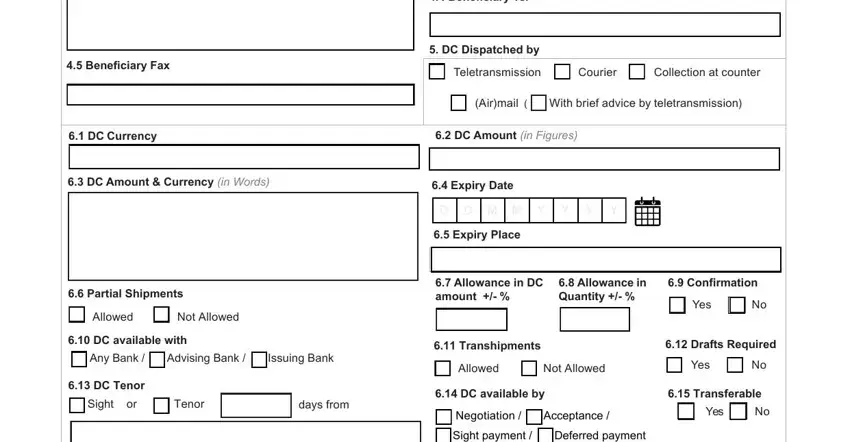 Identify the most crucial information on the Advising, Bank, SWIFT, code, if, known Advising, Bank, Address Advising, Bank, Name and GT, RFC, ND, C, Sep segment.

You should record the rights and responsibilities of the sides inside the Place, of, Taking, in, Charge, Receipt Port, of, Loading, Airport, of, Departure Port, of, Discharge, Airport, of, Destination Latest, date, of, Shipment DD, MM, YYYY Insurance, to, be, covered, by Ultimate, Buyer Applicant, In, co, terms EX, WC, IF Other, F, CAC, PT FOB, C, IP CFR, DDP and Documents, required section.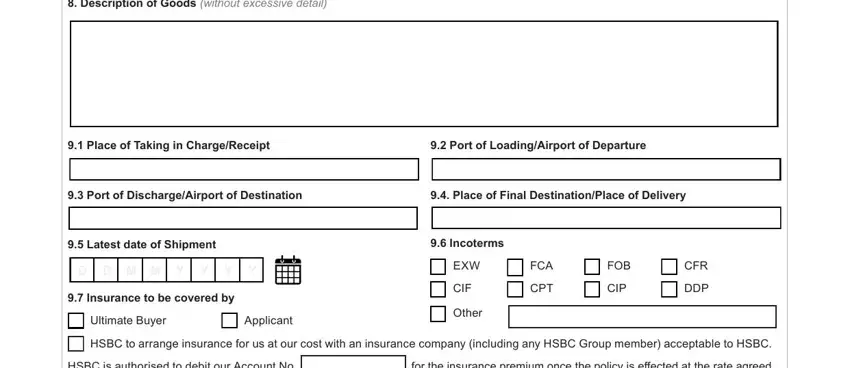 Prepare the form by looking at these particular sections: Signed, commercial, in, voice, in originals, copies, Packing, List, in originals, copies, marked, Freight, mentioning, the, DC, number Prepaid, or Collect, and, Notify Freight, Prepaid, or mentioning, the, DC, number and, Notify Delivery, Order and Marine.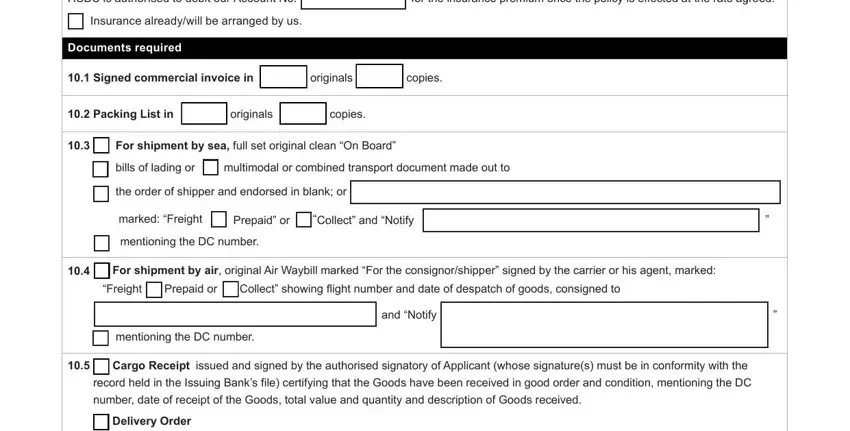 Step 3: Choose the Done button to be sure that your completed file could be transferred to any kind of electronic device you decide on or sent to an email you indicate.
Step 4: In order to avoid any type of headaches as time goes on, you will need to make a minimum of a few copies of your file.