Should you need to fill out civil action cover sheet massachusetts form, you don't need to install any sort of software - just use our online PDF editor. To make our tool better and simpler to use, we consistently design new features, bearing in mind feedback coming from our users. To get started on your journey, take these easy steps:
Step 1: Open the PDF inside our tool by clicking the "Get Form Button" above on this page.
Step 2: With our handy PDF tool, you can accomplish more than simply fill in blank fields. Express yourself and make your forms seem high-quality with customized textual content put in, or fine-tune the file's original input to excellence - all comes with an ability to add almost any graphics and sign it off.
As a way to complete this form, make sure you enter the necessary details in each and every field:
1. Start completing the civil action cover sheet massachusetts form with a selection of essential fields. Get all the required information and make sure there's nothing omitted!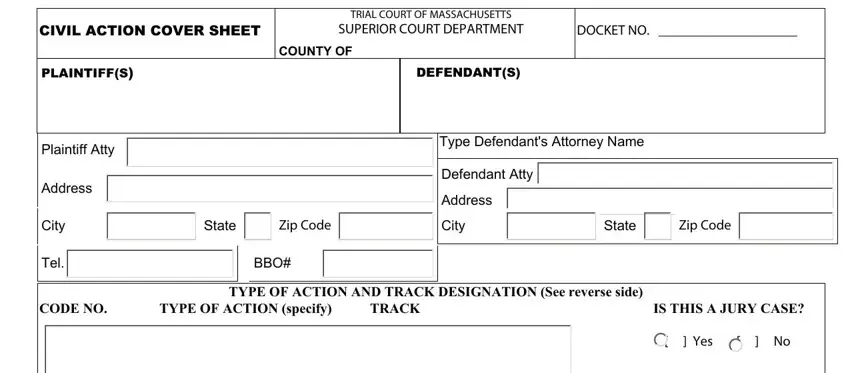 2. Once your current task is complete, take the next step – fill out all of these fields - Attach additional sheets as, A Documented medical expenses to, B Documented lost wages and, Subtotal, Total, Provide a detailed description of, CONTRACT CLAIMS, Attach additional sheets as, and TOTAL with their corresponding information. Make sure to double check that everything has been entered correctly before continuing!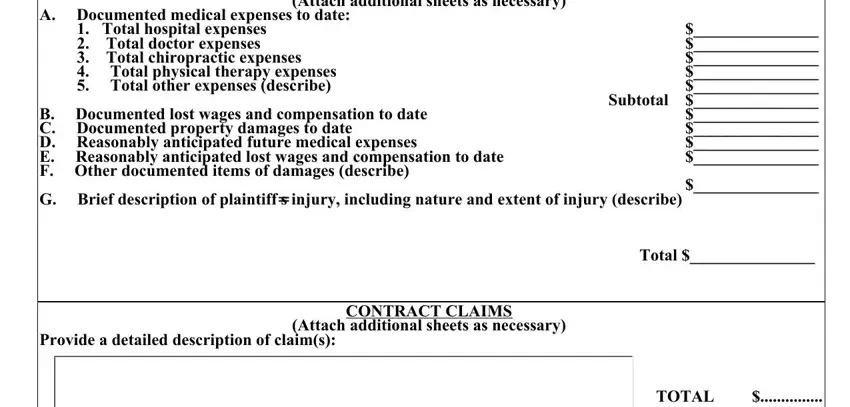 3. The following step is usually relatively uncomplicated, PLEASE IDENTIFY BY CASE NUMBER, A I hereby certify that I have, and Date - every one of these form fields is required to be completed here.

People often make errors while filling in A I hereby certify that I have in this section. Don't forget to review whatever you type in right here.
Step 3: Be certain that your information is right and then simply click "Done" to proceed further. Sign up with us today and instantly access civil action cover sheet massachusetts form, all set for downloading. Every last modification made is handily kept , which means you can modify the file later if necessary. FormsPal is focused on the confidentiality of all our users; we make sure that all information coming through our editor continues to be secure.