When working in the online editor for PDFs by FormsPal, you may fill in or alter aoccv401 signature here and now. Our expert team is ceaselessly endeavoring to improve the editor and make it much easier for clients with its cutting-edge functions. Discover an constantly progressive experience today - take a look at and find out new possibilities along the way! All it takes is just a few easy steps:
Step 1: Simply press the "Get Form Button" above on this page to access our pdf file editing tool. There you'll find all that is required to work with your file.
Step 2: The tool enables you to modify almost all PDF forms in many different ways. Change it with customized text, correct what is originally in the document, and add a signature - all at your disposal!
Be mindful while filling out this document. Make sure that each blank field is done properly.
1. Whenever submitting the aoccv401 signature, make certain to incorporate all of the needed blank fields within its corresponding part. It will help speed up the work, enabling your information to be processed fast and correctly.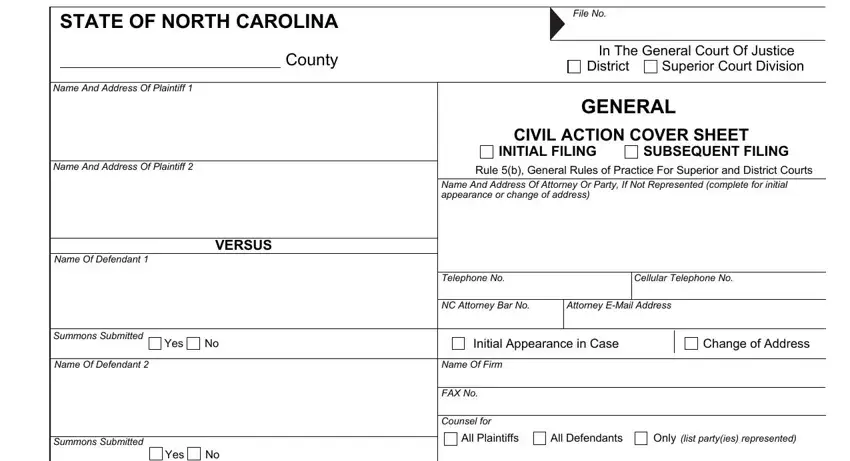 2. After the prior part is completed, go to type in the suitable information in these - Yes, Jury Demanded In Pleading, Complex Litigation, check all that apply, Amend AMND, Amount in controversy does not, Stipulate to arbitration, TYPE OF PLEADING, check all that apply, Failure To State A Claim FASC, Amended AnswerReply AMNDResponse, Implementation Of Wage Withholding, Amended Complaint AMND, Assess Costs COST, and AnswerReply ANSWResponse see Note.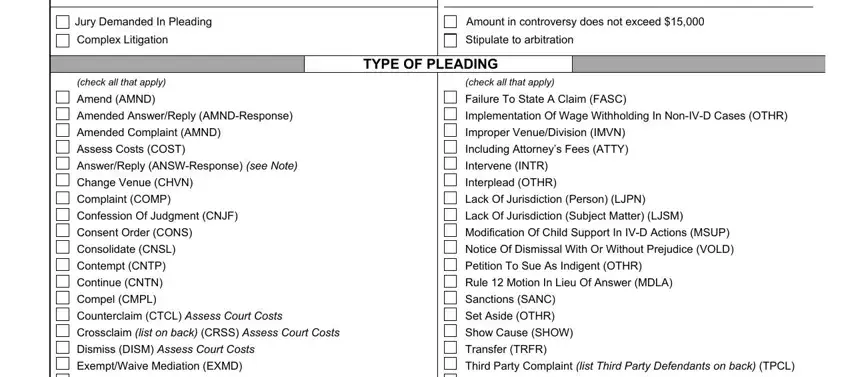 3. This next segment is mostly about Extend Statute Of Limitations Rule, Extend Time For Complaint EXCO, Failure To Join Necessary Party, VacateModify Judgment VCMD, Withdraw As Counsel WDCN, Other specify and list each, NOTE, All filings in civil actions shall, AOCCV Rev Administrative Office, and Over - complete all of these blank fields.

4. This next section requires some additional information. Ensure you complete all the necessary fields - Administrative Appeal ADMA, Appointment Of Receiver APRC, AttachmentGarnishment ATTC, Claim And Delivery CLMD, Collection On Account ACCT, Condemnation CNDM, Contract CNTR, CLAIMS FOR RELIEF, Limited Driving Privilege, Product Liability PROD, Convictions PLDP, Medical Malpractice MDML, Minor Settlement MSTL, Money Owed MNYO, and Negligence Motor Vehicle MVNG - to proceed further in your process!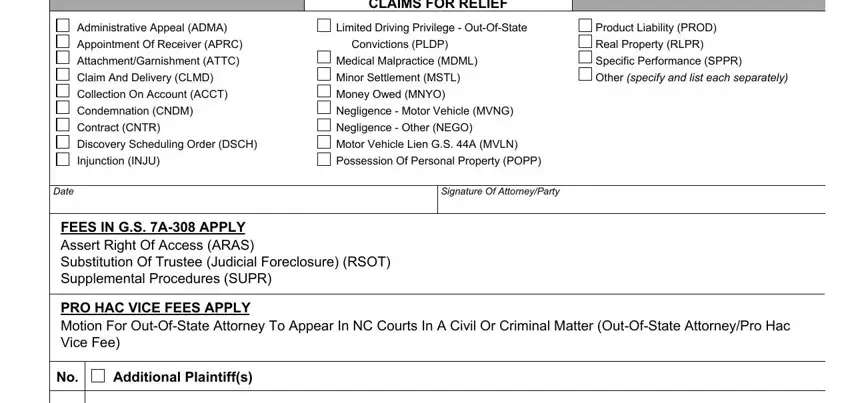 It's very easy to get it wrong while completing the Medical Malpractice MDML, hence ensure that you reread it before you'll send it in.
5. To wrap up your document, this final part involves a number of extra blank fields. Entering Additional Defendants Third Party, Summons Submitted, Yes, Yes, Yes, Yes, Yes, Plaintiffs Against Whom, and Defendants Against Whom Crossclaim should conclude everything and you can be done quickly!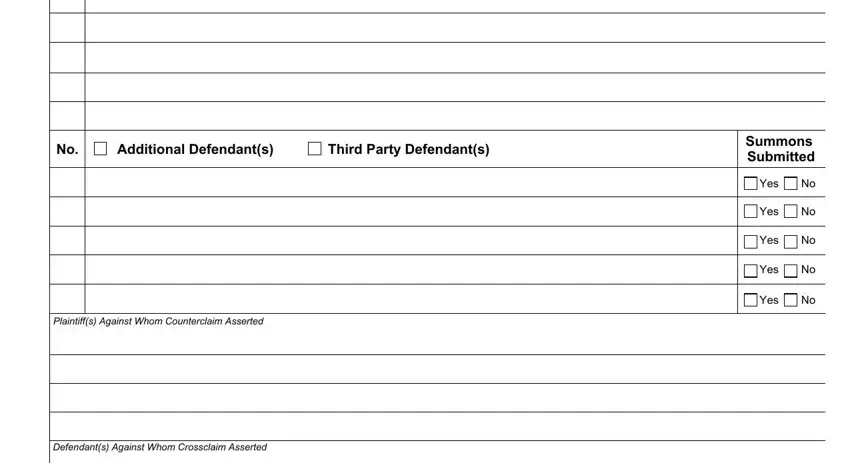 Step 3: Check that the details are accurate and then click on "Done" to conclude the project. Obtain your aoccv401 signature as soon as you register at FormsPal for a 7-day free trial. Conveniently use the form within your FormsPal cabinet, together with any modifications and adjustments being automatically synced! FormsPal provides risk-free form tools devoid of data record-keeping or distributing. Feel at ease knowing that your information is in good hands with us!