Any time you need to fill out rhode island superior court civil case cover sheet, there's no need to download any sort of applications - simply make use of our online PDF editor. Our tool is constantly evolving to provide the best user experience achievable, and that is due to our resolve for continual development and listening closely to feedback from users. Here is what you would want to do to start:
Step 1: Just hit the "Get Form Button" at the top of this page to start up our pdf form editor. This way, you'll find everything that is needed to work with your document.
Step 2: When you open the online editor, there'll be the form made ready to be filled in. Other than filling out different fields, you may also perform various other things with the PDF, specifically writing custom words, changing the initial text, inserting illustrations or photos, putting your signature on the form, and much more.
If you want to finalize this PDF document, make sure you enter the required information in each and every blank field:
1. It is important to fill out the rhode island superior court civil case cover sheet correctly, hence be careful while filling in the sections that contain all these fields: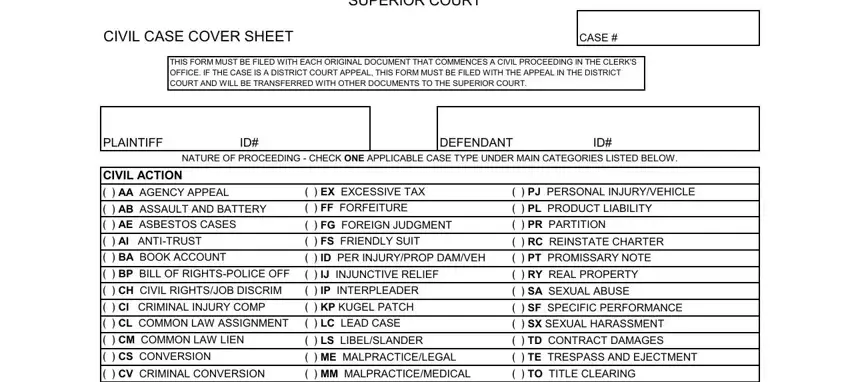 2. Once your current task is complete, take the next step – fill out all of these fields - CIVIL ACTION cid cid AA AGENCY, cid cid MR MERS cid cid OV OTHER, cid cid PJ PERSONAL INJURYVEHICLE, MISCELLANEOUS PETITION cid cid AC, cid cid GJ GRAND JURY, cid cid PX PETITION TO EXPUNGE cid, PROBATE APPEAL cid cid GD, cid cid OA OTHER PROBATE APPEAL, and cid cid WL WILL with their corresponding information. Make sure to double check that everything has been entered correctly before continuing!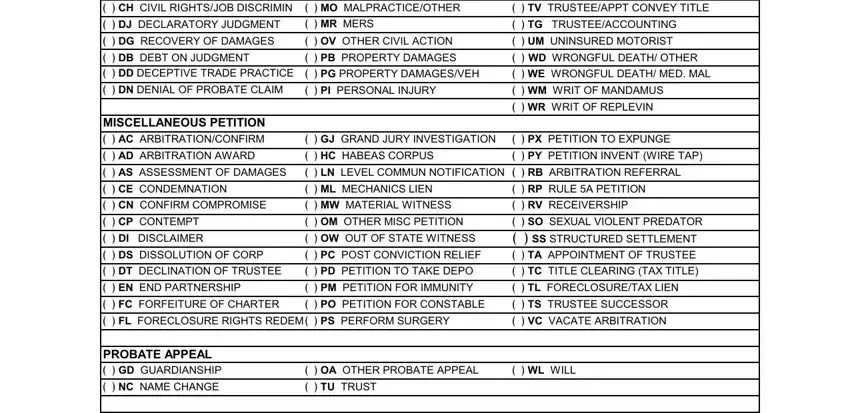 3. This next step is generally hassle-free - fill in all of the blanks in DISTRICT COURT APPEAL cid cid, TRIAL, cid cid YES cid cid NO, IF YES, cid cid JURY cid cid NONJURY, ATTORNEY NAME AND RHODE ISLAND BAR, DATE, and Superior revised February in order to finish this part.

Always be really careful when filling in TRIAL and DISTRICT COURT APPEAL cid cid, since this is where a lot of people make errors.
Step 3: Before submitting this file, you should make sure that all form fields were filled in the proper way. When you think it is all good, click on "Done." Create a free trial subscription with us and acquire instant access to rhode island superior court civil case cover sheet - download or modify inside your personal account. FormsPal guarantees secure form completion with no data record-keeping or sharing. Be assured that your details are in good hands here!