Any time you intend to fill out mc171 form, there's no need to install any software - just try our PDF editor. To have our editor on the forefront of practicality, we work to implement user-driven capabilities and improvements on a regular basis. We are at all times looking for suggestions - help us with remolding PDF editing. Should you be seeking to start, here is what it takes:
Step 1: First of all, access the pdf tool by clicking the "Get Form Button" above on this webpage.
Step 2: After you start the editor, you will notice the document made ready to be filled in. Apart from filling in various blank fields, you might also perform some other things with the file, namely writing custom text, modifying the initial text, inserting illustrations or photos, signing the form, and a lot more.
It is actually an easy task to finish the pdf using out helpful guide! Here's what you need to do:
1. Whenever filling in the mc171 form, make certain to incorporate all of the essential fields within the relevant section. It will help speed up the work, allowing for your information to be processed without delay and properly.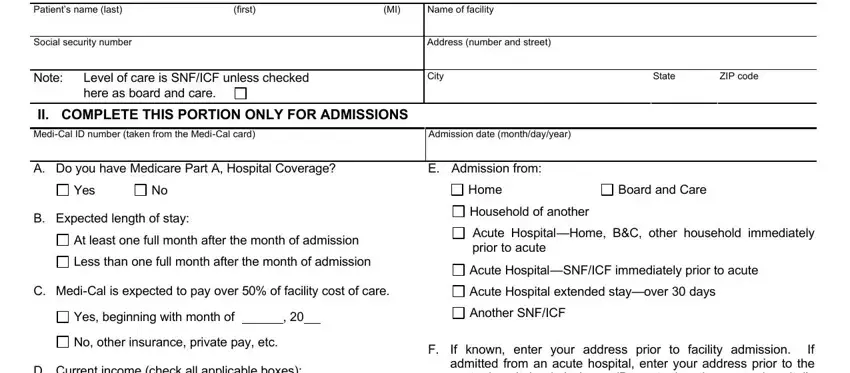 2. The next step is usually to fill in these blank fields: D Current income check all, Supplemental Security Gold Checks, Social Security Green Checks, Other Income ie railroad military, None, G Signature of recipient or, Signature of recipient, Signature of Representative Payee, If recipients signature cannot be, Signature of family memberother, Phone number, III COMPLETE THIS PORTION ONLY FOR, If known enter your address prior, Address number and street, and City.
Lots of people often get some points incorrect while filling out Supplemental Security Gold Checks in this area. Ensure you read twice what you type in here.
3. This 3rd segment should also be rather simple, Discharged to residencehome of, Discharged to Board and Care, Discharged to other, Discharge due to death, Facility representative signature, D Complete the forwarding address, Name of facility if not discharged, Address number and street, City, Date, State, and ZIP code - all of these empty fields will have to be filled out here.

Step 3: Ensure that the details are right and press "Done" to finish the project. Obtain the mc171 form the instant you join for a free trial. Immediately access the pdf in your FormsPal cabinet, with any modifications and adjustments being conveniently synced! FormsPal guarantees risk-free document tools with no personal data recording or distributing. Feel at ease knowing that your details are secure with us!