Dealing with PDF documents online is definitely very easy with our PDF tool. You can fill out Metrobus here painlessly. Our editor is constantly developing to provide the very best user experience possible, and that's thanks to our commitment to continual improvement and listening closely to customer opinions. Getting underway is easy! What you need to do is adhere to these simple steps directly below:
Step 1: Click the "Get Form" button at the top of this page to open our editor.
Step 2: This tool provides you with the capability to change the majority of PDF documents in a range of ways. Improve it with customized text, adjust what's originally in the file, and add a signature - all possible within minutes!
In order to finalize this PDF document, be certain to enter the right details in every blank:
1. It is very important complete the Metrobus accurately, thus be careful while working with the parts containing these fields: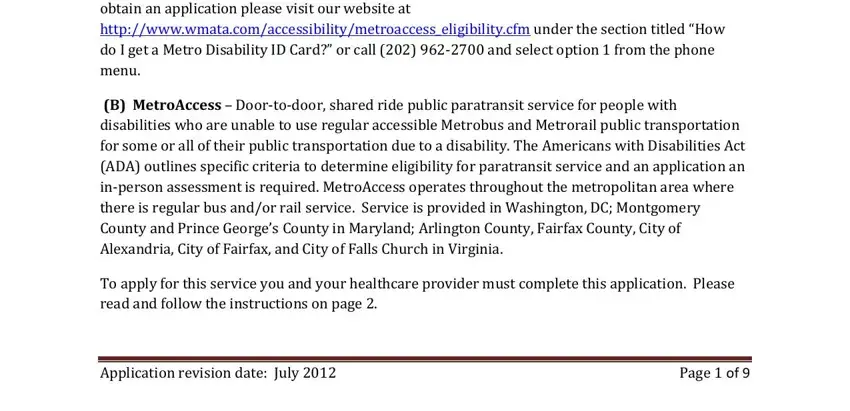 2. Just after filling out the last step, go to the subsequent part and enter the necessary details in these fields - I am a current MetroAccess, I am a current Reduced Fare, I have access to the internet, Part A APPLICANT INFORMATION AND, Last Name First Name Middle, Street Address, City State Zip, Apartment, County or City, Gender Male Female Date of Birth, Primary phone number, Home Cell Phone Work, Secondary phone number Home, and In case of an emergency who should.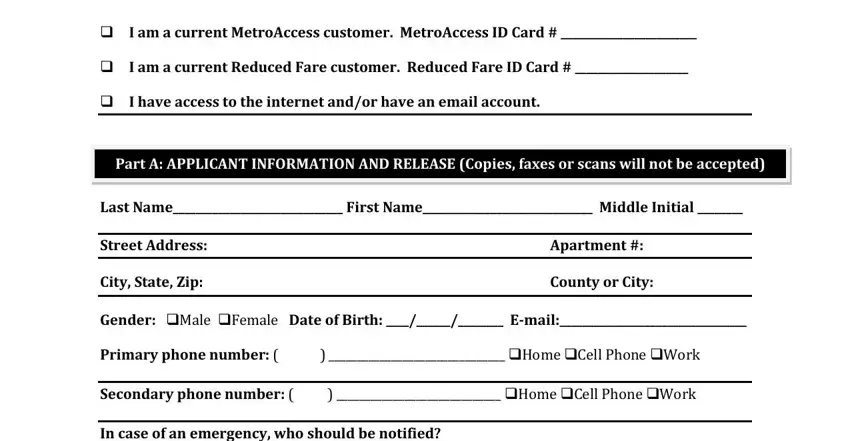 3. Completing Name, Relationship, Phone, Mobility Devices Do you require, Check all that apply Manual, Power Wheelchair or Scooter up to, CrutchesWalkerWhite Canefor, Do you use a service animal No Yes, and I certify that all information is essential for the next step, make sure to fill them out in their entirety. Don't miss any details!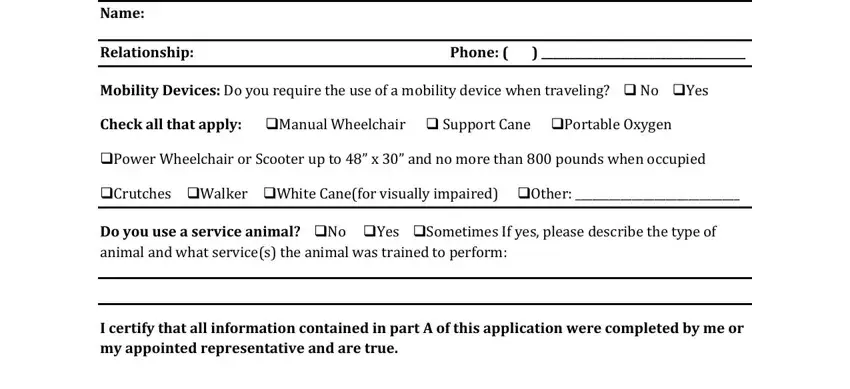 4. It is time to fill in the next form section! Here you will have these I certify that all information, Under Signature of Parent or, Application revision date July, and Page of empty form fields to do.

5. When you draw near to the finalization of your file, there are just a few extra things to undertake. Specifically, This form is only to be used when, Applicants Name Applicants Address, I would like to apply for, I am appointing to help me apply, purpose only he or she has the, completing paperwork and providing, relates to my application for, me upon request to this person, application for services For this, information oral or written, medical and hospital records and, this information, and For all purposes related to this must all be filled out.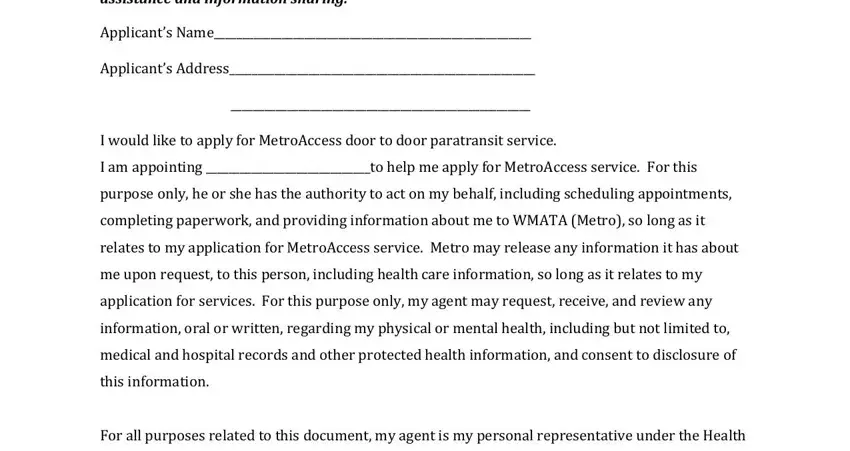 It is possible to get it wrong while filling out your I am appointing to help me apply, therefore make sure that you look again before you finalize the form.
Step 3: Once you have reviewed the information provided, just click "Done" to complete your FormsPal process. Get hold of your Metrobus after you register online for a free trial. Immediately gain access to the pdf file in your personal account, with any edits and changes being all saved! Whenever you work with FormsPal, you can certainly complete forms without the need to be concerned about personal data incidents or data entries being distributed. Our secure system helps to ensure that your personal information is maintained safe.