The nc d 400 completing process is effortless. Our PDF tool allows you to use any PDF file.
Step 1: Look for the button "Get Form Here" on the webpage and select it.
Step 2: Now you are on the file editing page. You may enhance and add text to the form, highlight specified content, cross or check specific words, include images, put a signature on it, delete unneeded areas, or remove them completely.
Create the nc d 400 PDF and enter the information for each section: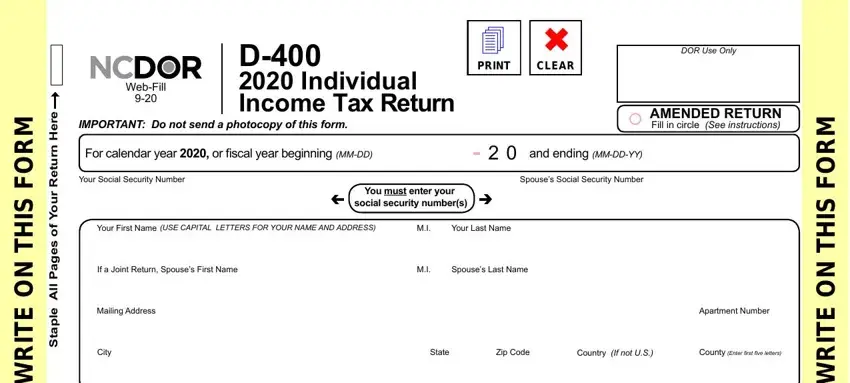 You should submit the Taxpayer, MM, DD, YY Spouse, MM, DD, YY Residency, Status Veteran, Information, Federal, Extension Yes, Yes NoNo, Are, you, a, veteran Yes, Is, your, spouse, a, veteran Yes, Yes, su, tatS, gn ili, y, no, ec, rice, non, ill, i and Federal, Adjusted, Gross, Income area with the required information.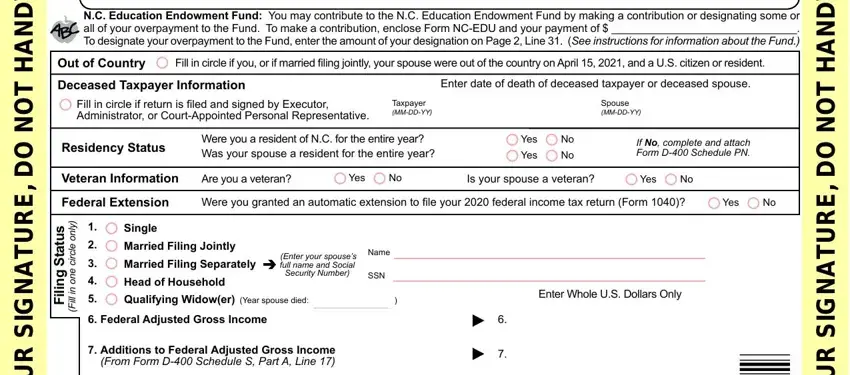 It's essential to note specific data in the field ere, Hs, We, l, patS NC, Standard, Deduction, OR NC, Itemized, Deductions a, Add, Lines, band b, Subtract, the amount, onLine, a, from, Line and North, Carolina, Income, Tax

The Page, D, Web, Fill LastName, First, Characters Tax, Year Your, Social, Security, Number If, you, claim, a onLine, cor, S N, CK Tax, Credits, From, For, mDT, C, Part, Line Subtract, Line, from, Line Consumer, Use, Tax, See, instructions Add, Lines, and North, Carolina, Income, Tax, Withheld a, Your, tax, withheld and b, Spouses, tax, withheld segment will be applied to list the rights or responsibilities of both sides.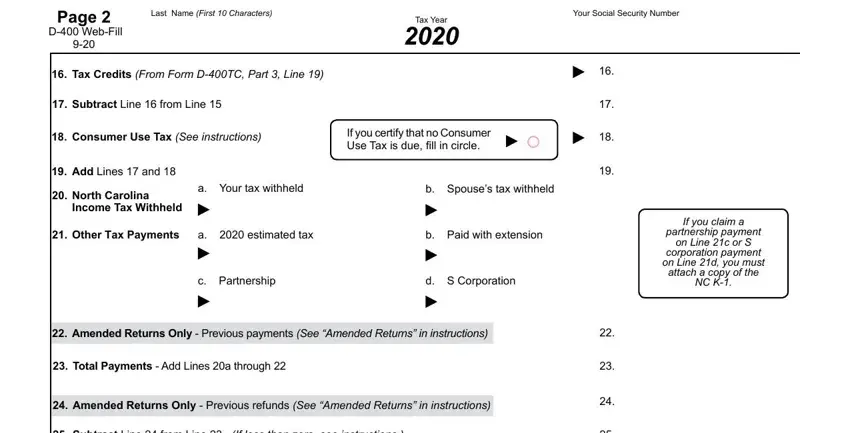 Finalize by taking a look at the following sections and completing them accordingly: c, Interest Exception, to, Under, payment, of, Estimated Tax, and Add, Lines, through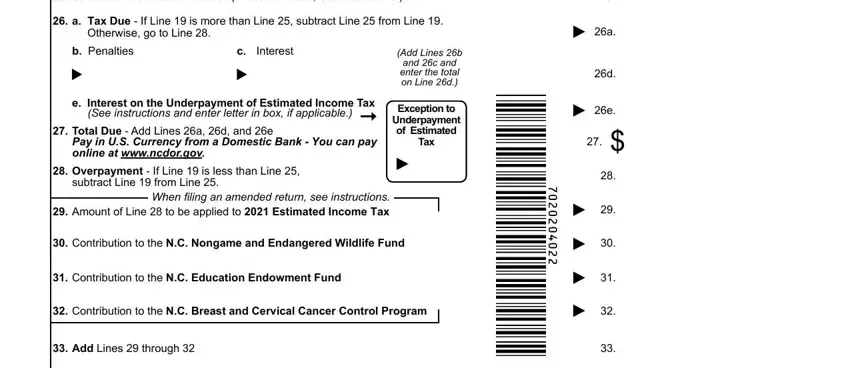 Step 3: Select the Done button to make sure that your completed document can be transferred to any gadget you pick out or delivered to an email you indicate.
Step 4: It could be safer to maintain duplicates of the document. You can rest easy that we won't share or see your data.