It won't be hard to fill out printable 2018 new jersey form nj 1040 es with the help of our PDF editor. Here's how it is easy to simply design your document.
Step 1: To begin the process, hit the orange button "Get Form Now".
Step 2: Right now, you can start modifying your printable 2018 new jersey form nj 1040 es. The multifunctional toolbar is readily available - insert, remove, adjust, highlight, and carry out several other commands with the words and phrases in the document.
To complete the printable 2018 new jersey form nj 1040 es PDF, enter the information for each of the sections: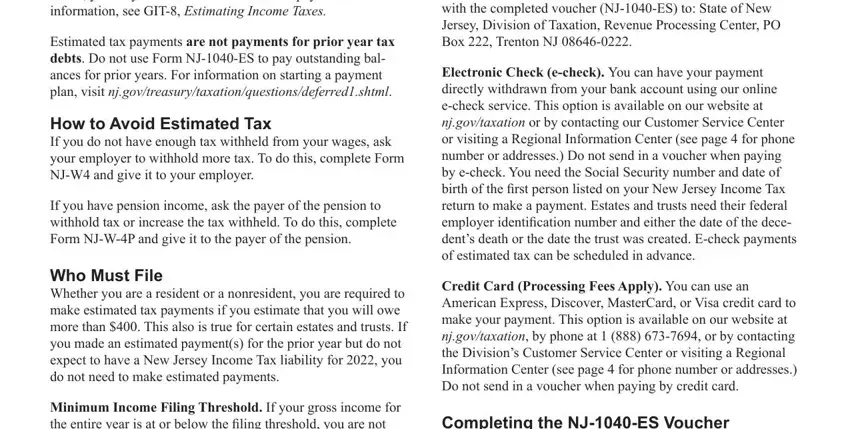 Provide the appropriate information in the area When to File You can pay in full, If you are a fiscal year taxpayer, How to Pay You can pay your, Check the appropriate box to, which payment is being made, and Enter the actual amount of the.

It's essential to identify the important particulars within the How to Calculate Your Estimated, Retirement Income Exclusions If, Exemptions You may be able to, jointly or domestic partner each, Taxpayer and spousecivil union, who is or older an additional, Taxpayer and spousecivil union, Each dependent who qualifies as, income tax purposes per dependent, Fiscal Year Taxpayers Fiscal year, Farmers If at least twothirds of, Changes in Income Exemptions etc, and June section.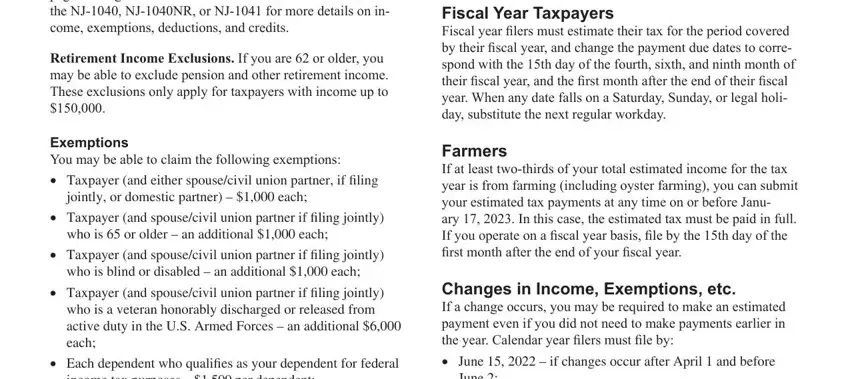 The space Interest Forms NJ and NJNR If you, Interest will be assessed at the, Estimated Tax Worksheet For, Total Income Expected In Tax Year, Total Pension and Other Retirement, New Jersey Gross Income Subtract, a Number of Exemptions a, b Number of Exemptions b, c Number of Exemptions c To, Medical Expenses in excess of, qualified Archer MSA contributions, Alimony and separate maintenance, and Qualified Conservation is going to be where you can insert each side's rights and responsibilities.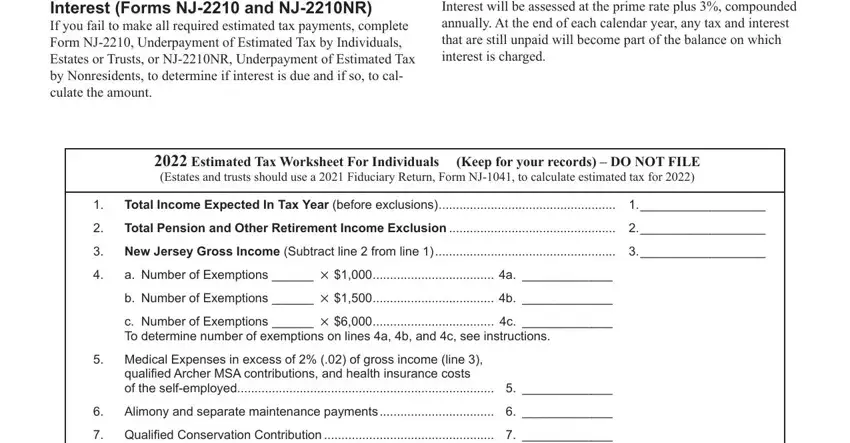 Finalize by reading the following areas and filling in the suitable details: Health Enterprise Zone Deduction, Alternative Business Calculation, OrganBone Marrow Donation, Total exemptions and deductions, Taxable Income Subtract line from, Property Tax Deduction See, New Jersey Taxable Income, Tax See Tax Rate Tables below, Credit for income taxes paid to, Balance of Tax Subtract line, New Jersey Income Tax to be, Other Credits See instructions, Total PaymentsCredits Add lines, Estimated Tax Subtract line from, and If the amount on line is more.
Step 3: Hit the button "Done". The PDF form is available to be exported. It is possible to download it to your computer or email it.
Step 4: Attempt to get as many copies of the file as possible to stay away from future troubles.