You'll be able to complete counterfeit note report pdf effectively with the help of our PDFinity® online tool. To have our editor on the cutting edge of convenience, we aim to implement user-driven features and enhancements on a regular basis. We are routinely grateful for any feedback - join us in reshaping how we work with PDF documents. With just a couple of basic steps, you'll be able to start your PDF journey:
Step 1: Simply press the "Get Form Button" at the top of this webpage to access our form editor. There you will find all that is required to fill out your document.
Step 2: The tool lets you change most PDF files in a variety of ways. Modify it by writing your own text, correct original content, and add a signature - all when you need it!
This PDF form will require you to provide specific information; to guarantee correctness, please make sure to consider the next recommendations:
1. For starters, when filling in the counterfeit note report pdf, begin with the area that features the following blank fields: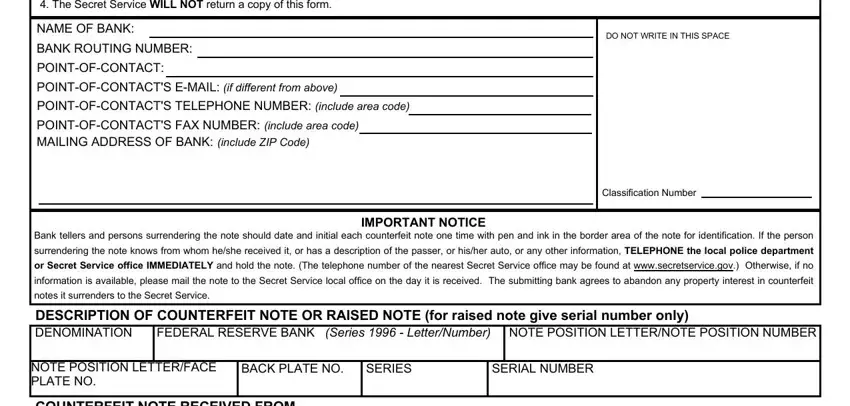 2. The subsequent part would be to submit all of the following blanks: COUNTERFEIT NOTE RECEIVED FROM, NAME OF INDIVIDUAL BUSINESS, DATE OF ACTIVITY OR DEPOSIT, HOME ADDRESS OR BUSINESS LOCATION, HOME PHONE with Area Code, BUSINESS PHONE with Area Code, NAME OF PERSON SURRENDERING AND, NAME OF TELLER RECEIVING AND, INFORMATION ABOUT COUNTERFEIT NOTE, DOES THE CUSTOMER HAVE ANY, WAS THERE ANY SUSPICIOUS ACTIVITY, IS THIS A NON CUSTOMER, REMARKS, Yes, and Yes.
Many people generally get some points wrong when completing DOES THE CUSTOMER HAVE ANY in this section. Ensure that you go over whatever you enter here.
3. The following section is about Genuine note and SSF returned to, This form is not subject to the, SSF Rev, PLEASE SUBMIT TO THE LOCAL SECRET, and Page of - type in each one of these fields.

Step 3: Once you have looked once again at the details you given, click "Done" to conclude your FormsPal process. Join us today and easily access counterfeit note report pdf, available for download. All alterations made by you are saved , making it possible to modify the pdf at a later time if required. Here at FormsPal.com, we do our utmost to make sure your information is stored protected.