Creating the accident report oregon file is not hard with our PDF editor. Try out these steps to prepare the document immediately.
Step 1: Hit the "Get Form Now" button to begin.
Step 2: Once you have entered your accident report oregon edit page, you'll discover all options you may undertake concerning your document at the top menu.
Make sure you enter the following details to fill out the accident report oregon PDF: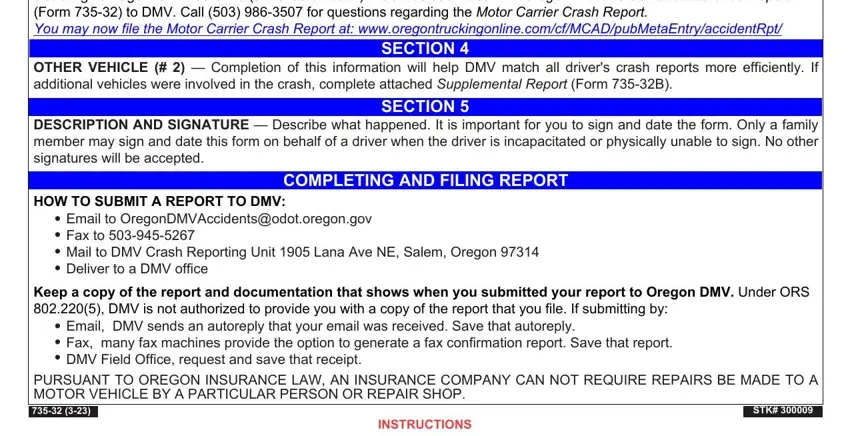 The program will demand you to prepare the ACCIDENT, DATE COUNTY, DO, NOT, WRITE, IN, Accident, Number THIS, SPACE MILEPOST, S, SN AM, PM WITHIN, NEAR WITHIN, NEAR STATE, DATEOFBIRTH SEX, CIRCLE, MFX DRIVERS, RESIDENCE, ADDRESS VEHICLE, OWNERS, NAME, AND, ADDRESS SAME, and CITY box.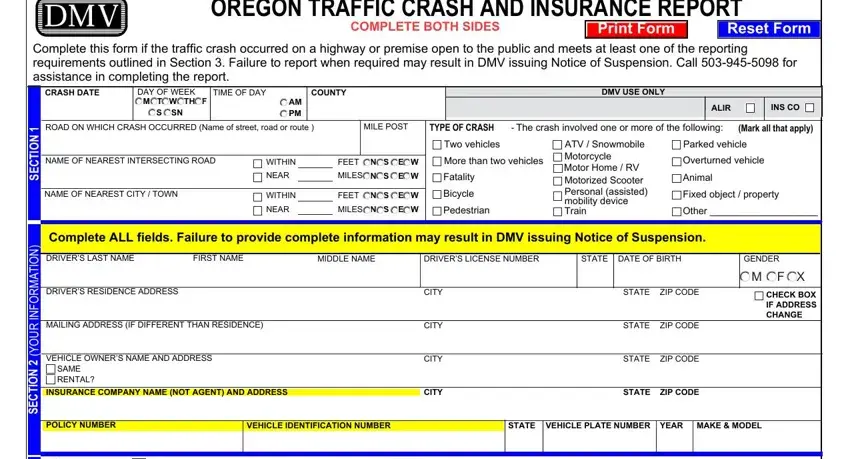 In the POLICY, NUMBER Check, all, statements, that, apply NOT, CES ELCHE, VRE, H, TO NOT, CES VEHICLE, IDENTIFICATION, NUMBER VEHICLE, PLATE, NUMBER STATE, YEAR, MAKE, MODEL DRIVERS, NAME, LAST, FIRST, MIDDLE Name, of, police, department DRIVERS, LICENSE, NUMBER STATE, DATEOFBIRTH County, City, and DRIVERS, ADDRESS field, identify the valuable data.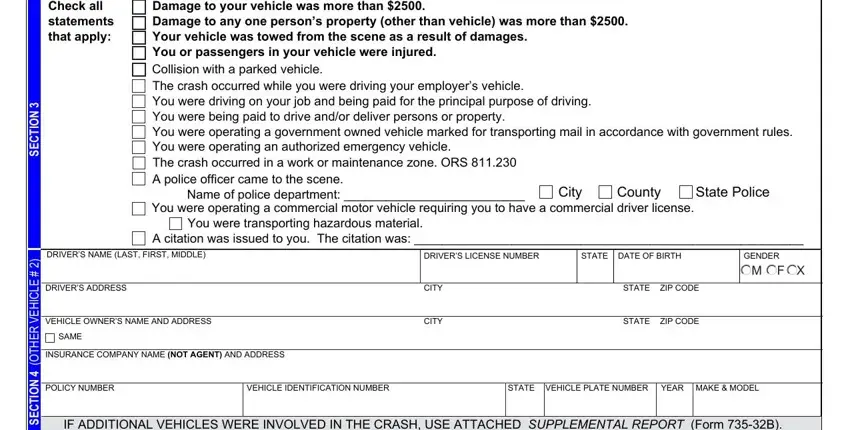 Spell out the rights and obligations of the parties inside the box NOT, CES PRINTED, NAME, OF, PERSON, MAKING, REPORT REASON, DRIVER, IS, UNABLE, TO, SIGN, REPORT DAYTIME, PHONE DATE, SIGNED PHONE, NUMBER, OF, DRIVER COMPLETE, THE, OTHER, SIDE, OF, THIS, PAGE D, MV, COPY and ST, K

Finalize by reading the next fields and filling out the relevant details: YOU, INTENDED, TO WITNESS, INFORMATION YOUR, VEHICLE ROAD, SURFACE Dry, Wet, Snowy, Icy, Other LIGHT, CONDITIONS YOUR, RESIDENCE College, student, Military, Temporary, job YOU, WERE, HEADED North, South East, West On, OTHER, DRIVER, WAS, HEADED name, of, street, road, or, route North, South and East, West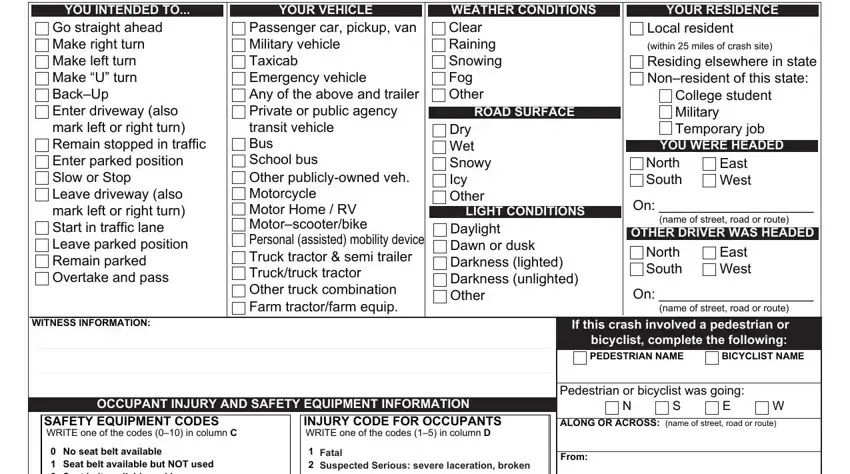 Step 3: Once you choose the Done button, your ready file can be simply transferred to each of your devices or to email specified by you.
Step 4: Generate duplicates of the document - it will help you stay clear of possible issues. And don't get worried - we cannot display or view the information you have.