It won't be a challenge to fill in school accident report applying our PDF editor. This is how you will be able easily create your template.
Step 1: Search for the button "Get Form Here" on the following webpage and press it.
Step 2: Once you've entered the school accident report editing page you'll be able to discover all the options you can use about your document within the top menu.
The following areas are contained in the PDF document you will be filling out.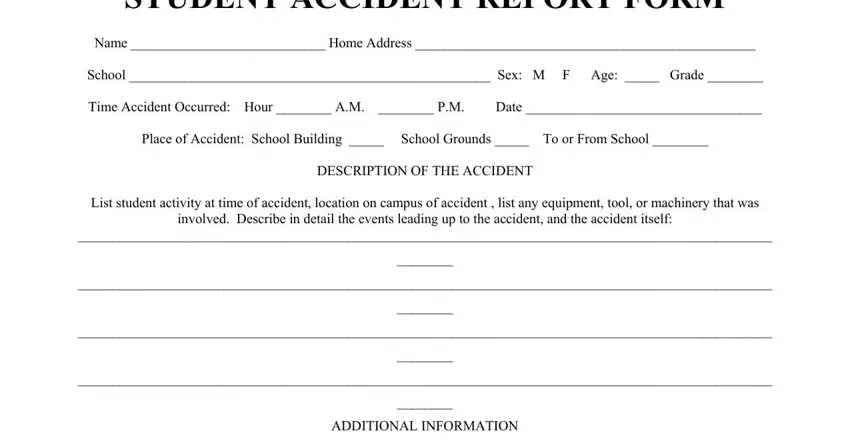 Type in the appropriate information in the space ADDITIONAL, INFORMATION Present, at, the, scene, of, accident, Yes, No First, Aid, Treatment, By, Name Sent, to, School, Nurse, By, Name Sent, Home, By, Name Sent, to, Physician, By, Name Physicians, Name and Sent, to, the, Hospital, By, Name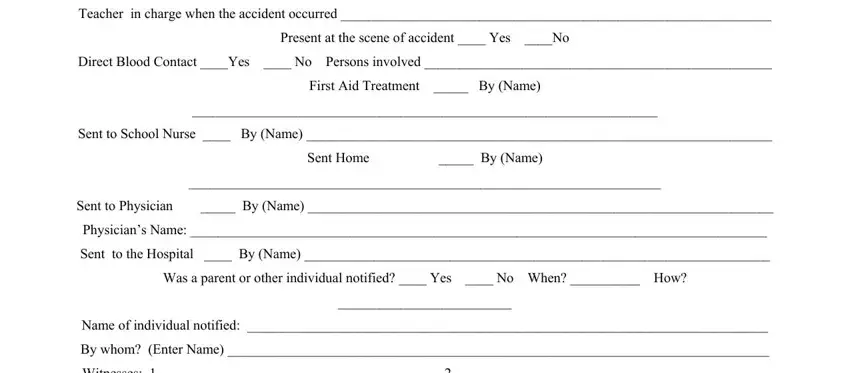 In the Name, of, individual, notified By, whom, Enter, Name Witnesses, Principal, Date, Teacher, Date and REMARKS section, describe the significant particulars.

Step 3: As you pick the Done button, your finalized document is simply transferable to every of your gadgets. Or, you may deliver it via mail.
Step 4: To prevent any problems in the foreseeable future, you should make up to a couple of copies of the document.