If you want to fill out Edgewood, you don't have to download and install any applications - simply give a try to our PDF editor. In order to make our tool better and easier to utilize, we continuously develop new features, with our users' suggestions in mind. To get the process started, take these simple steps:
Step 1: Access the PDF form inside our editor by clicking the "Get Form Button" in the top area of this page.
Step 2: The editor allows you to customize PDF documents in many different ways. Modify it by adding your own text, adjust original content, and place in a signature - all when it's needed!
If you want to complete this document, make sure that you type in the right information in every single field:
1. To begin with, while filling in the Edgewood, beging with the page that contains the following blank fields: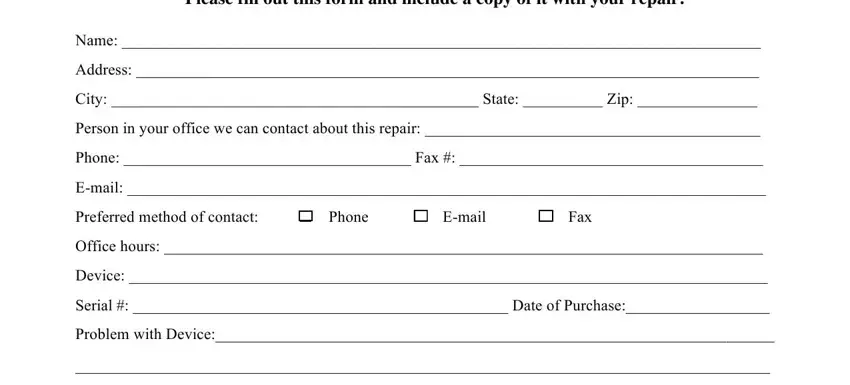 2. After performing this section, go to the next stage and fill in all required particulars in all these blanks - An bench fee will be charged for, Waive bench fee and repair unit, Yes No, I preauthorize Parkell to repair, Date, Signature, Parkell Use Only, Date Received By, Accessories Received, Bench Test Fee Approved By Date, and Repair Estimate Approved By Date.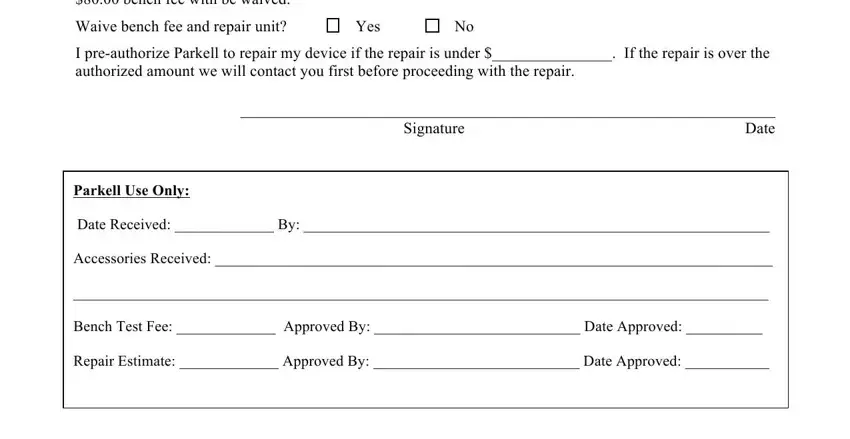 It's very easy to make an error when filling in the Repair Estimate Approved By Date, so make sure to go through it again before you'll finalize the form.
Step 3: Make certain your details are accurate and then simply click "Done" to complete the process. Sign up with us right now and immediately gain access to Edgewood, ready for downloading. All modifications made by you are kept , so that you can change the file further if required. FormsPal is devoted to the personal privacy of all our users; we always make sure that all personal data coming through our system remains protected.