Dealing with PDF forms online is definitely a breeze with our PDF tool. You can fill in pc training and business college prospectus 2021 pdf here effortlessly. In order to make our editor better and easier to utilize, we continuously design new features, taking into account suggestions coming from our users. If you are seeking to begin, here is what it will take:
Step 1: Access the PDF doc inside our editor by pressing the "Get Form Button" at the top of this page.
Step 2: With this state-of-the-art PDF editor, you'll be able to do more than simply fill out blank fields. Express yourself and make your documents seem high-quality with custom text incorporated, or modify the original input to excellence - all backed up by an ability to insert your own pictures and sign the file off.
This form will require specific information to be typed in, so ensure that you take your time to type in precisely what is requested:
1. For starters, once filling out the pc training and business college prospectus 2021 pdf, begin with the form section that has the following fields:

2. Your next part would be to fill out these fields: Name the qualification you intend, Are you currently registered for, What is the year of study for the, Have you applied for a Bursary, YES, If YES to the above state which, Have you applied to any other, YES, State the name of the, PART PERSONAL DETAILS, Surname First Names, Gender Male Female, Date of Birth ID Number, Nationality RSA Other If Other, and Do you have a permanent residence.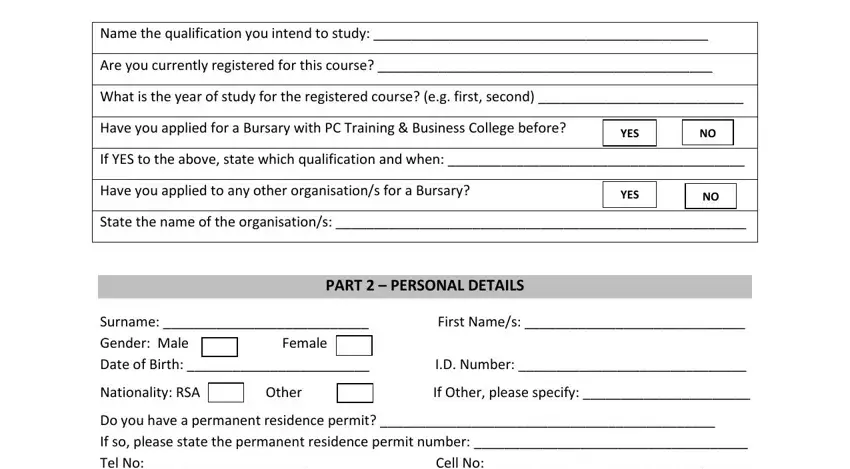 Regarding If YES to the above state which and What is the year of study for the, make sure that you review things in this section. These two are the most important fields in this PDF.
3. The following part focuses on Tel No Cell No, Marital Status Married Single, Do you have a disabilityany, Name and complete address of your, Applicants Home Address, Current Postal Address if, Postal Code Tel No, Postal Code Tel No, and Details of Person that we can - complete every one of these empty form fields.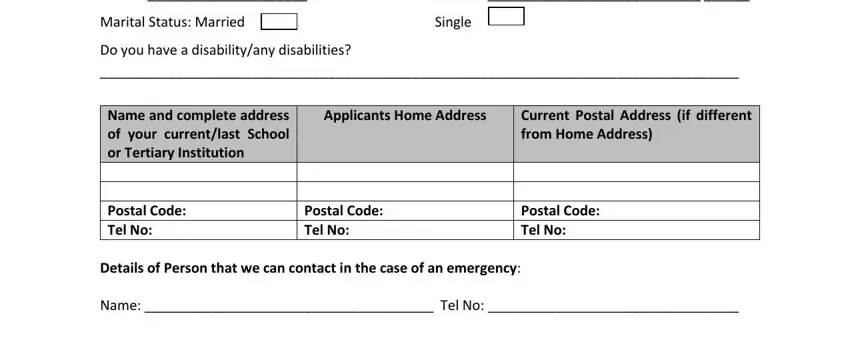 4. To go forward, this fourth stage involves typing in several blanks. These include Details of Person that we can, Name of ParentGuardian, and Relationship, which are crucial to carrying on with this document.

5. The document must be finished by filling out this part. Below you can find a detailed list of form fields that need to be filled in with specific information to allow your form usage to be complete: Tel No of ParentGuardian, ContactWork Address, Please indicate if either you or, Name, Relationship, Department, Occupation, Year, MotherFather, From, PART EDUCATION DETAILS IF, Details of Secondary School you, Name of School, Year, and Grade Completed.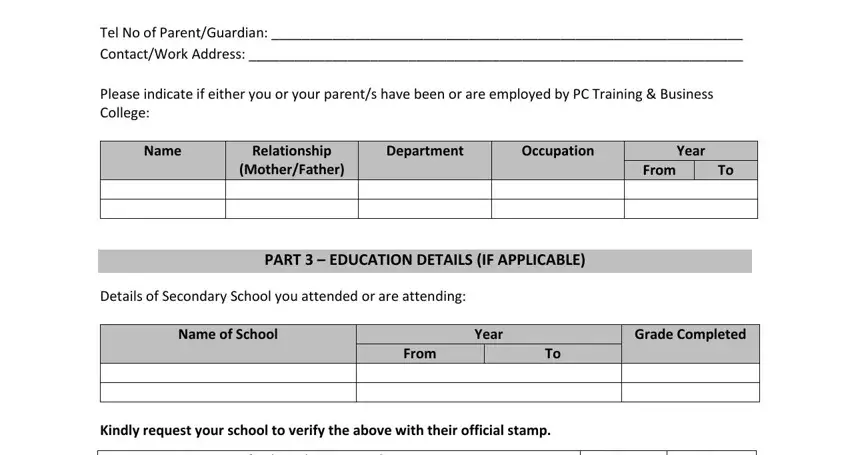 Step 3: Check everything you have inserted in the blanks and then hit the "Done" button. Get hold of the pc training and business college prospectus 2021 pdf when you register here for a 7-day free trial. Conveniently access the pdf in your personal cabinet, together with any edits and adjustments all kept! FormsPal provides secure document completion with no personal information record-keeping or distributing. Be assured that your details are secure with us!