When using the online editor for PDFs by FormsPal, you are able to fill in or modify form loan forgiveness right here and now. Our tool is constantly evolving to deliver the best user experience possible, and that is thanks to our commitment to continual development and listening closely to customer opinions. This is what you'll want to do to get going:
Step 1: Just click on the "Get Form Button" at the top of this webpage to open our pdf file editing tool. Here you will find everything that is needed to fill out your file.
Step 2: This editor gives you the ability to work with PDF documents in various ways. Change it by adding any text, adjust original content, and put in a signature - all close at hand!
This document requires particular information to be typed in, hence you should take some time to enter exactly what is asked:
1. It's essential to complete the form loan forgiveness correctly, thus pay close attention while filling out the segments containing all of these blank fields: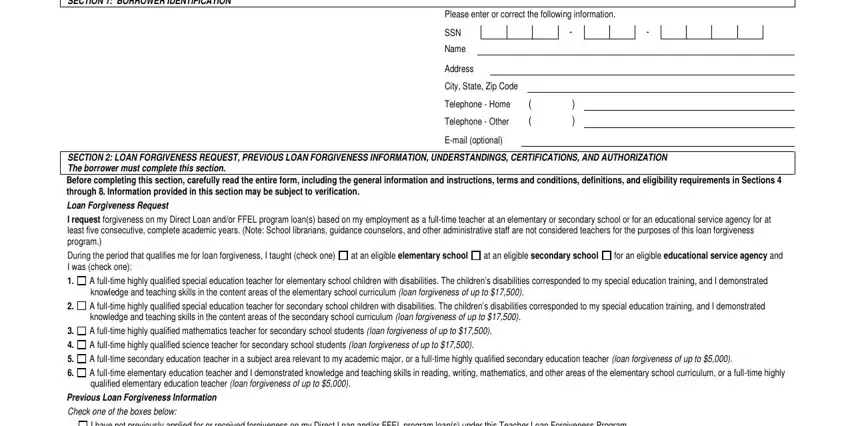 2. Right after this section is filled out, go to enter the relevant information in these: I have not previously applied for, Loan Holder Name, Loan Holder TelephoneWeb Site, Forgiveness Amount, Understandings Certifications and, Borrowers Signature, Todays Date mmddyyyy, SECTION CHIEF ADMINISTRATIVE, The chief administrative officer, Name of School or Educational, Check here if this is a school, an Indian reservation by an Indian, County, and Telephone.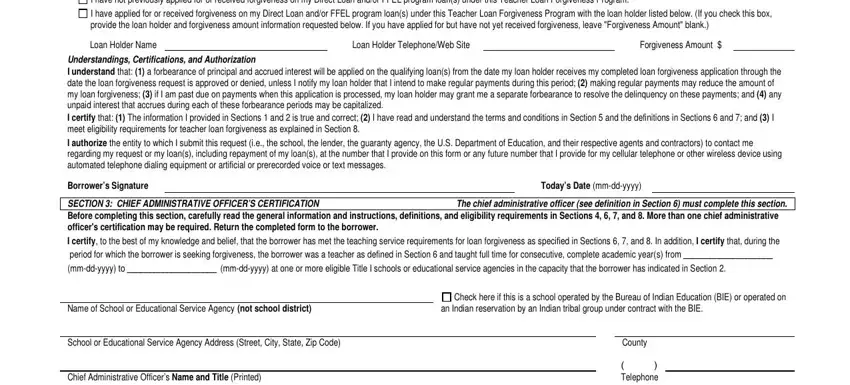 3. This subsequent segment is generally fairly simple, Name of School or Educational, and Todays Date mmddyyyy - all these fields has to be completed here.

4. The subsequent section will require your details in the following areas: SECTION WHERE TO SEND THE, If you need help completing this, Privacy Act Disclosure Notice, The Privacy Act of USC a, The authorities for collecting the, The principal purposes for, The information in your file may, In the event of litigation we may, Paperwork Reduction Notice, and According to the Paperwork. Just be sure you enter all needed information to go onward.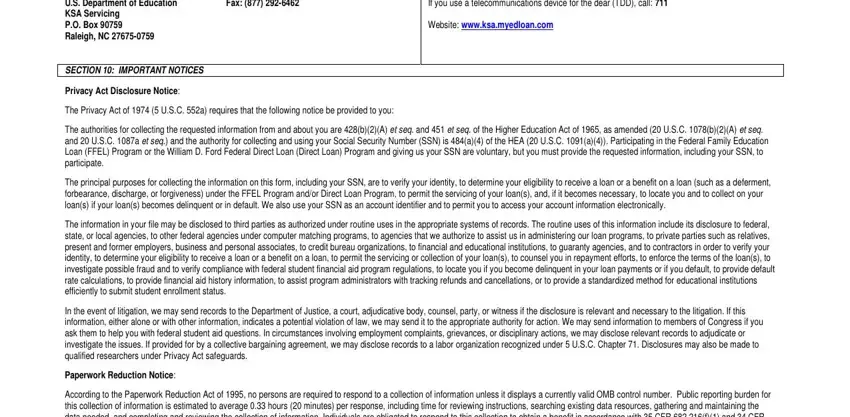 When it comes to According to the Paperwork and If you need help completing this, be certain you get them right here. Both of these are viewed as the most significant ones in this PDF.
Step 3: Revise everything you've entered into the blanks and then click the "Done" button. Obtain your form loan forgiveness as soon as you sign up for a free trial. Immediately use the pdf within your personal cabinet, along with any modifications and adjustments being conveniently preserved! At FormsPal.com, we endeavor to make sure that your details are kept protected.