We've applied the endeavours of our best software engineers to design the PDF editor you are about to begin using. Our app allows you to prepare the army pcc pci checklist document without trouble and don't waste time. All you should undertake is stick to the next simple steps.
Step 1: Choose the button "Get Form Here" on this webpage and select it.
Step 2: So you should be on your file edit page. It's possible to add, change, highlight, check, cross, add or erase fields or words.
Type in the essential information in every single section to create the PDF army pcc pci checklist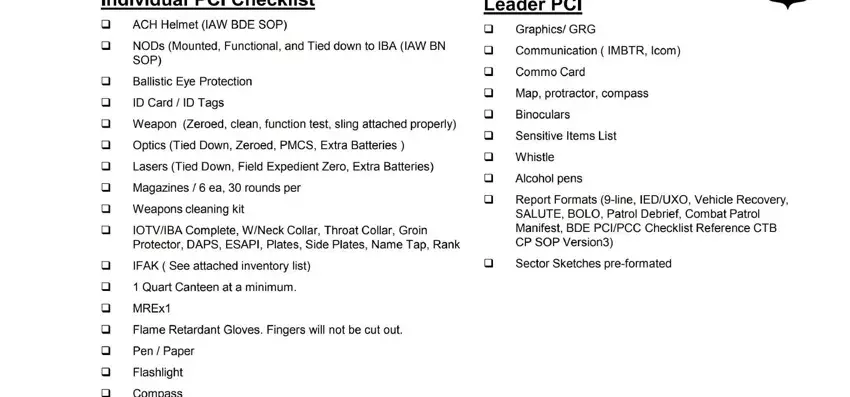 Type in the necessary details in the box .

It is crucial to put down certain details within the segment Improved, First, Aid, Kit, IF, AK Mortuary, Affairs, Kit eae, a, eae, a, eae, a eae, a, eae, a, i, pgp, gea, Me, dice, a, eae, a, eae, a and ea, Me, dice, a, eae, a

In the part Mortuary, Affairs, Kit ea, Me, dice, a, eae, a eae, a and eae, a include the rights and obligations of the parties.

Complete the file by analyzing all of these areas: Warrior, Aid, and, Litter, Kit, WALK, PCI ea, pack, ea and eae, a

Step 3: Hit "Done". Now you may export your PDF document.
Step 4: Ensure that you remain away from possible future worries by generating around two copies of the document.