When using the online PDF tool by FormsPal, it is possible to complete or edit pnp online id application here. Our team is aimed at providing you with the ideal experience with our editor by consistently releasing new capabilities and upgrades. With these improvements, working with our tool becomes better than ever! Starting is easy! All you should do is stick to these simple steps directly below:
Step 1: Click the "Get Form" button at the top of this webpage to access our PDF tool.
Step 2: As soon as you open the online editor, you'll see the document made ready to be filled out. Other than filling out different fields, you could also perform some other actions with the file, such as adding any text, modifying the initial textual content, adding images, affixing your signature to the form, and more.
Be mindful while completing this form. Ensure each and every blank field is filled out accurately.
1. To begin with, once filling in the pnp online id application, beging with the area that has the next blanks: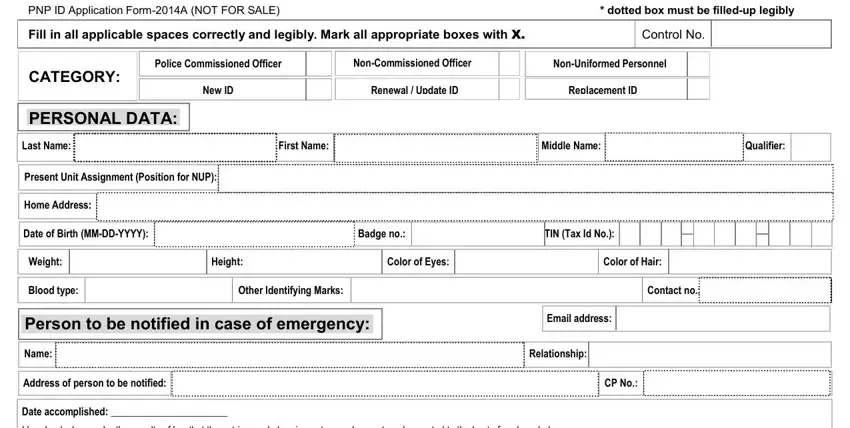 2. The third step is to complete the next few fields: Address of person to be notified, CHIEF OF UNITOFFICE OR, in black ball pen, Signature of Applicant, REQUIREMENTS a NEW APPLICANT, Right Thumb Mark, x colored picture with white, name should appear below the, picture Last Name First Name MI, below is the rank, Picture should be without, headgear without moustache eye, PNP GOA without necktie for, police Monday uniform for NUPs, and form.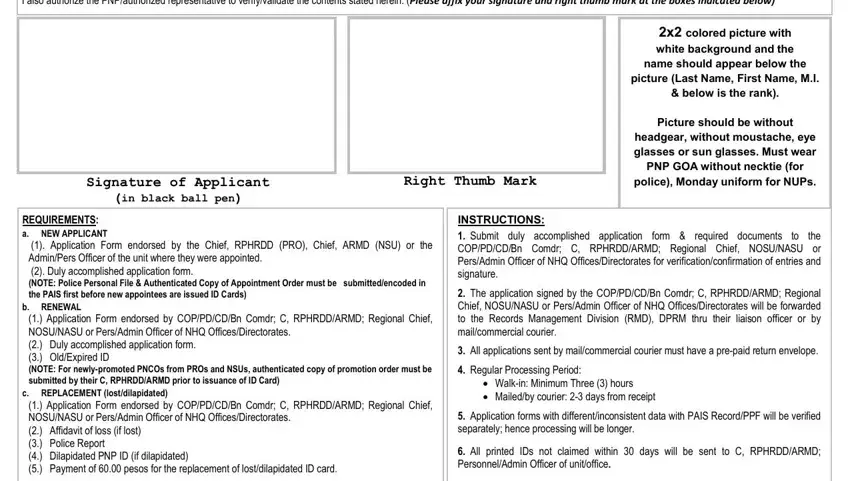 Be very mindful while completing form and Address of person to be notified, since this is the section where a lot of people make some mistakes.
3. Completing CHIEF OF UNITOFFICE OR, RANK UNITOFFICE CP No, REQUIREMENTS a NEW APPLICANT, VERIFIED BY ACTION OFFICER ID, REVIEWED BY, CHIEF ID SECTION, APPROVED BY FOR TDPRM, and DATE is essential for the next step, make sure to fill them out in their entirety. Don't miss any details!

Step 3: Before finalizing this file, ensure that all form fields were filled out correctly. Once you determine that it's fine, click "Done." Download your pnp online id application after you subscribe to a free trial. Quickly access the pdf file inside your personal account page, along with any modifications and adjustments all preserved! We don't share the information you enter when filling out documents at our website.