With the help of the online tool for PDF editing by FormsPal, you'll be able to fill out or alter tdoc visitation application right here and now. FormsPal team is relentlessly endeavoring to expand the tool and make it even faster for clients with its many features. Enjoy an ever-improving experience today! Getting underway is effortless! All that you should do is stick to the next basic steps directly below:
Step 1: Click the "Get Form" button above on this webpage to open our PDF editor.
Step 2: Once you open the tool, there'll be the form prepared to be filled in. Apart from filling in different fields, you may as well perform several other things with the Document, including adding custom text, modifying the original textual content, inserting images, signing the document, and a lot more.
As for the blanks of this specific PDF, here's what you should do:
1. While filling in the tdoc visitation application, ensure to incorporate all important fields in the associated form section. This will help to facilitate the process, making it possible for your details to be processed efficiently and accurately.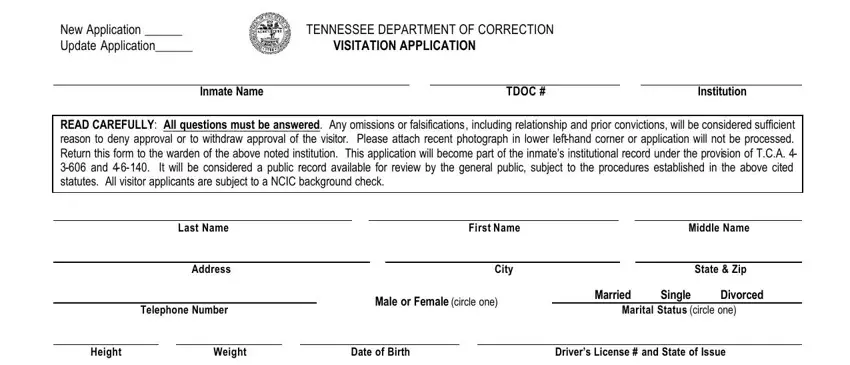 2. Once this array of fields is filled out, proceed to enter the applicable details in all these - BRO Brown WHI White, BLK Black BRO Brown GRY Gray MUL, BLN BlondeStrawberry BAL Bald GRY, A Asian or Pacific Islander B, DA Daughter DI DaughterinLaw FA, FR Friend GD Granddaughter GF, HS Half Sister HU Husband LG Legal, BLU Blue GRN Green HAZ Hazel, NI Niece SB Step Brother SD Step, Complexion circle one FAR Fair ALB, WI Wife, SM Step Mother SN Son SO SoninLaw, Race circle one, Hair Color circle one, and Eye Color circle one.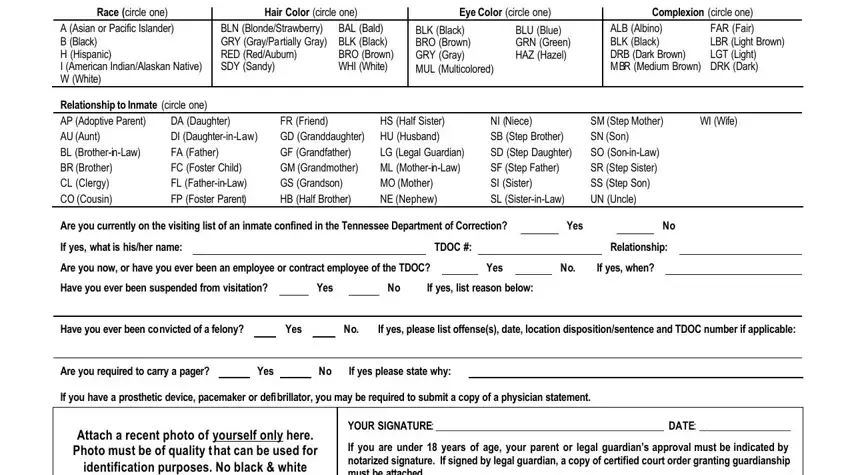 3. This third segment should be fairly simple, identification purposes No black, Are you required to carry a pager, Approved, machine, Visitors handbooks are available, Disapproved DATE Wardens, Disapproved DATE Wardens, CR Rev, Page of, Duplicate as Needed, and RDA - all these fields needs to be filled in here.

It is possible to get it wrong when filling out your Are you required to carry a pager, for that reason you'll want to look again before you decide to send it in.
4. Completing PARENTAL CONSENTRELEASE FOR MINORS, Inmate Name, TDOC, Institution, This form must be completed by the, Minors Name, Relationship of Child to Inmate, Date of Birth, Approved EscortGuardian, and Guardians Date of Birth is key in this stage - make sure you don't rush and be mindful with every single field!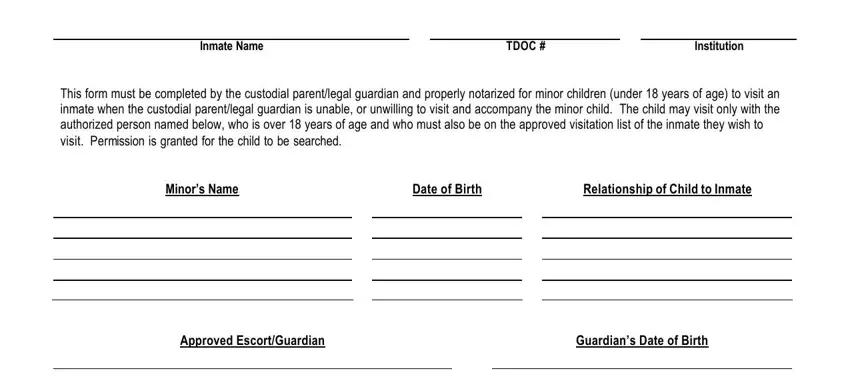 5. To wrap up your document, the last segment involves a few additional blanks. Completing Signature of Custodial ParentLegal, Date, STATEMENT OF NOTARY PUBLIC, Subscribed to and sworn before me, and Visitation File Inmate should finalize the process and you're going to be done quickly!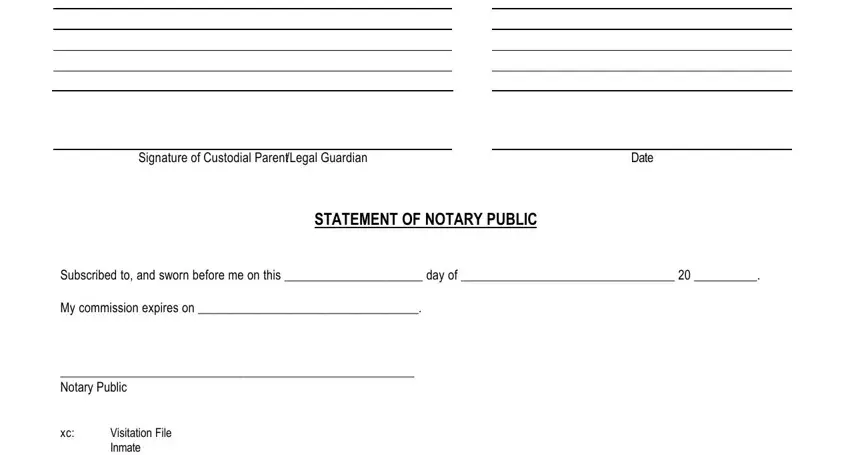 Step 3: You should make sure the information is right and then press "Done" to continue further. Sign up with us right now and immediately access tdoc visitation application, prepared for downloading. Every edit you make is conveniently kept , letting you modify the form later anytime. FormsPal is devoted to the personal privacy of our users; we make certain that all personal data used in our editor remains secure.