The PDF editor that you're going to begin using was made by our finest computer programmers. You can obtain the usps 1723 file easily and conveniently using this application. Just try out this guide to get started.
Step 1: Select the orange "Get Form Now" button on the web page.
Step 2: After you've accessed the usps 1723 edit page, you'll discover all options you can take concerning your document in the top menu.
For you to create the template, provide the details the program will request you to for each of the next segments: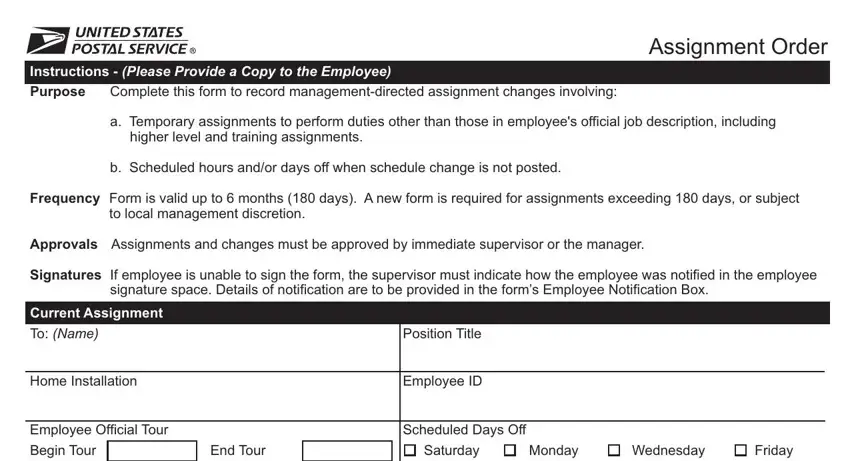 Add the expected particulars in the Lunch Out, Lunch Return, Sunday, Tuesday, Thursday, DesAct Code, LDC, OPERLU, Rate Schedule, Level, Pay Location, FLSA, Exempt Nonexempt, New Directed Assignment Position, and FLSA Worksheet If temporary box.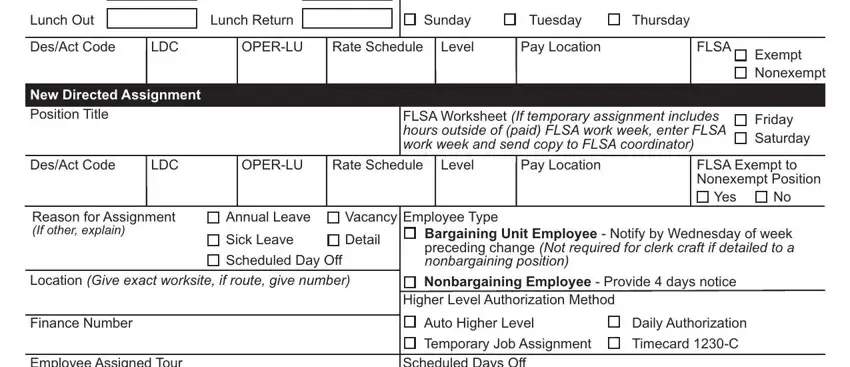 You should emphasize the significant details in the Employee Assigned Tour, Scheduled Days Off, Begin Tour, Lunch Out, End Tour, Lunch Return, Saturday, Monday, Wednesday, Friday, Sunday, Tuesday, Thursday, Assignment Start Date, and Assignment End Date section.

Step 3: As soon as you hit the Done button, the final document is simply transferable to any kind of of your devices. Or alternatively, you can easily send it via email.
Step 4: To avoid all of the concerns in the foreseeable future, you will need to prepare around two or three copies of the file.