Texas can be filled in in no time. Simply open FormsPal PDF editor to complete the task promptly. Our tool is consistently evolving to deliver the very best user experience achievable, and that's thanks to our dedication to constant enhancement and listening closely to customer feedback. To get started on your journey, consider these simple steps:
Step 1: Access the PDF doc inside our editor by hitting the "Get Form Button" above on this page.
Step 2: Once you open the online editor, you will see the form prepared to be filled in. Besides filling in different blanks, you can also do some other things with the Document, that is putting on any textual content, editing the initial textual content, adding illustrations or photos, placing your signature to the document, and a lot more.
Completing this PDF usually requires thoroughness. Make sure all mandatory fields are filled in accurately.
1. Start filling out your Texas with a group of essential blanks. Note all of the required information and ensure there is nothing omitted!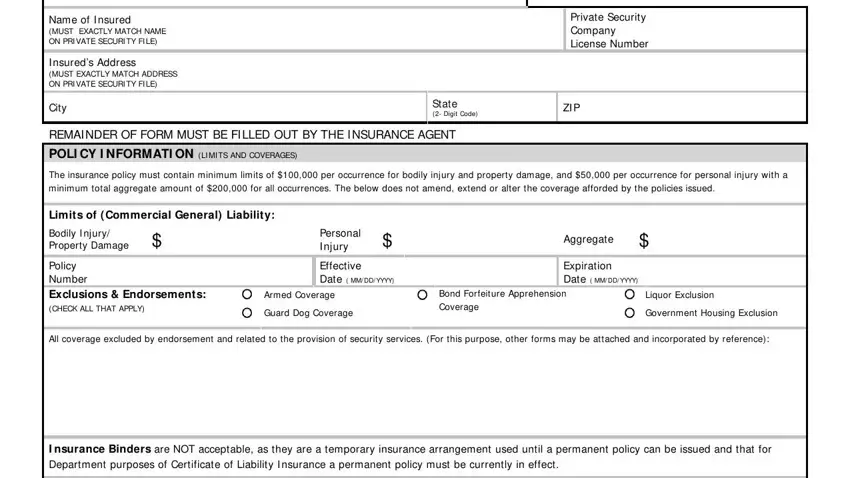 2. The next part would be to fill out these fields: I NSURANCE COMPANY I NFORMATI ON, I nsurance Company, I nsurance Agent Agency, Address, City, Texas I nsurance License Number, State Digit Code, ZI P, Phone, I nsurance Agents Signature Date, Faxed to, I nsurance Compliance Section, Emailed to, Mailed to Texas Department of, and PSB Rev Approved by Texas Dept.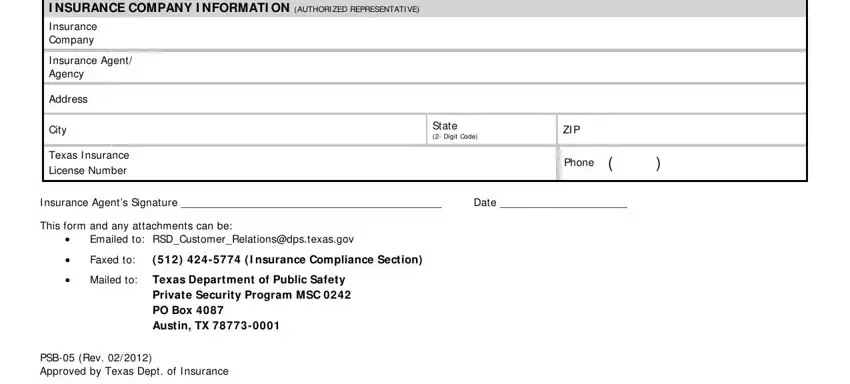 It is easy to make an error when completing your Texas I nsurance License Number, therefore you'll want to reread it before you'll finalize the form.
Step 3: Glance through the details you've inserted in the form fields and hit the "Done" button. Right after getting afree trial account here, you'll be able to download Texas or email it immediately. The PDF file will also be easily accessible via your personal account page with all your edits. FormsPal is dedicated to the confidentiality of our users; we always make sure that all information put into our system stays protected.