The PDF editor was built to be so simple as possible. Since you use the next actions, the procedure for filling out the remistart patient rebate program file will be simple.
Step 1: Press the orange "Get Form Now" button on this web page.
Step 2: You can see all the options that you may use on your document once you've got entered the remistart patient rebate program editing page.
These particular parts will help make up the PDF file: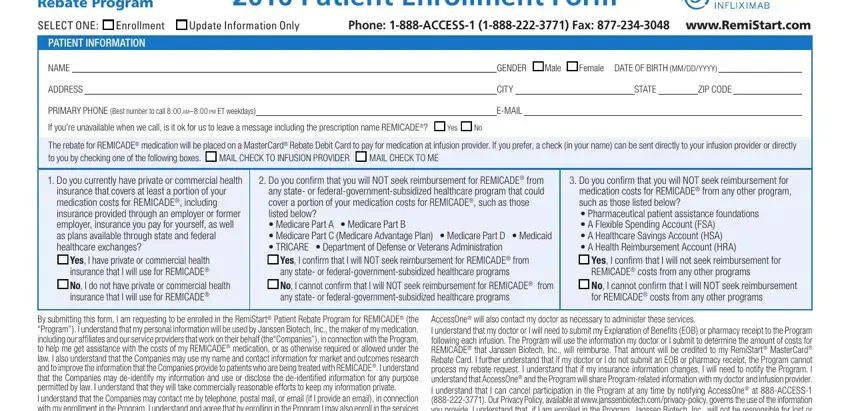 The system will expect you to submit the INSURANCE INFORMATION PRIVATE OR, Required PRIMARY INSURANCE CO NAME, PRIMARY INSURANCE CO PHONE, MEDICAL GROUP NUMBER, PAYER ID see back of card, POLICYHOLDER NAME, POLICY ID, PRESCRIPTION INSURANCE NAME, PHARMACY SERVICES PHONE see back, GROUP, BIN, PCN, RELATIONSHIP TO POLICYHOLDER Fax, copies of records from my, and PATIENT SIGNATURE If the patient box.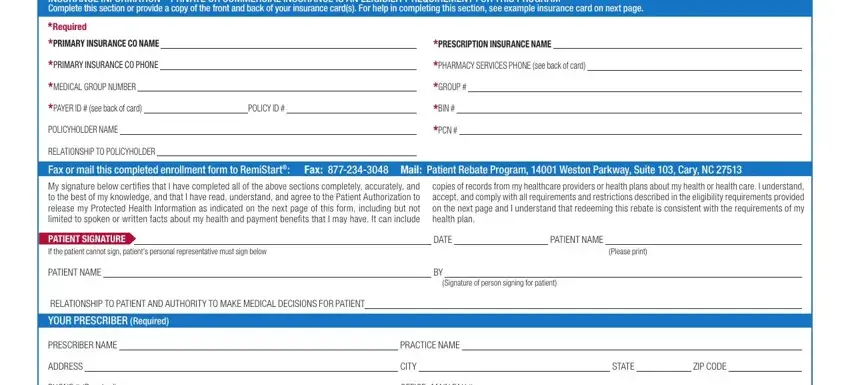 It is necessary to write down particular details in the area PHONE Required, OFFICEMAIN FAX, TREATMENT PROVIDER INFORMATION, NAME OF PHYSICIAN, ADDRESS, PHONE Required, OFFICEHOSPITALOTHER NAME, CITY, STATE, ZIP CODE, OFFICEMAIN FAX, Nonprescribing MDs office, Hospital Outpatient, Home InfusionInfusion Provider, and Other.

The Review the eligibility, Fax Mail Patient Rebate Program, NOTE Your signature on the first, cid That you understand accept and, that redeeming this rebate is, cid That you have read understand, XYZ Insurance Company, Plan Type, XYX Company Group Payer ID ID, Copay RxBIN RxPCN RxGroup RxID, Primary Insurance Information, Submit All Claims to PO Box Cary, Pharmacists Call, The BIN will always be numeric, and Please select to read the full field could be used to specify the rights and responsibilities of each party.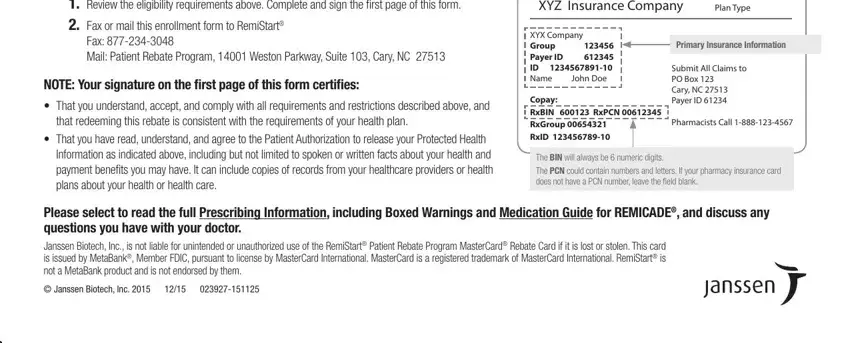 Step 3: After you hit the Done button, your final file is easily exportable to any type of of your devices. Alternatively, you will be able to send it via email.
Step 4: Make a copy of any document. It would save you some time and help you prevent difficulties later on. Also, the information you have isn't going to be revealed or checked by us.