In case you intend to fill out cube testing format, you won't have to install any kind of applications - simply try using our PDF tool. Our tool is continually evolving to deliver the best user experience possible, and that's because of our resolve for continual development and listening closely to customer comments. With just several easy steps, it is possible to start your PDF editing:
Step 1: Just click on the "Get Form Button" in the top section of this webpage to launch our pdf form editing tool. This way, you will find everything that is necessary to fill out your document.
Step 2: This tool enables you to modify most PDF files in a range of ways. Modify it with customized text, correct original content, and include a signature - all possible in minutes!
When it comes to fields of this specific form, this is what you want to do:
1. Begin completing the cube testing format with a number of major fields. Get all the information you need and ensure there is nothing left out!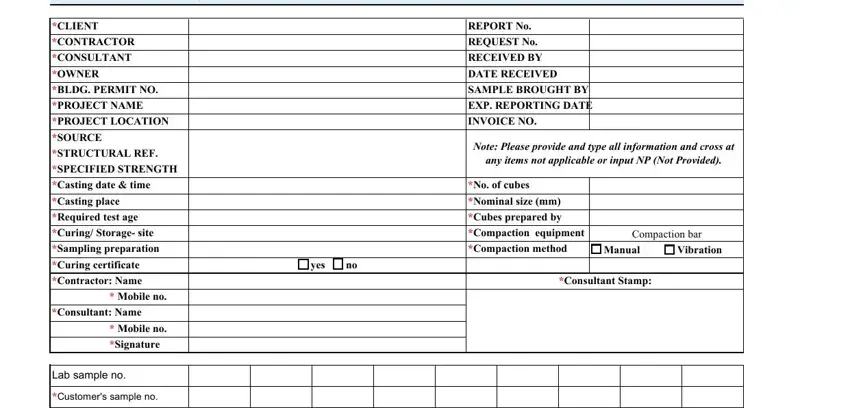 2. The next step would be to fill in all of the following blanks: Fracture type, Remarks, Volume determination method, BS Part Amd by calculation, Comp strength test method, BS Part Amd, Curing storage conditionlab, BS Part Amd NA, Condition when received, Good Poor Compaction Honey Comb, Date tested, Tested by, Reported by, Checked by, and Mass density measurement.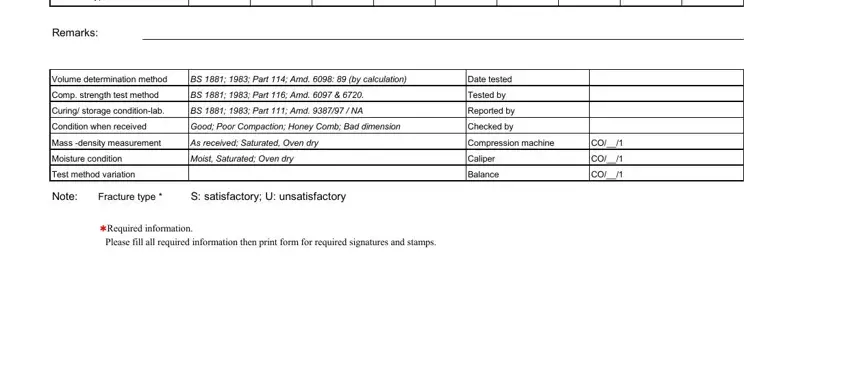 People who use this document frequently get some things wrong while filling out Remarks in this part. Remember to double-check what you type in right here.
Step 3: As soon as you have looked again at the information in the fields, click "Done" to conclude your document generation. Go for a 7-day free trial subscription with us and gain direct access to cube testing format - with all changes kept and available from your personal account. Whenever you work with FormsPal, you're able to fill out forms without stressing about information breaches or records getting distributed. Our secure platform makes sure that your personal information is maintained safe.