If you desire to fill out E-mail, you don't need to download and install any software - simply try our online tool. To maintain our tool on the cutting edge of convenience, we strive to integrate user-oriented features and enhancements on a regular basis. We are always glad to receive suggestions - play a pivotal role in reshaping PDF editing. Getting underway is easy! All that you should do is take these simple steps below:
Step 1: Simply hit the "Get Form Button" above on this page to access our pdf file editor. Here you will find everything that is required to work with your document.
Step 2: With our online PDF tool, it is possible to do more than merely complete blanks. Try all of the features and make your documents seem perfect with custom text added, or fine-tune the file's original input to excellence - all accompanied by the capability to incorporate stunning pictures and sign the file off.
This PDF doc needs specific details; in order to guarantee correctness, remember to take note of the recommendations down below:
1. You need to complete the E-mail properly, thus be attentive while working with the segments comprising these specific fields: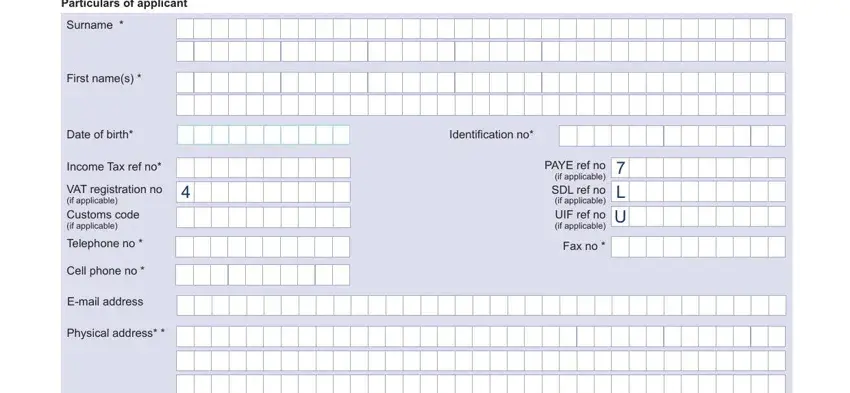 2. Once your current task is complete, take the next step – fill out all of these fields - Postal address, Audit, Are you currently aware of any, Yes, Particulars of foreign investment, Rand amount to be invested, Expected annual income from this, Details of foreign investment to, What type of investment call, With which institution will the, When will this investment be made, What is the anticipated duration, In which country will this, Page of, and C C Y Y with their corresponding information. Make sure to double check that everything has been entered correctly before continuing!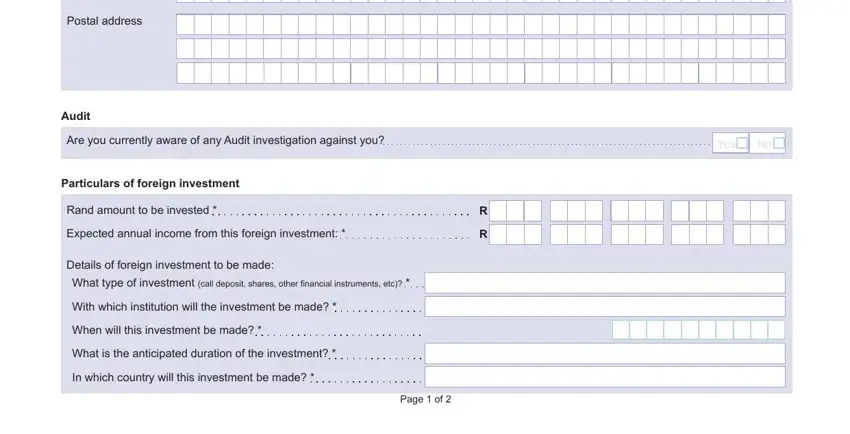 3. This next segment should also be fairly straightforward, Source of the capital to be, Loan Attach loan agreement, Inheritance Attach letter from the, Donation Attach details of donor, Shares Attach letter from, Sale of property Copies of Deed of, SavingsCashBank Account Attach, I have attached a detailed, YES, If the answer is NO then attach a, Declaration, I declare that the information, Appointment of representativeagent, and I hereby authorise and instruct to - all of these fields will need to be filled in here.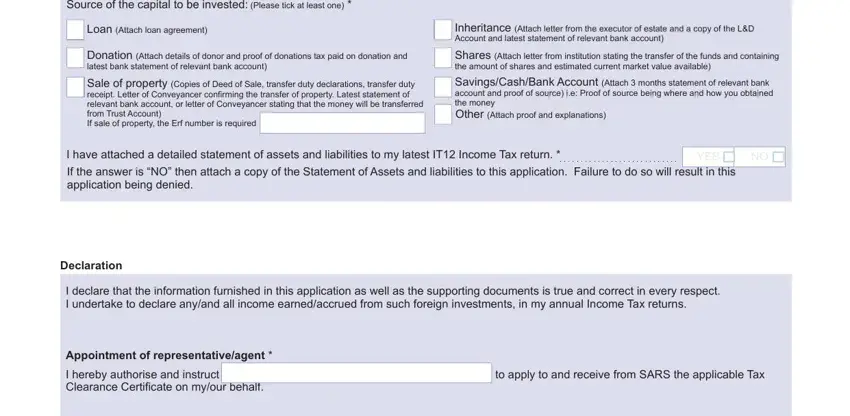 Be really careful while filling out I hereby authorise and instruct to and Source of the capital to be, as this is where most users make errors.
4. The following part needs your details in the subsequent areas: Signature of applicant, Name of, applicant, Identity number, Signature of representativeagent, Name of representative agent, Date, Date, Details of agentbank handling, Nam e of Agent Bank, Telephone no, Email address, and Fax no. Ensure that you fill out all of the required information to move forward.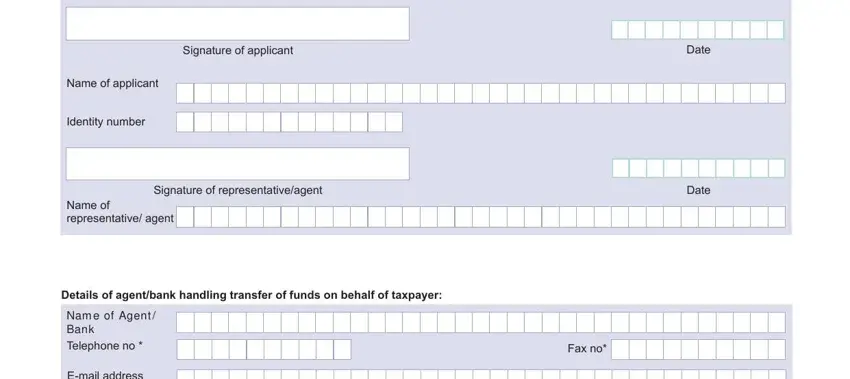 5. To conclude your document, the final subsection requires some additional fields. Entering Email address, Postal address, For office use only, Refer to audit, Refer to special investigations, Brief reasons for referral, TPSC reference number of, and Page of should finalize the process and you're going to be done very fast!

Step 3: Proofread the details you've entered into the form fields and click on the "Done" button. Right after setting up afree trial account at FormsPal, you will be able to download E-mail or send it via email right away. The PDF will also be easily accessible through your personal account page with all of your modifications. FormsPal is committed to the confidentiality of all our users; we make certain that all personal data used in our editor stays protected.