The process of filling out the sc dmv form 400 is quite simple. We made sure our tool is not difficult to navigate and can help complete any kind of PDF within minutes. Check out a few steps you need to take:
Step 1: Press the "Get Form Now" button to begin the process.
Step 2: At this point, you can start editing your sc dmv form 400. Our multifunctional toolbar is readily available - insert, delete, adjust, highlight, and carry out other commands with the content in the document.
You'll need to provide the next information to create the document: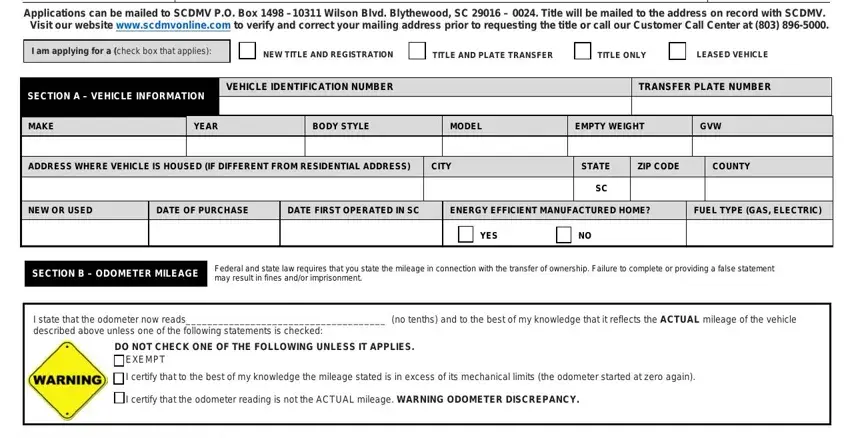 You have to write the information within the field LEASING COMPANY NAME, ONLY COMPLETE FOR LEASED VEHICLES, CONTACT PERSON, CUSTOMER NO, LEASING COMPANY ADDRESS, CITY, STATE, ZIP CODE, COUNTY, PRIMARY OWNERS REGISTRANTS LEGAL, COOWNERS COREGISTRANTS LEGAL NAME, PRIMARY OWNERS CUSTOMER NO SC, DATE OF BIRTH, COOWNERS CUSTOMER NO SC DRIVERS, and DATE OF BIRTH.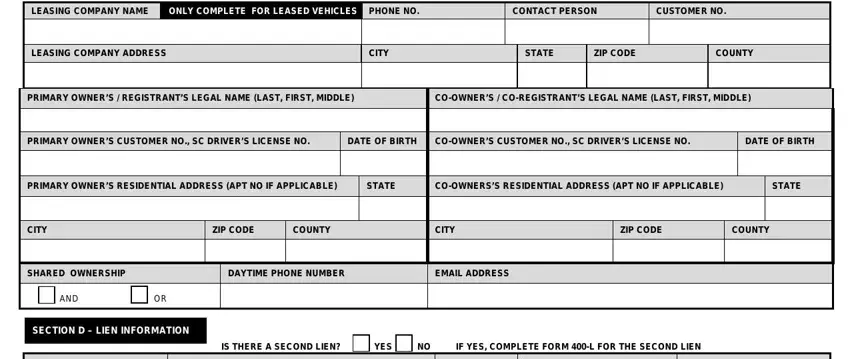 Note down the required information while you're on the CUSTOMER NO, LIENHOLDER NAME, DATE OF LIEN, CONTACT PERSON, TELEPHONE NUMBER, MAILING ADDRESS, CITY, STATE, and ZIPCODE field.

The TRANSFERRED FROM, TRANSFERRED AS, MILITARY, OTHER, PARENT, SPOUSE, LEGAL HEIR, ACTIVE DUTY NON RESIDENT, THIS VEHICLE WAS A BONAFIDE GIFT, CHILD, BROTHERSISTER, BENEFICIARY, SPOUSEDEPENDENT, TAX CREDIT PAID IN RECIPROCAL STATE, and GRANDPARENT space is where both parties can indicate their rights and responsibilities.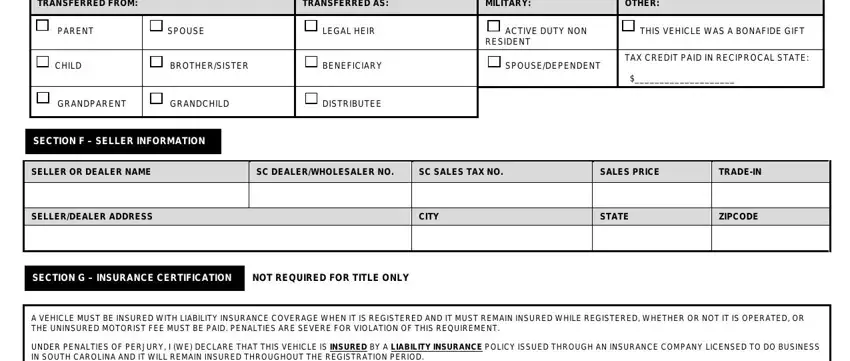 Finalize the form by reading the next fields: UNDER PENALTIES OF PERJURY I WE, NAME OF INSURANCE COMPANY, SECTION H DONATE LIFE SC, YES I WISH TO DONATE MORE OR LESS, SECTION I SIGNATURE OF OWNER, UNDER PENALTIES OF PERJURY I, SIGNATURE OF OWNER DATE, DISCLOSURE STATEMENT, REQUIRED FOR VEHICLES LBS OR BUS, SOUTH CAROLINA CODE OF LAWS THE, SSN OR FEIN, and FEES.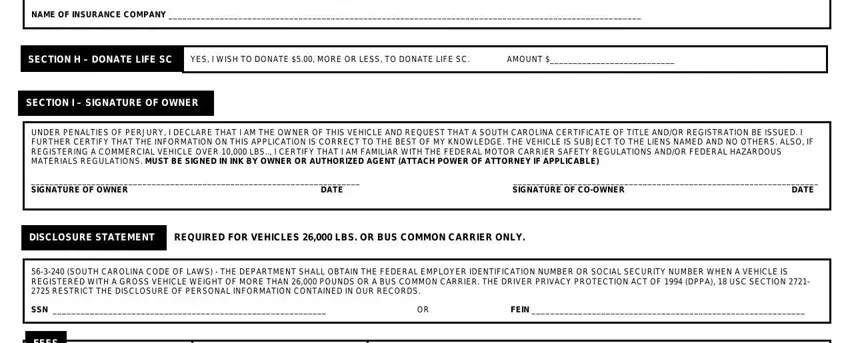 Step 3: Click the "Done" button. Now you may export the PDF file to your electronic device. In addition, you may send it via email.
Step 4: In order to prevent potential future difficulties, be sure to hold as much as several copies of every document.