You can certainly fill in forms taking advantage of our PDF editor. Enhancing the sss loan form online form is not hard if you use the next steps:
Step 1: To begin the process, select the orange button "Get Form Now".
Step 2: You are now on the file editing page. You may edit, add text, highlight certain words or phrases, place crosses or checks, and include images.
Fill in the next segments to fill in the document: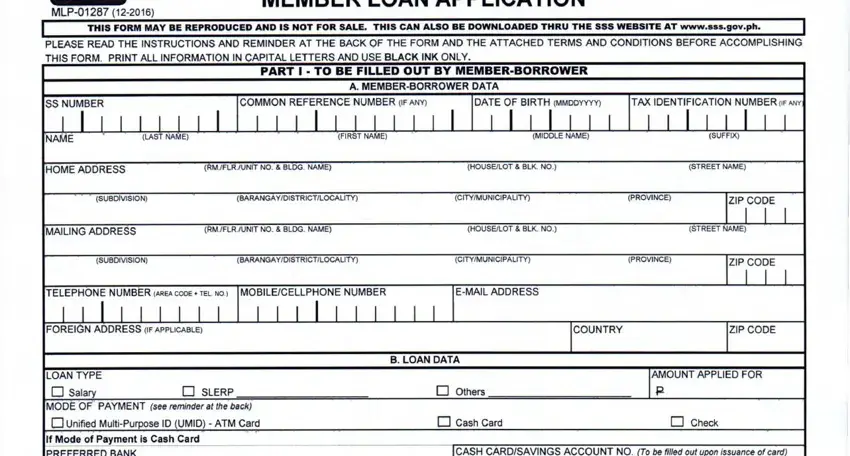 Fill out the LOAN, TYPE, Salary SL, ERP MODE, OF, PAYMENT, see, reminder, at, the, back Unified, MultiPurpose, I, DU, MID, ATM, Card B, LOAN, DATA Others, O, Cash, Card AMOUNT, APPLIED, FOR, R O, Check Citi, bank, NA, Philippines O, Union, Bank, of, the, Philippines PRINTED, NAME SIGNATURE, DATE, and EMPLOYER, ID, NUMBER fields with any information which may be asked by the system.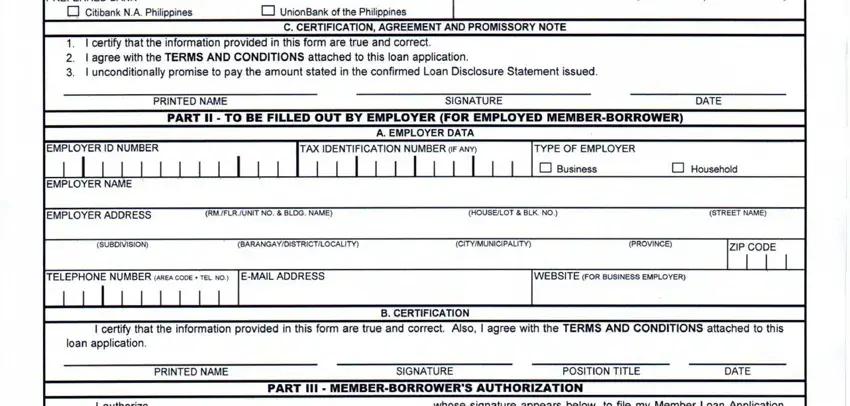 You will be required to write down the details to let the system fill in the part loan, application PRINTED, NAME SIGNATURE, POSITION, TITLE DATE, PART, III, MEMBER, BORROWERS, AUTHORIZATION I, authorize SIGNATURE, OVERPRINTED, NAME, OF MEMBER, BORROWER DATE, SIGNATURE, OVERPRINTED, NAME, OF AUTHORIZED, REPRESENTATIVE DATE, both, w, signature and Other, ID, cards, document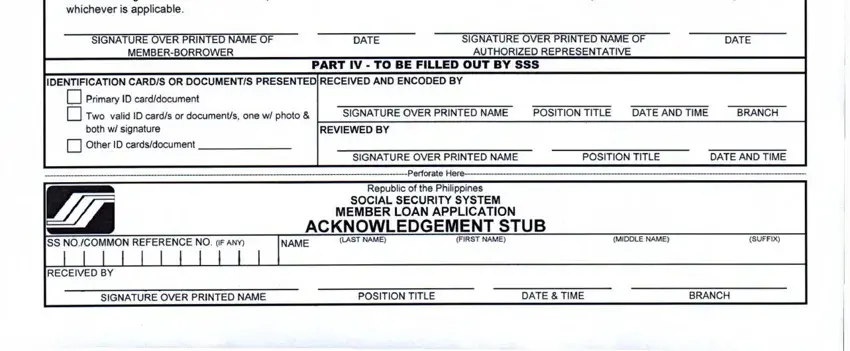 Please list the rights and obligations of the sides in the RA, OTHERWISE, KNOWN, AS, TRUTH, IN, LENDING, ACT HIS, HER, MEMBER, LOAN, APPLICATION PENAL, CODE, OF, THE, PHILIPPINES and WARNING paragraph.

Terminate by analyzing the following areas and preparing them accordingly: RAJ, OTHERWISE, KNOWN, AS, R, Jr, HNL, ENDING, ACT

Step 3: Choose the Done button to save your document. Then it is available for upload to your gadget.
Step 4: In order to prevent different difficulties as time goes on, try to have around two or three duplicates of the document.