It won't be hard to prepare usda recipe template through our PDF editor. Here's how one could conveniently prepare your document.
Step 1: On this webpage, click the orange "Get form now" button.
Step 2: Right now, you can begin modifying the usda recipe template. Our multifunctional toolbar is at your disposal - add, eliminate, adjust, highlight, and perform other commands with the words and phrases in the form.
Fill out the usda recipe template PDF by entering the data necessary for every single part.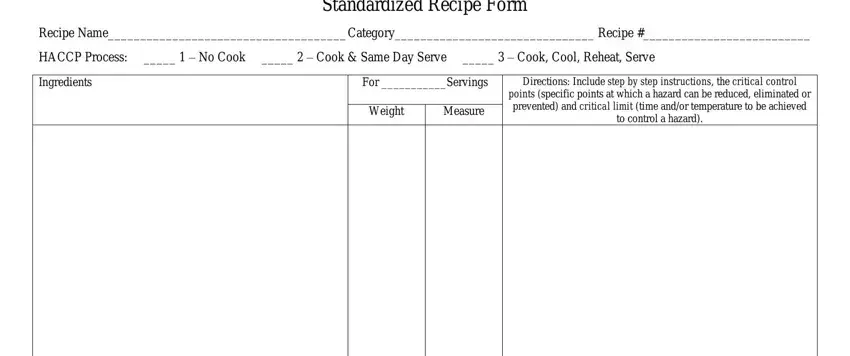 Within the area Serving, Size, Pan, Size Oven, Temperature, Baking, Time Yield, Number, of, Pans Temperature, Conventional, Convection Minutes, Nutrition, Analysis, optional Serving, Size NS, LP, Only Meat, Meat, Alto, ze, q Fruit, c Bread, Grain, oz, eq Vegetable, c Dark, Green, Ve, gc Starchy, Ve, gc and Beans, Peas, c note the information which the platform requires you to do.

Step 3: When you have hit the Done button, your document will be obtainable for export to every electronic device or email address you indicate.
Step 4: Create copies of your form - it may help you refrain from possible future complications. And don't get worried - we cannot disclose or check your data.