The procedure of filling in the printable tb questionnaire is actually hassle-free. We made certain our PDF editor is not hard to work with and helps complete any document in a short time. Here are just several simple steps you have to follow:
Step 1: Choose the button "Get Form Here" and then click it.
Step 2: You're now ready to manage printable tb questionnaire. You have numerous options with our multifunctional toolbar - you can include, eliminate, or alter the text, highlight the certain parts, and carry out similar commands.
The PDF form you wish to fill out will consist of the next sections:
Enter the requested details in Have you ever had a positive TB, Yes, Have you ever had close contact, Yes, Were you born in one of the, Yes, Have you ever had an extended, areas with a high prevalence of TB, Africa all countries, Europe Belarus Bosnia, Macedonia Moldova Poland Portugal, Middle East Bahrain Iran Iraq, and Syrian Arab Republic Turkey Yemen box.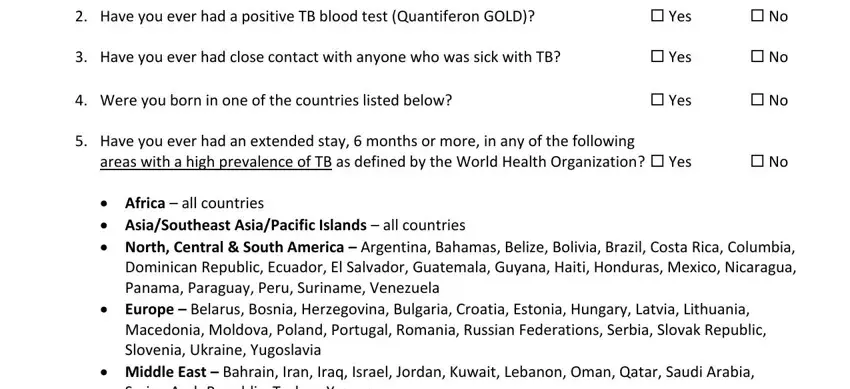 Step 3: As soon as you are done, click the "Done" button to transfer your PDF document.
Step 4: Be sure to generate as many copies of your document as possible to stay away from potential misunderstandings.