Working with PDF forms online is definitely quite easy with this PDF tool. You can fill in release of interest document here with no trouble. FormsPal development team is always endeavoring to develop the editor and ensure it is much faster for users with its many functions. Enjoy an ever-improving experience now! Starting is easy! All that you should do is follow these easy steps below:
Step 1: Hit the "Get Form" button at the top of this page to open our tool.
Step 2: This tool will let you change most PDF documents in many different ways. Modify it by adding customized text, adjust what is originally in the file, and add a signature - all doable in no time!
This document will require particular data to be entered, so be sure you take some time to provide what's required:
1. Whenever completing the release of interest document, be certain to incorporate all of the essential blanks in its relevant section. It will help expedite the work, allowing your details to be processed without delay and accurately.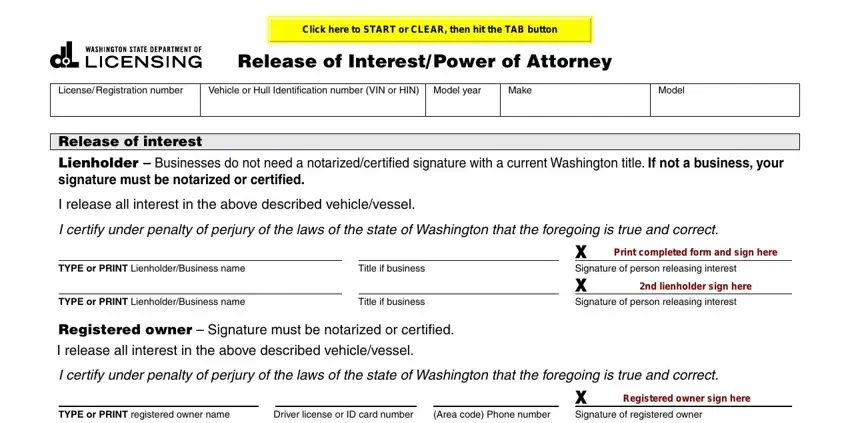 2. Given that the previous section is complete, you'll want to put in the necessary details in TO THE DEPARTMENT OF LICENSING, I appoint to act as my, TYPE OR PRINT NAME OF PERSON, SIGNATURE OF PERSON GRANTING POWER, TYPE OR PRINT NAME OF PERSON, NOTARY SEAL OR STAMP, NOTARIZATION CERTIFICATION, State of Washington County of, Signed or attested before me on, Signature, Printed Name of Person Signing, Notary Agent Signature, Title, Notary Agent, and Notarys Name PRINTED or STAMPED in order to proceed further.

Many people frequently make some errors while filling in SIGNATURE OF PERSON GRANTING POWER in this area. Ensure that you review what you enter here.
Step 3: Right after you have looked over the information you given, just click "Done" to finalize your form at FormsPal. Download your release of interest document after you register here for a free trial. Quickly access the pdf file in your personal cabinet, with any edits and adjustments being automatically kept! FormsPal provides risk-free document editing without personal data recording or distributing. Be assured that your data is safe here!