tetfund research grant 2021 can be filled in without any problem. Simply use FormsPal PDF editing tool to complete the job in a timely fashion. Our development team is relentlessly working to expand the tool and help it become much easier for people with its cutting-edge features. Bring your experience one step further with constantly improving and interesting options we offer! To get started on your journey, consider these easy steps:
Step 1: Hit the orange "Get Form" button above. It will open up our tool so you could begin filling out your form.
Step 2: With our state-of-the-art PDF editor, it's possible to do more than merely fill in forms. Express yourself and make your forms look great with custom textual content added in, or adjust the file's original content to excellence - all that accompanied by an ability to incorporate any kind of images and sign the file off.
Completing this document calls for focus on details. Make sure that all necessary areas are done correctly.
1. To begin with, once completing the tetfund research grant 2021, begin with the form section with the next blank fields: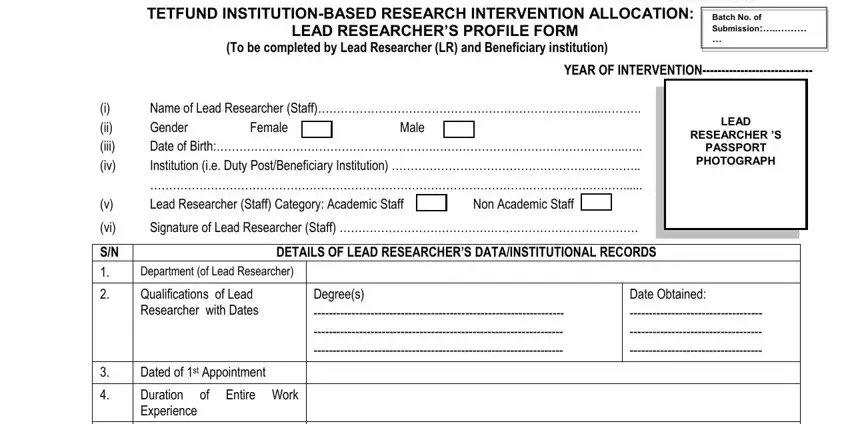 2. Soon after the previous part is done, proceed to enter the relevant information in these - Research TopicTitle, Research Details, Research Project Cost Total N, Lead Researchers Official Salary, a Research AreaFocus b Duration of, Research Project Cost, etc, Bank Account Details a Bank Name, Other Remarks if any, and Signature Name of DVC Academics.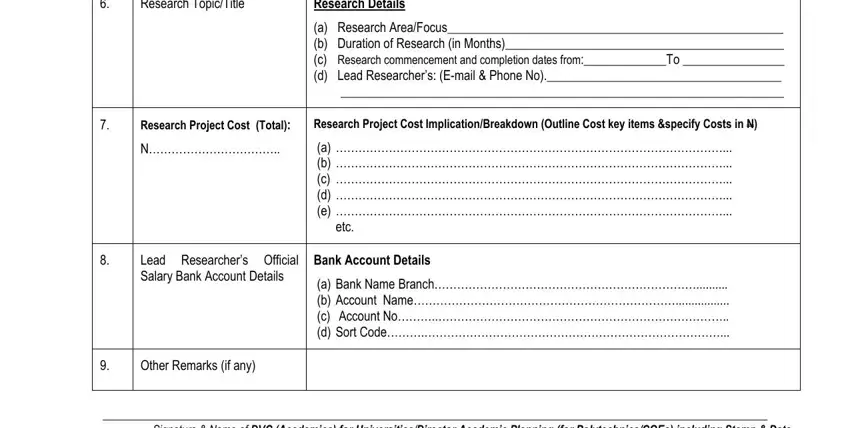 As to Signature Name of DVC Academics and etc, make sure you get them right in this section. These could be the most significant ones in the page.
3. This 3rd segment is considered pretty simple, Signature Name of DVC Academics, and Signature of Vice - every one of these blanks needs to be completed here.

Step 3: Reread all the information you have typed into the form fields and press the "Done" button. Right after creating a7-day free trial account here, it will be possible to download tetfund research grant 2021 or send it via email at once. The PDF form will also be at your disposal through your personal account menu with your each and every change. At FormsPal.com, we strive to guarantee that all your information is maintained protected.