Once you open the online tool for PDF editing by FormsPal, you can fill out or change UL Solutions Multiple Listing Request Form here and now. FormsPal expert team is constantly working to improve the tool and enable it to be much faster for people with its multiple features. Bring your experience one step further with constantly developing and interesting options we provide! To start your journey, consider these basic steps:
Step 1: Open the PDF file inside our editor by clicking on the "Get Form Button" in the top area of this page.
Step 2: The editor grants the capability to customize your PDF file in many different ways. Enhance it by including customized text, adjust original content, and include a signature - all when you need it!
Filling out this form calls for focus on details. Make sure all mandatory areas are completed accurately.
1. When filling out the UL Solutions Multiple Listing Request Form, ensure to include all of the necessary fields in the corresponding area. This will help to facilitate the work, which allows your details to be handled promptly and appropriately.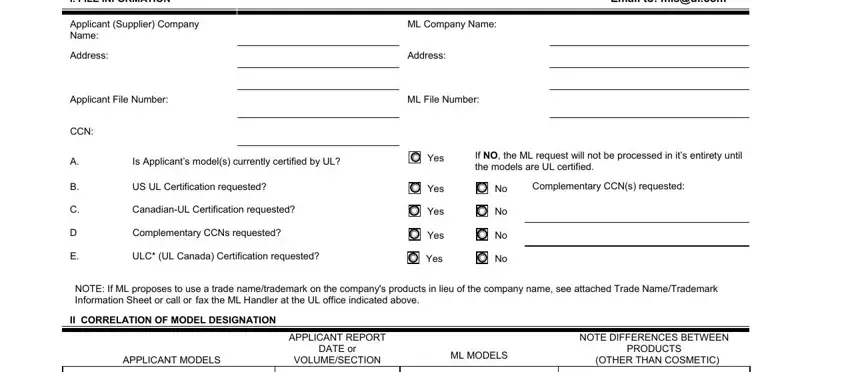 2. Once your current task is complete, take the next step – fill out all of these fields - III LITERATURE AND LABEL, If additional space is needed, Requirements applicable to the, Literature will not be packaged, Literature will be packaged with, Literature will be packaged with, Please submit a copy of the MLs, For those product categories that, Note Engineering may consider a, IV MAILING AND BILLING, Applicant Mailing Information, Contact Name, Contact Email, ML Invoicing, and Multiple Listing Mailing with their corresponding information. Make sure to double check that everything has been entered correctly before continuing!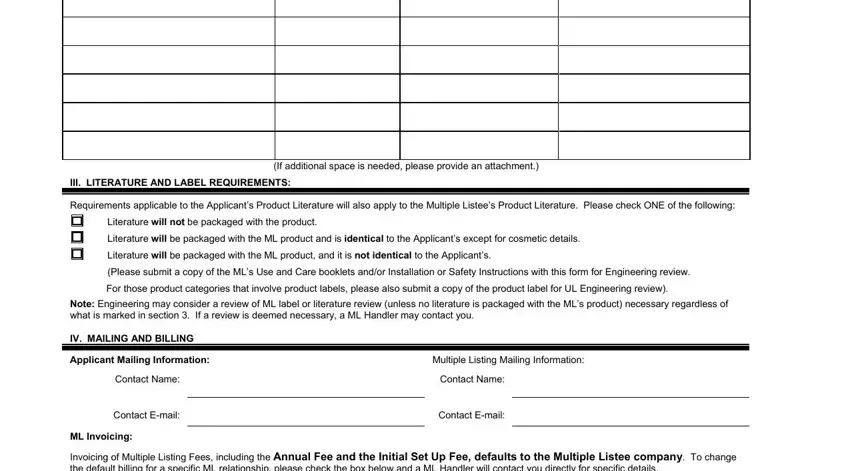 People generally make errors while filling out Requirements applicable to the in this area. Be sure to double-check what you type in here.
3. This stage is going to be easy - fill out every one of the empty fields in Invoicing of Multiple Listing Fees, and I would like to change the default in order to finish this part.

Step 3: Check that the details are right and then simply click "Done" to progress further. After creating a7-day free trial account with us, you'll be able to download UL Solutions Multiple Listing Request Form or send it via email directly. The file will also be available via your personal account menu with all your edits. FormsPal is invested in the privacy of all our users; we make sure all personal information handled by our system continues to be protected.