motion for time served texas can be filled out in no time. Simply make use of FormsPal PDF editor to finish the job in a timely fashion. The editor is consistently upgraded by us, receiving additional functions and becoming greater. Here's what you'll want to do to start:
Step 1: Click on the "Get Form" button above. It is going to open our pdf tool so you can begin filling out your form.
Step 2: With our online PDF tool, you can actually do more than merely fill out blanks. Express yourself and make your forms look great with customized text added, or fine-tune the file's original content to perfection - all comes with an ability to insert almost any pictures and sign the PDF off.
This PDF doc will require you to enter specific details; in order to guarantee accuracy, don't hesitate to take note of the tips hereunder:
1. When completing the motion for time served texas, be sure to include all necessary blanks within its relevant area. It will help to hasten the process, allowing for your details to be handled quickly and accurately.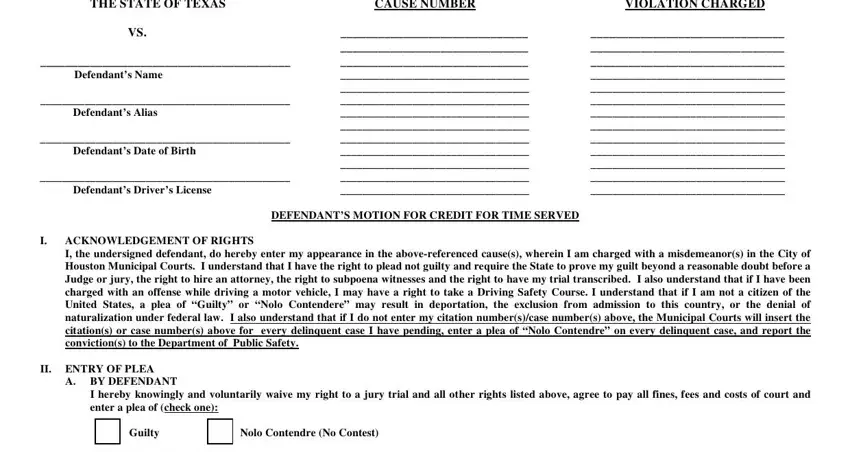 2. Right after this selection of fields is filled out, proceed to type in the applicable details in these: COMPLETE ONE OF THE FOLLOWING a b, I am currently incarcerated in, I was incarcerated from to, Defendants Signature, Defendants Name Printed, BY ATTORNEY I have informed the, Nolo Contendre No Contest, Attorneys Signature, I certify that my client was, Attorneys Name Printed, Address, Telephone Number Texas Bar Card, WitnessClerk, Date, and ORDER.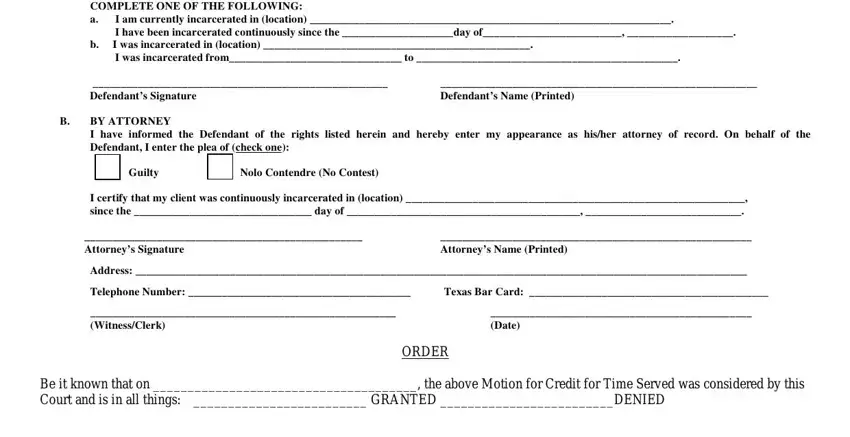 When it comes to COMPLETE ONE OF THE FOLLOWING a b and BY ATTORNEY I have informed the, be sure that you take a second look in this section. Those two are certainly the most significant ones in this document.
Step 3: As soon as you've reread the information in the blanks, simply click "Done" to conclude your form. Grab your motion for time served texas as soon as you sign up for a 7-day free trial. Easily access the pdf from your FormsPal account page, along with any modifications and adjustments all kept! We don't share the details that you type in whenever completing forms at FormsPal.