It is possible to complete routing slip usps online easily using our PDFinity® editor. The editor is constantly updated by our team, acquiring additional features and turning out to be greater. This is what you'll have to do to get started:
Step 1: Just click on the "Get Form Button" in the top section of this page to start up our pdf editor. Here you'll find everything that is necessary to work with your document.
Step 2: With our online PDF tool, it's possible to accomplish more than just complete blank form fields. Edit away and make your docs appear faultless with custom text put in, or tweak the file's original input to perfection - all comes along with an ability to add your own photos and sign it off.
With regards to the blanks of this particular form, this is what you need to know:
1. When completing the routing slip usps online, make certain to include all needed fields in its corresponding part. This will help to speed up the process, enabling your details to be handled without delay and properly.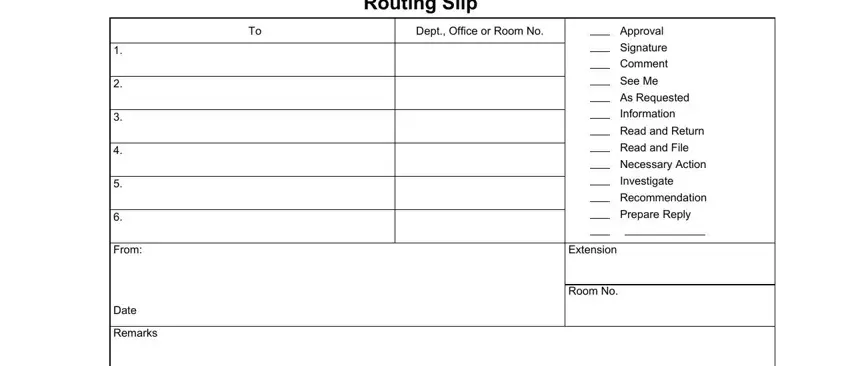 Step 3: After double-checking your fields, click "Done" and you're done and dusted! Go for a 7-day free trial subscription with us and acquire instant access to routing slip usps online - download or modify inside your personal account page. FormsPal guarantees your information privacy by having a secure method that never saves or shares any sort of private data involved in the process. You can relax knowing your docs are kept safe any time you work with our services!