It is possible to complete identity verification card online instantly with our PDFinity® online tool. We are aimed at making sure you have the perfect experience with our editor by continuously releasing new capabilities and upgrades. Our tool has become a lot more helpful thanks to the most recent updates! At this point, editing PDF forms is simpler and faster than ever. Getting underway is effortless! What you need to do is follow these simple steps directly below:
Step 1: Firstly, open the editor by clicking the "Get Form Button" at the top of this webpage.
Step 2: With this state-of-the-art PDF file editor, you'll be able to accomplish more than merely fill in forms. Express yourself and make your documents look professional with custom text added in, or optimize the file's original content to perfection - all that comes along with the capability to add your personal pictures and sign the document off.
In order to complete this document, be sure you enter the right details in every single blank:
1. While filling out the identity verification card online, ensure to include all of the essential fields within its relevant section. This will help to expedite the process, which allows your information to be processed without delay and appropriately.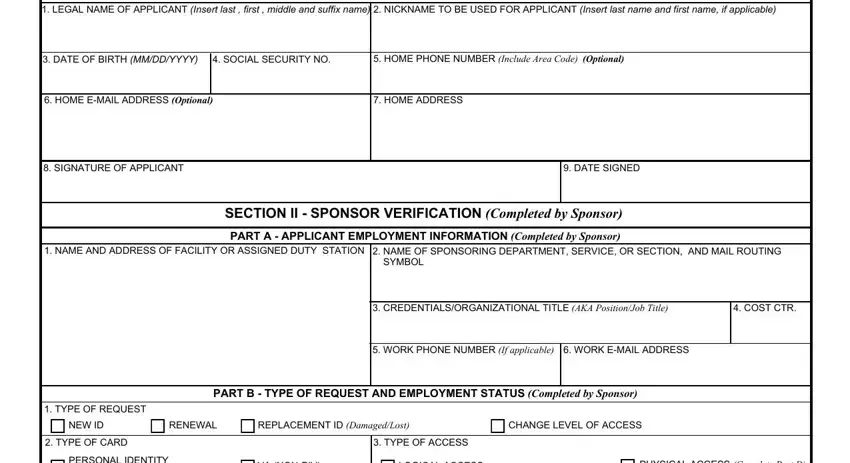 2. Right after the last selection of blank fields is filled out, go on to type in the applicable information in all these - PERSONAL IDENTITY VERIFICATION PIV, EMPLOYMENT STATUS, VA NONPIV, LOGICAL ACCESS, Domain, PHYSICAL ACCESS Complete Part D, VA EMPLOYEE, CONTRACTOR, AFFILIATE Specify, TEMPORARY VA EMPLOYMENT, SPECIAL SECURITY ACCESS REQUIRED, SPECIFY LOCATION OF SPECIAL, IS APPLICANT A KEY EMERGENCY, PART C PHYSICAL SECURITY ACCESS, and YES If YES Specify in Item.

3. This next step is generally hassle-free - complete every one of the fields in CERTIFICATION I Certify under, SPONSOR CREDENTIALSORGANIZATIONAL, CERTIFICATE NUMBER Issued by PCI, SIGNATURE OF SPONSOR, DATE SIGNED MMDDYYYY, WORK ADDRESS, NAME OF SPONSORS DEPARTMENT, WORK PHONE NUMBER Include Area, WORK EMAIL ADDRESS, SECTION III APPLICANT IDENTITY, INSTRUCTIONS To be completed and, Applicant must present two forms, The names on the identification, One State or Federal ID must, and Both IDs must be original documents in order to finish this process.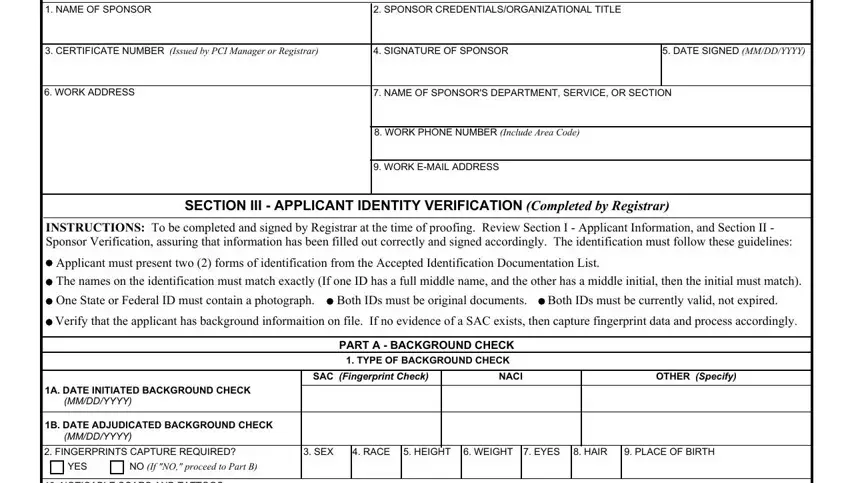 4. You're ready to fill out this next part! Here you'll get all these NOTICABLE SCARS AND TATTOOS, EXACT NAME LISTED ON PHOTO ID, DOCUMENT IDENTIFICATION NUMBER, EXPIRATION DATE MMDDYYYY, PART B PHOTOGRAPHIC, DOCUMENT TYPE, ISSUANCE DATE MMDDYYYY, ISSUING AUTHORITY, EXACT NAME LISTED ON ID, DOCUMENT IDENTIFICATION NUMBER, EXPIRATION DATE MMDDYYYY, PART C IDENTIFICATION NUMBER, DOCUMENT TYPE, ISSUANCE DATE MMDDYYYY, and ISSUING AUTHORITY blanks to complete.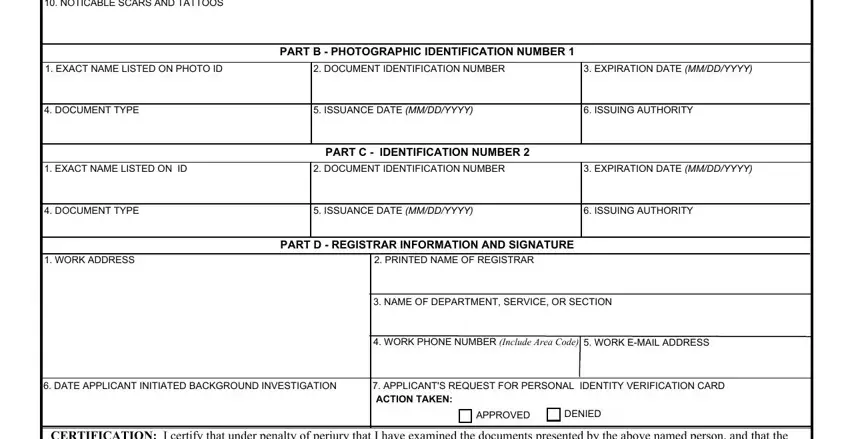 5. The final stage to conclude this PDF form is pivotal. Make certain to fill out the necessary form fields, which includes NEW PIV CREDENTIAL SERIAL NUMBER, OLD ACCESS ID CARD NUMBER, EXPIRATION DATE MMDDYYYY, PART B PERSONAL IDENTITY, ACKNOWLEDGEMENT I acknowledge, I have been provided training on, CERTIFICATION I certify that I, PRINTED NAME OF APPLICANT, APPLICANT SIGNATURE OF ACCEPTANCE, DATE SIGNED MMDDYYYY, PART C PUBLIC KEY INFORMATION PKI, AUTHORIZATION STATEMENT, You have been authorized to, ACKNOWLEDGEMENT OF RESPONSIBILITIES, and I represent and warrant that the, prior to submitting. Otherwise, it can end up in a flawed and potentially unacceptable paper!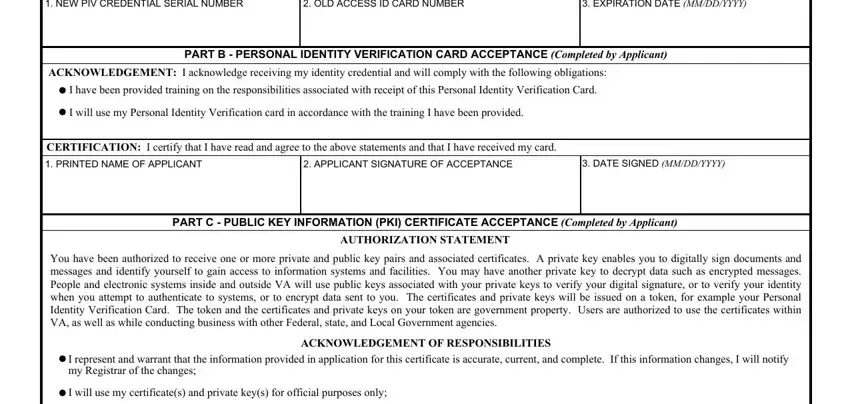 It is easy to get it wrong when filling in the I have been provided training on, hence be sure you go through it again before you send it in.
Step 3: When you have looked over the details in the document, click "Done" to finalize your form. Go for a free trial account with us and obtain direct access to identity verification card online - available in your FormsPal account page. We do not sell or share any information you type in whenever completing documents at FormsPal.