This PDF editor was built to be as simple as possible. As soon as you keep to the following actions, the process of completing the Va Application For Familly Member form will be stress-free.
Step 1: Choose the button "Get Form Here" and then click it.
Step 2: Now you are on the file editing page. You can edit and add text to the document, highlight words and phrases, cross or check particular words, insert images, sign it, delete unnecessary areas, or eliminate them completely.
The particular sections will make up your PDF document: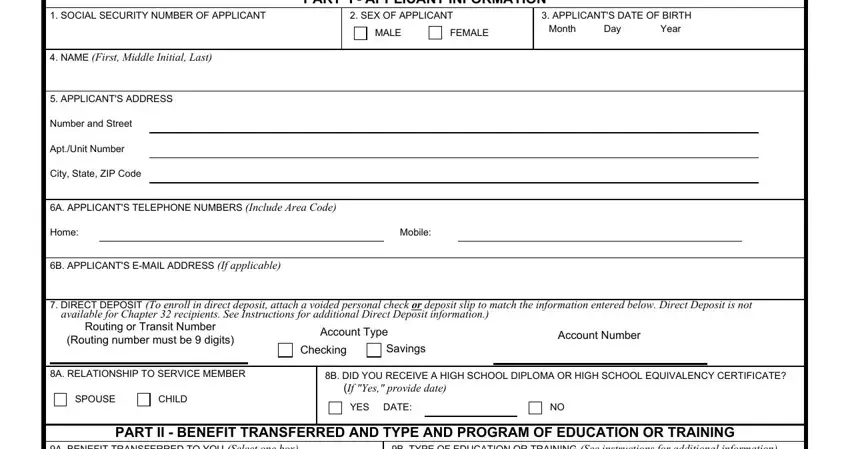 Within the area A BENEFIT TRANSFERRED TO YOU, B TYPE OF EDUCATION OR TRAINING, CHAPTER POST GI BILL, COLLEGE OR OTHER SCHOOL Including, CHAPTER MONTGOMERY GI BILL, CHAPTER MONTGOMERY GI, C FULL NAME AND ADDRESS OF SCHOOL, VOCATIONAL FLIGHT TRAINING, NATIONAL TEST REIMBURSEMENT SAT, PREPARATORY COURSE See, APPRENTICESHIP OR ONTHEJOB, CORRESPONDENCE, TUITION ASSISTANCE TOPUP, D PLEASE SPECIFY YOUR EDUCATIONAL, and VA FORM MAR type in the particulars that the system requires you to do.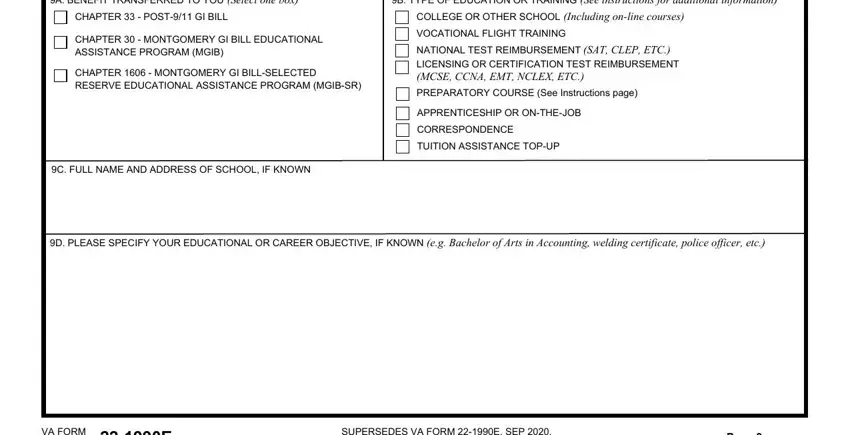 Provide the key data the A DO YOU HOLD ANY FAA FLIGHT, YES, PART III EDUCATION AND EMPLOYMENT, B EDUCATION AFTER HIGH SCHOOL, NAME AND LOCATION OF COLLEGE OR, DATES OF TRAINING, FROM, NUMBER AND TYPE OF HOURS Semester, DEGREE DIPLOMA OR CERTIFICATE, MAJOR FIELD OR COURSE OF STUDY, EMPLOYMENT, PRINCIPAL OCCUPATION, NUMBER OF MONTHS WORKED, LICENSE OR RATING, and C EMPLOYMENT box.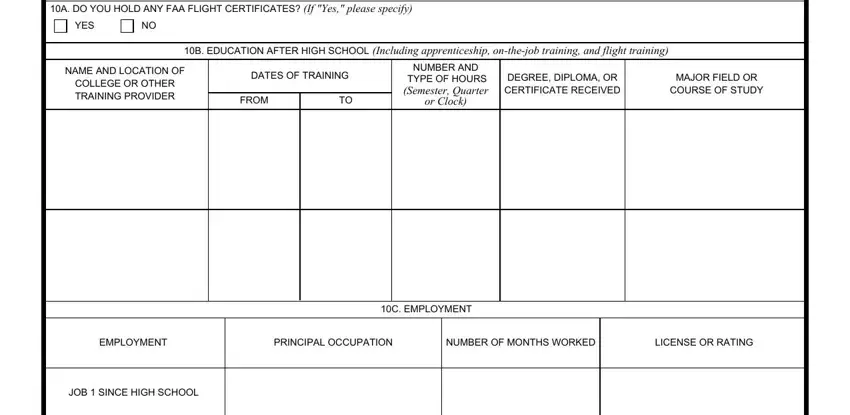 As part of section JOB SINCE HIGH SCHOOL, PART IV ENTITLEMENT TO AND USAGE, A FOR APPLICANTS ON ACTIVE DUTY, B FOR APPLICANTS WHO ARE CIVILIAN, Are you receiving or do you, YES, YES, SERVICE MEMBERS SOCIAL SECURITY, SERVICE MEMBERS BRANCH OF SERVICE, PART V SERVICE MEMBER INFORMATION, SERVICE MEMBERS NAME First Middle, SERVICE MEMBERS ADDRESS, Number and Street, AptUnit Number, and City State ZIP Code, specify the rights and obligations.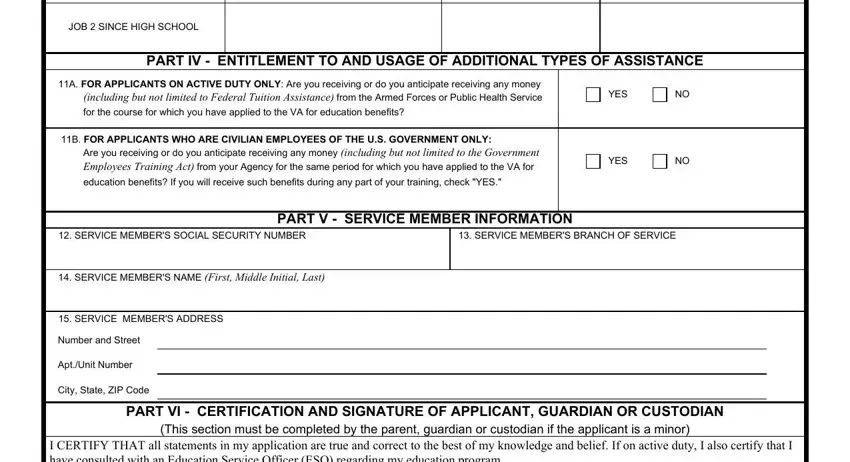 Complete the document by taking a look at these particular areas: PENALTY Willful false statements, A SIGNATURE Please check the, APPLICANT, PARENTGUARDIANCUSTODIAN if child, B DATE SIGNED, VA FORM E MAR, and Page.

Step 3: When you are done, hit the "Done" button to export your PDF form.
Step 4: In order to prevent any type of difficulties later on, you will need to have at least two or three copies of the document.