The whole process of filling out the Va Form 21 674 is actually easy. We made sure our PDF editor is easy to understand and can help prepare any kind of form in a short time. Explore the four simple steps you have to take:
Step 1: You can select the orange "Get Form Now" button at the top of this webpage.
Step 2: Now you are on the file editing page. You may edit, add content, highlight selected words or phrases, put crosses or checks, and insert images.
The following segments are going to make up your PDF document: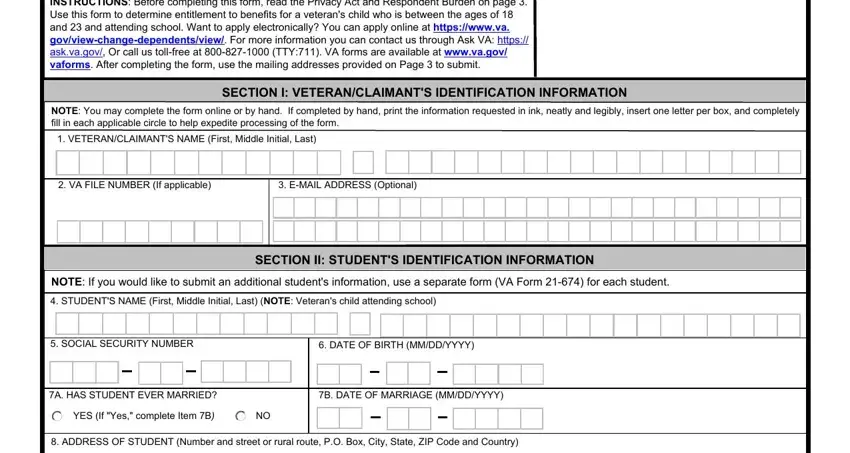 Fill out the No Street, AptUnit Number, City, StateProvince, Country, ZIP CodePostal Code, SECTION III SCHOOL ATTENDANCE, A IS TUITION ANDOR ALLOWANCE FOR, YES If Yes complete Items B and C, NO If No skip to Item A, B TYPE OF BENEFIT ie GI Bill Fry, C DATE PAYMENTS BEGAN MMDDYYYY, A MY DEPENDENT HAS ATTENDED SCHOOL, B IS THE SCHOOL ACCREDITED, and YES If Yes complete Item B section with the particulars required by the platform.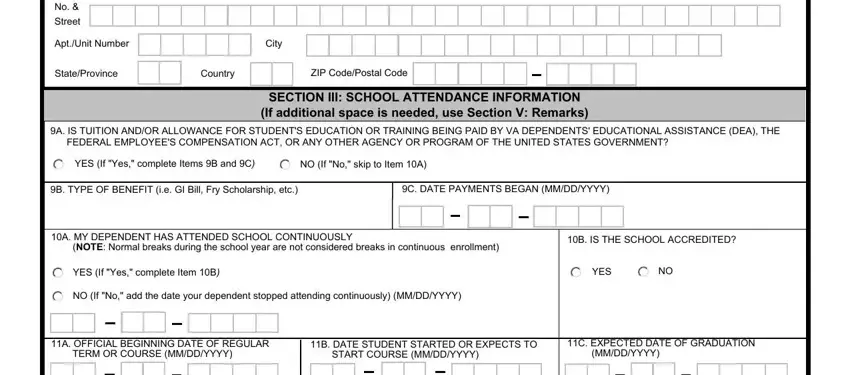 You should be requested for specific necessary particulars if you want to prepare the A WAS STUDENT ATTENDING ANY SCHOOL, B BEGINNING DATE OF LAST TERM, C ENDING DATE OF LAST TERM MMDDYYYY, YES If Yes complete Items B and C, VA FORM OCT, SUPERSEDES VA FORM JUN, and Page box.

When it comes to box A SOURCE, Report for year in which school, Report for year following Column B, EARNINGS FROM ALL EMPLOYMENT, ANNUAL SOCIAL SECURITY, OTHER ANNUITIES, ALL OTHER INCOME ie interest, A SAVINGS Including cash, B SECURITIES BONDS ETC, C REAL ESTATE Not your home, D ALL OTHER ASSETS, E TOTAL VALUE, REMARKS If any, VALUE OF ESTATE, and SECTION V REMARKS, specify the rights and responsibilities.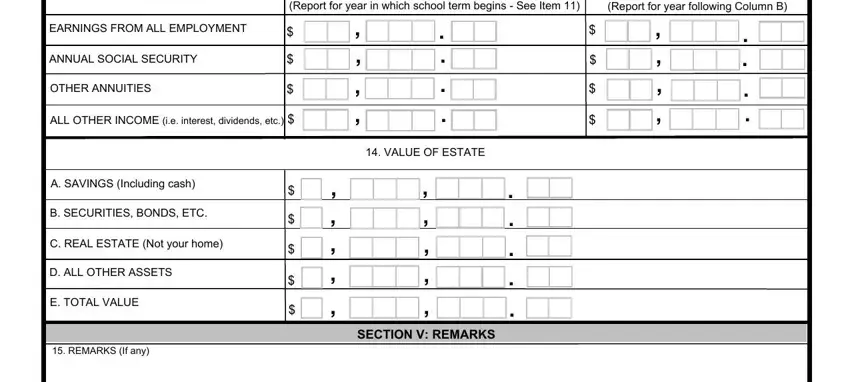 End by checking the next areas and writing the relevant details: A VETERANCLAIMANTSTUDENT SIGNATURE, B DATE SIGNED MMDDYYYY, C RELATIONSHIP TO STUDENT, D TELEPHONE NUMBER Include Area, PENALTY The law provides severe, VA FORM OCT, Page, and Enter International Phone Number.

Step 3: Press "Done". Now you may upload the PDF form.
Step 4: Generate duplicates of the form - it can help you stay away from possible concerns. And don't worry - we cannot share or view your information.