When working in the online PDF editor by FormsPal, you may fill in or modify 14B right here and now. The editor is constantly updated by us, getting new features and turning out to be much more versatile. This is what you'll want to do to get started:
Step 1: Hit the "Get Form" button at the top of this webpage to open our tool.
Step 2: The editor gives you the ability to modify nearly all PDF forms in various ways. Enhance it by writing your own text, correct original content, and place in a signature - all within a few mouse clicks!
So as to fill out this PDF document, be sure you enter the necessary information in every blank:
1. First, when filling in the 14B, start in the area that includes the following fields: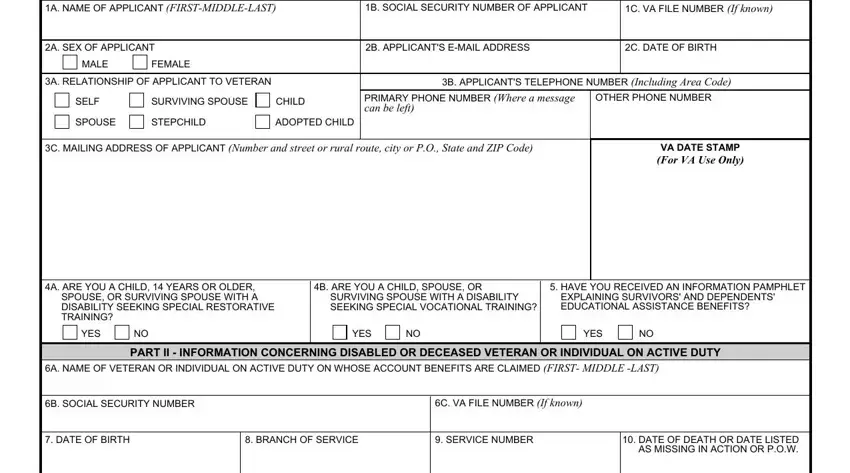 2. Your next stage is to fill out these fields: IF YOU ARE THE SPOUSE OF A, PART III SPECIAL INFORMATION, YES, A IF YOU ARE THE SURVIVING SPOUSE, B SURVIVING SPOUSES AGE AT TIME OF, YES, HAVE YOU EVER APPLIED FOR ANY OF, A VOCATIONAL REHABILITATION, B VETERANS EDUCATION ASSISTANCE, C DEPENDENTS EDUCATIONAL, D SURVIVORS AND DEPENDENTS, E OTHER Specify, F NONE, VA FORM DEC, and SUPERSEDES VA FORM JAN WHICH.

People often make errors when filling in C DEPENDENTS EDUCATIONAL in this area. Be sure to read twice what you type in here.
3. This next portion is focused on A NAME OF VETERAN ON WHOSE ACCOUNT, B VETERANS FILE NUMBER OR SOCIAL, PART IV APPLICANTS MILITARY, HAVE YOU EVER SERVED ON ACTIVE, YES, Enter the following information, If you have already sent VA a DD, SERVICE INFORMATION, A DATE ENTERED, ACTIVE DUTY, B DATE SEPARATED FROM ACTIVE DUTY, C BRANCH OF SERVICE OR RESERVE, OR GUARD COMPONENT, D CHARACTER OF, and DISCHARGE - fill in all these blank fields.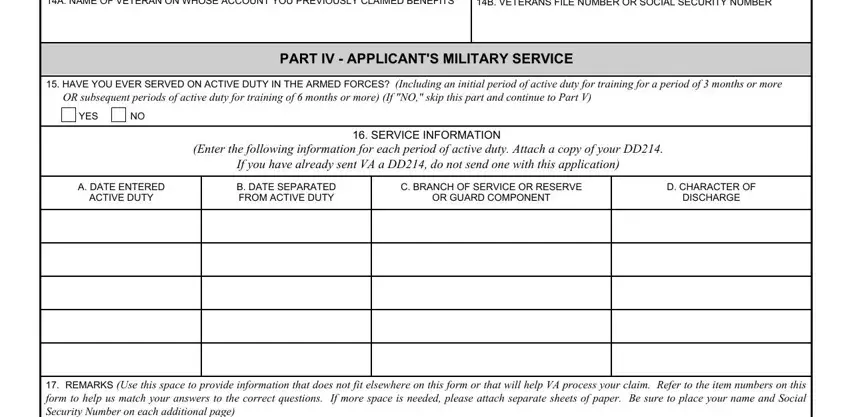 4. Filling out REMARKS Use this space to provide, PART V CERTIFICATION AND, All Applicants Must Complete This, and I CERTIFY THAT all statements in is key in this fourth step - ensure to spend some time and be mindful with each empty field!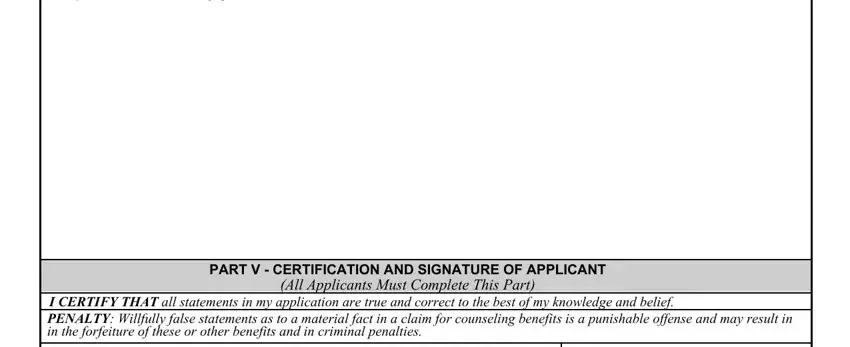 5. Because you come near to the end of your form, you will find a couple more requirements that should be fulfilled. Particularly, A SIGNATURE OF APPLICANT Do NOT, B DATE SIGNED, SIGN HERE, IN INK, PART VI SIGNATURE OF PARENT, This section must be completed if, A NAME OF PARENT GUARDIAN OR, B TELEPHONE NUMBER AND MAIL, A SIGNATURE OF Check one DO NOT, PARENT, GUARDIAN, CUSTODIAN, SIGN HERE, IN INK, and B DATE SIGNED must be filled out.

Step 3: Immediately after looking through the filled in blanks, click "Done" and you're good to go! Make a 7-day free trial option at FormsPal and acquire instant access to 14B - with all adjustments saved and accessible in your personal account page. FormsPal guarantees your data privacy via a protected system that in no way saves or distributes any sort of personal information provided. Rest assured knowing your paperwork are kept protected whenever you work with our tools!