We were designing this PDF editor with the idea of allowing it to be as quick make use of as possible. Therefore the process of filling out the automotive inspection form is going to be smooth follow the next steps:
Step 1: The first thing will be to hit the orange "Get Form Now" button.
Step 2: Now you will be on your form edit page. You can include, enhance, highlight, check, cross, insert or delete fields or words.
To complete the automotive inspection form PDF, enter the content for all of the segments: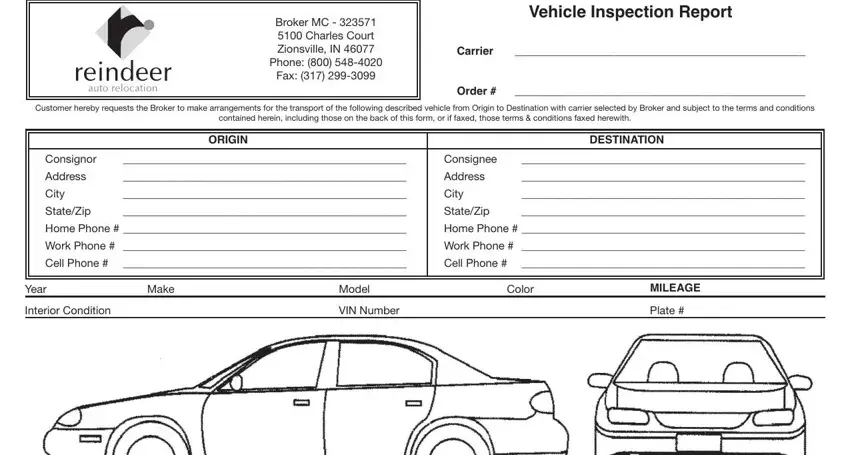 The program will expect you to prepare the Top of Vehicle, B Bent FF Foreign Fluid, G Gouged RU Rust, BR Broken L Loose S Scratched, C Cut M Missing SL Soiled, CR Cracked P Pitted ST Stained, D Dented PC Paint Chip SW Swirl, F Faded R Rubbed T Torn, During transport vehicles and, ORIGIN NOTES, DESTINATION NOTES, I agree with the Drivers, and The Customerconsignee hereby part.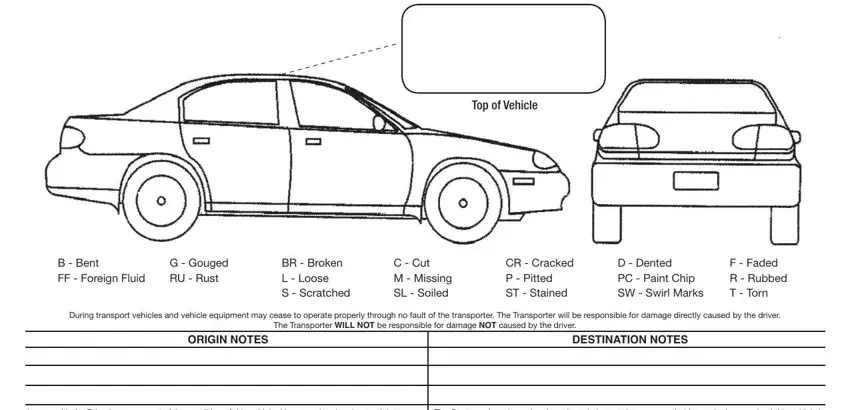 Identify the most important information on the I agree with the Drivers, The Customerconsignee hereby, Customers Signature, Date, Terminal Signature, Date, Customers Signature, Drivers Signature, Date, Drivers Signature, Date, Drivers Signature, Date, Date, and WHITECustomer Copy YELLOWLoading field.

The area As a condition of recovery any, TRANSPORTER WILL NOT BE LIABLE FOR, A External damage to your vehicle, B Antennas that do not retract to, C Loss theft or damage to any, D Any mechanical damage including, E Mechanical functions involving, F Damage which is undetectable due, G Damage caused by road pebbles or, and H Prior normal wear and road use is where you can put both sides' rights and obligations.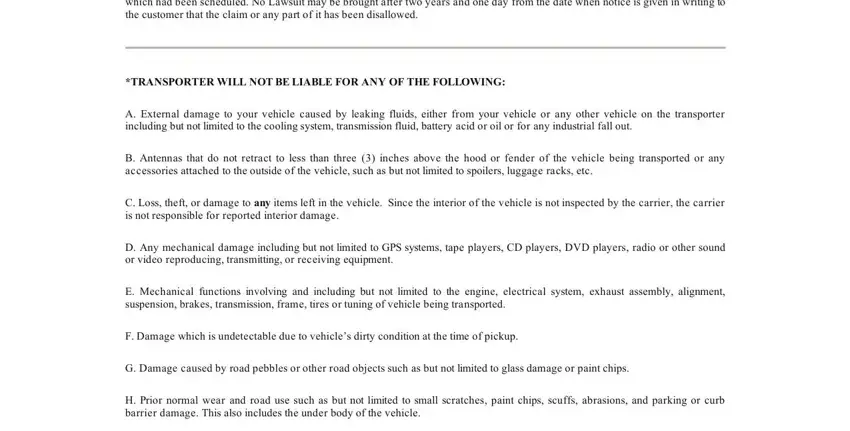 Step 3: As soon as you click on the Done button, the completed document is readily transferable to every of your devices. Or alternatively, you will be able to deliver it through email.
Step 4: Get copies of the form. This should protect you from possible misunderstandings. We don't read or distribute your details, as a consequence be sure it is protected.