You'll be able to prepare form 10 381 without difficulty with our online editor for PDFs. To retain our tool on the cutting edge of efficiency, we work to put into practice user-driven features and improvements on a regular basis. We're routinely grateful for any feedback - join us in remolding PDF editing. To get the process started, consider these easy steps:
Step 1: First of all, access the editor by pressing the "Get Form Button" above on this page.
Step 2: With our handy PDF editor, you could accomplish more than merely fill in blanks. Express yourself and make your documents seem perfect with customized text put in, or optimize the file's original content to perfection - all comes with the capability to incorporate almost any photos and sign the PDF off.
When it comes to fields of this particular PDF, here's what you should consider:
1. While filling in the form 10 381, make sure to include all of the essential blank fields in its relevant form section. This will help to expedite the process, enabling your information to be handled swiftly and properly.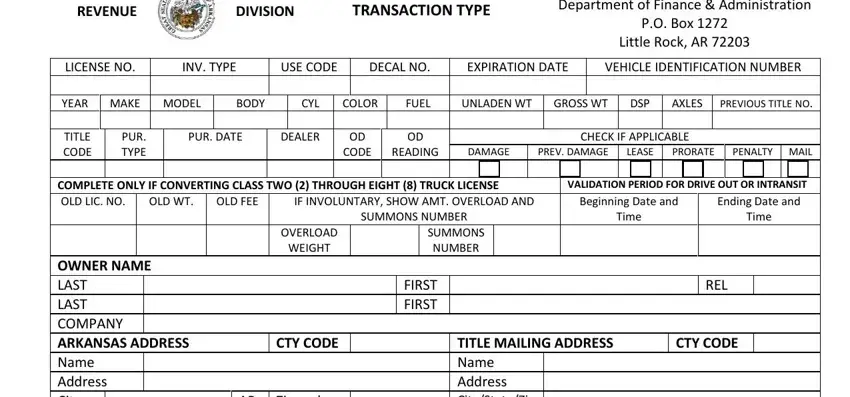 2. After performing the last part, head on to the subsequent stage and fill out the necessary details in these fields - OWNER NAME LAST LAST COMPANY, Zip code, TITLE MAILING ADDRESS Name Address, CTY CODE, REGISTRATION FEE, REPLACEMENT FEE, CREDIT, TRANSFER FEE, CONTRACT DATE, ADDITIONAL FEE, TITLE FEE, PRORATED FEE, LIEN FEE, CONTRACT DATE, and SPECIAL FEE.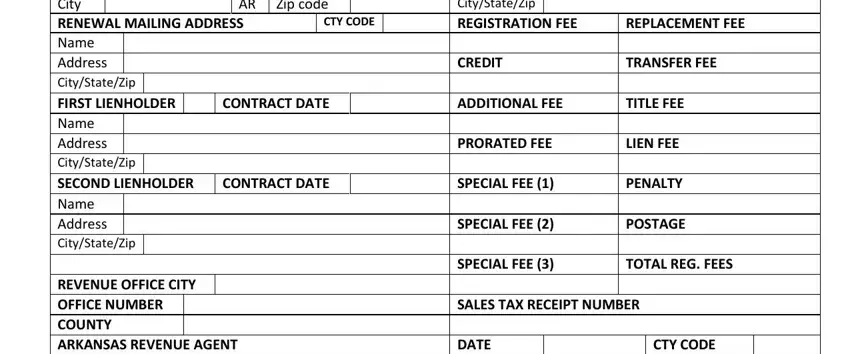 3. Completing SIGNATURE OF LIENHOLDER if, and SIGNATURE OF OWNERSS is essential for the next step, make sure to fill them out in their entirety. Don't miss any details!

When it comes to SIGNATURE OF OWNERSS and SIGNATURE OF OWNERSS, ensure that you double-check them in this section. These two are certainly the most important fields in the file.
Step 3: Prior to finalizing the document, double-check that all form fields have been filled out the proper way. Once you're satisfied with it, click on "Done." Obtain your form 10 381 the instant you register at FormsPal for a free trial. Immediately get access to the pdf file inside your FormsPal account page, along with any modifications and changes all kept! FormsPal ensures your data confidentiality with a protected system that in no way saves or distributes any type of personal data typed in. You can relax knowing your paperwork are kept safe whenever you work with our services!