Any time you need to fill out motor vehicle transfer form kenya, you won't need to download and install any applications - simply give a try to our PDF tool. To keep our editor on the leading edge of convenience, we aim to implement user-oriented capabilities and improvements regularly. We're always happy to get feedback - join us in reshaping PDF editing. Here is what you would have to do to start:
Step 1: Just press the "Get Form Button" at the top of this page to start up our pdf form editor. This way, you will find everything that is needed to work with your document.
Step 2: The tool offers the ability to modify PDF forms in many different ways. Modify it by including any text, adjust existing content, and include a signature - all when it's needed!
So as to fill out this form, make sure you provide the right details in every single blank field:
1. The motor vehicle transfer form kenya will require particular information to be typed in. Be sure the following blanks are complete: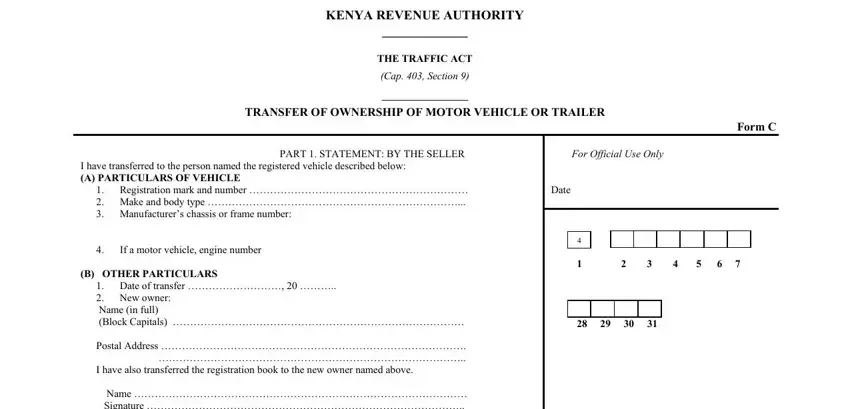 2. Once your current task is complete, take the next step – fill out all of these fields - Date of transfer New owner, Note A copy of this transfer form, TRANSFER OF OWNERSHIP OF MOTOR, PART II STATEMENT BY THE OWNER, I have assumed ownership of a, Private Commercial public service, Commercial goods Tractors Trailers, For official use only, Date, and TRANSFER FEE with their corresponding information. Make sure to double check that everything has been entered correctly before continuing!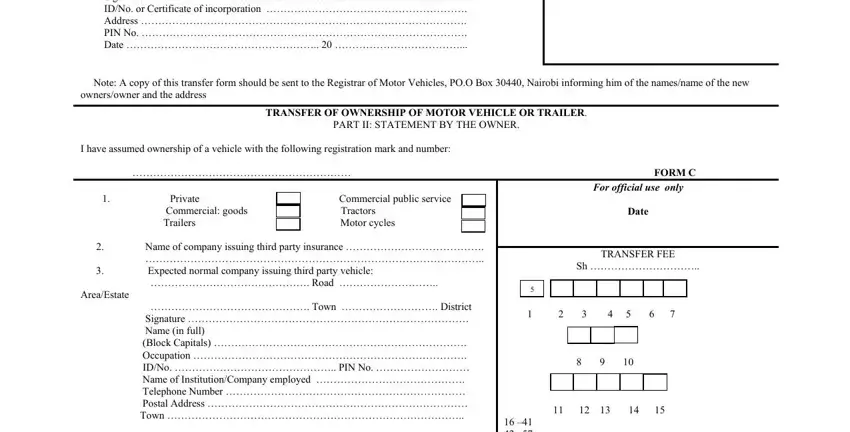 As to For official use only and TRANSFER FEE, ensure that you review things in this current part. Both of these are certainly the most important ones in this document.
Step 3: As soon as you have glanced through the details you filled in, click "Done" to conclude your FormsPal process. Make a 7-day free trial account at FormsPal and acquire instant access to motor vehicle transfer form kenya - download, email, or edit from your FormsPal account page. Here at FormsPal.com, we strive to make certain that all your details are stored protected.