We have used the hard work of our best developers to create the PDF editor you are going to apply. Our application will let you create the provider washington practitioner application document with no trouble and don't waste your time. All you have to do is keep up with the following simple rules.
Step 1: Select the button "Get Form Here".
Step 2: Now, you are able to change the provider washington practitioner application. Our multifunctional toolbar helps you add, eliminate, transform, highlight, and also conduct other sorts of commands to the content material and areas within the document.
In order to obtain the form, enter the details the system will ask you to for each of the appropriate parts: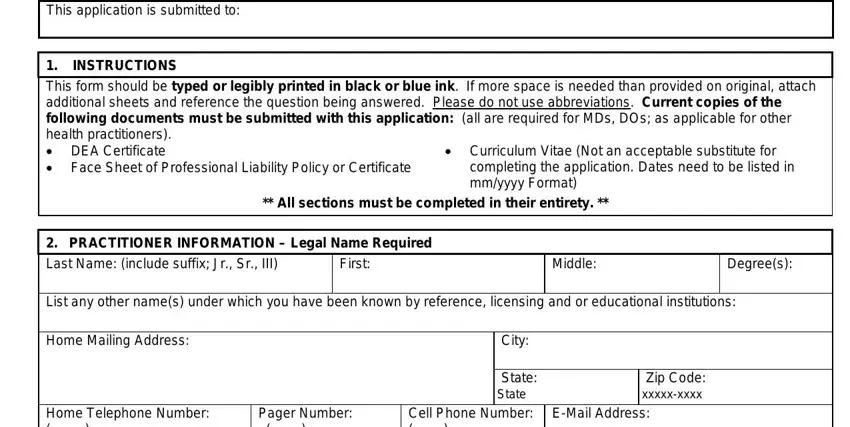 Type in the details in the Birth Date mmddyyyy, Birth Place city state country, Citizenship, Social Security Number, Male, Female, Languages Fluently Spoken by, Have you ever voluntarily optedout, NPI, Medicare Number WA Medicaid DSHS, L I Numbers, Specialty primarily practicing, Sub specialties primarily, Other Professional Interests in, and Washington Practitioner area.

In the PRACTICE INFORMATION CHECK ALL, ClinicGroup Solo Practice Home, Primary Care Site, Urgent Care Other, Practitioner Profile, PCP, Specialist, Check if you are both PCP OB OB, Yes, No Deliveries, Yes, Name of Practice Affiliation or, Department Name if hospital based, Primary Office Street Address, and City part, focus on the essential information.
The Name Affiliated with Tax ID Number, Is the office wheelchair, Fax Number Federal Tax ID Number, Office Hours, Are you accepting new patients Yes, Yes No If yes please explain, Do you currently supervise ARNPs, Monday Tuesday Wednesday, A Hospital Inpatient Coverage Plan, Does Not Apply, Name of Admitting, Hospital Where privileged, B Office Covering, Specialty, and Address segment may be used to point out the rights and obligations of either side.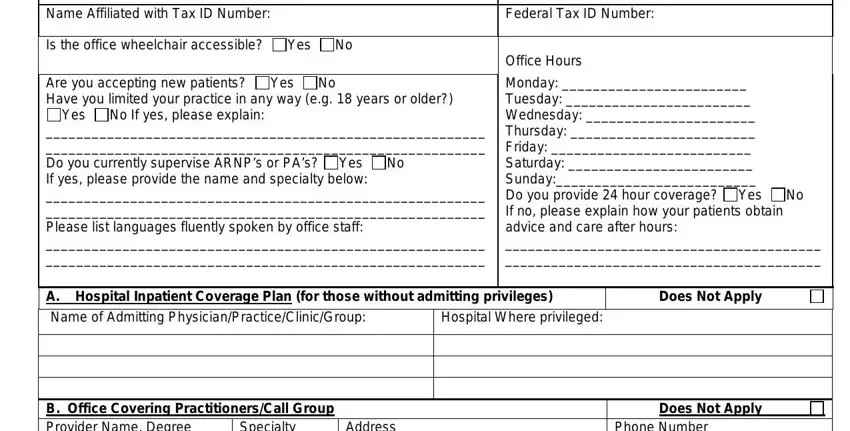 Look at the sections B Office Covering, Specialty, Address, Phone Number, Attach a list of additional, Washington Practitioner, Page of, and Modification to the wording or and next fill them out.

Step 3: At the time you select the Done button, your finalized file is easily exportable to all of your devices. Or, you can deliver it by means of mail.
Step 4: You can create duplicates of the form tokeep away from any kind of potential future concerns. Don't worry, we do not display or check your information.