We were designing this PDF editor having the idea of making it as easy to apply as it can be. That's the reason the actual procedure of typing in the West Virginia Police Report will be simple accomplish the next steps:
Step 1: Select the orange button "Get Form Here" on the webpage.
Step 2: You can now manage your West Virginia Police Report. Our multifunctional toolbar enables you to include, erase, improve, and highlight content material or perhaps undertake other commands.
The PDF template you plan to fill in will include the next areas: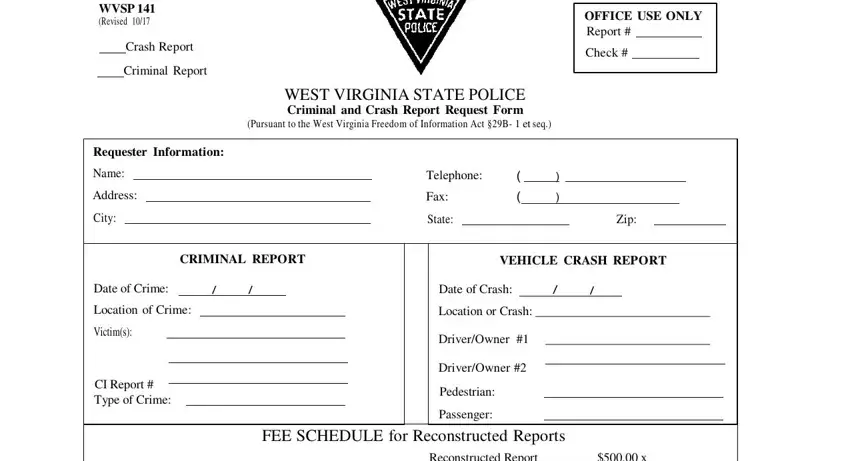 Within the section Date of Original Crash, Reconstructed Report x, Reconstructed Report Certified x, Original Crash Report Number, Reconstructed Report Fax x, FEE SCHEDULE, CrimeVehicle Crash Report, VideoAudio Tapes, Certify Above Copy Crash Report x, Set of Photos up to, Fax Above Copy Crash Report Only x, Each Add Set of Photos up to, These fees are for reports of, Total Submitted, and DO NOT SEND CASHNO PERSONAL CHECKS enter the data that the platform demands you to do.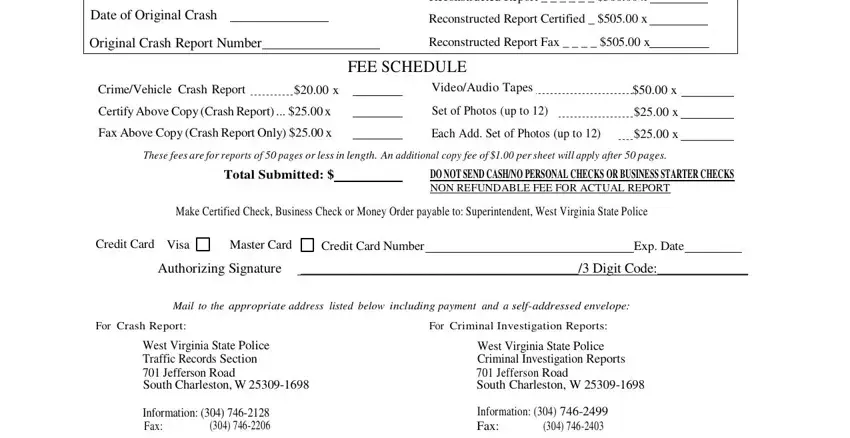 Step 3: Choose the Done button to confirm that your finished form may be exported to every gadget you end up picking or delivered to an email you specify.
Step 4: Come up with as much as two or three copies of your file to remain away from any specific potential future troubles.