Our skilled software engineers have worked collectively to develop the PDF editor which you can go with. This specific app makes it easy to create texas sales use return documents immediately and efficiently. This is everything you should do.
Step 1: Hit the orange "Get Form Now" button on the following web page.
Step 2: You'll notice each of the actions you can use on the document once you've accessed the texas sales use return editing page.
Provide the essential content in every single section to get the PDF texas sales use return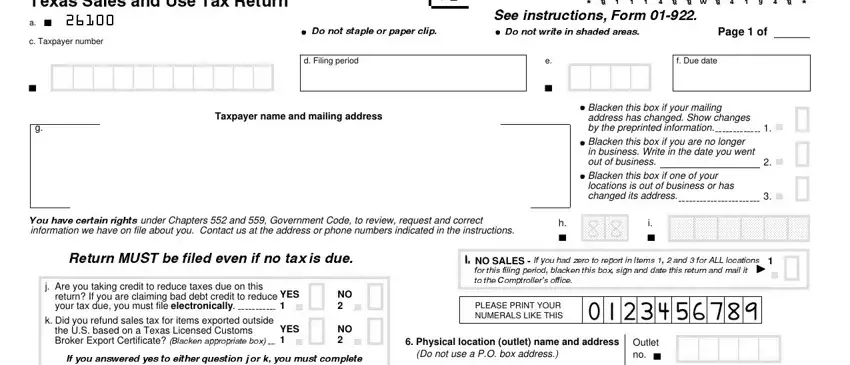 You have to note the essential details in the If you answered yes to either, TOTAL Whole, TEXAS SALES dollars only b, TAXAB Whole, TAXAB Whole, Amount to state Item Amount, LE SALES dollars only b LE, AMOUNT OF TAX DUE FOR THIS OUTLET, TAX RATES, aState tax include in Item a, bLocal tax include in Item b, b STATE TAX Column a, b LOCAL TAX Column b, Total tax due from all outlets or, and Rev space.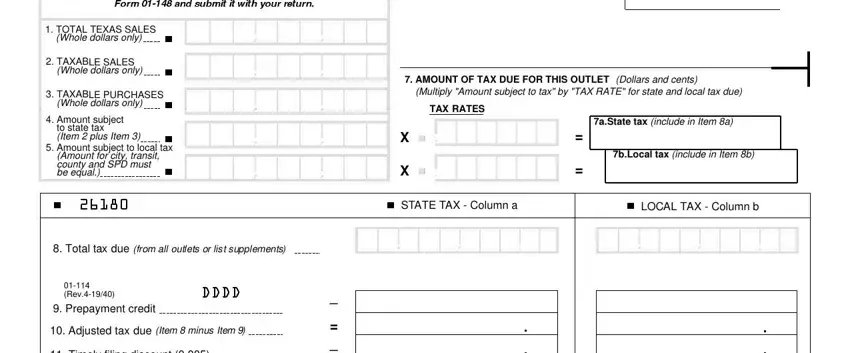 The program will request you to insert certain essential info to automatically complete the section Timely filing discount, Prior payments, Net tax due Item minus Items, Penalty and interest See, a Total state amount due, b Total local amount due, TOTAL STATE AND LOCAL AMOUNT DUE, Mail to Comptroller of Public, T Code Taxpayer number Period, Taxpayer name, TOTAL AMOUNT PAID Total of Items, I declare that the information in, Taxpayer or duly authorized agent, Date, and Daytime phone Area code number.

Step 3: Hit the Done button to save your form. Then it is offered for upload to your device.
Step 4: You can also make copies of your file toprevent any type of potential difficulties. Don't be concerned, we don't publish or record your data.