We were designing this PDF editor having the idea of allowing it to be as easy make use of as possible. That's why the procedure of completing the texas return is going to be simple carry out the following steps:
Step 1: This web page includes an orange button saying "Get Form Now". Press it.
Step 2: So, you can edit your texas return. The multifunctional toolbar enables you to include, eliminate, alter, highlight, as well as do similar commands to the text and areas inside the file.
The next areas will make up the PDF form: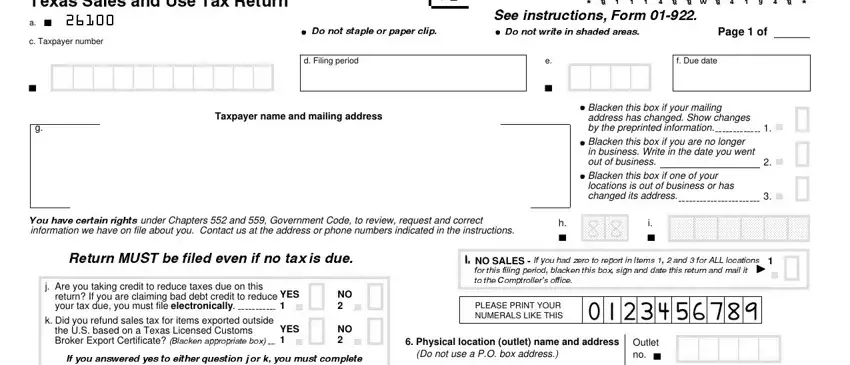 The system will require you to fill out the the U, YES 1, NO 2, If you answered yes to either, Form 01, 148 and submit it with, TEXAS SALES dollars only) b, LE SALES dollars only) b, LE PURCHASES dollars only) b, TAX RATES, b 26180, b STATE TAX - Column a, b LOCAL TAX - Column b, 01, 114 (Rev, and DDDD box.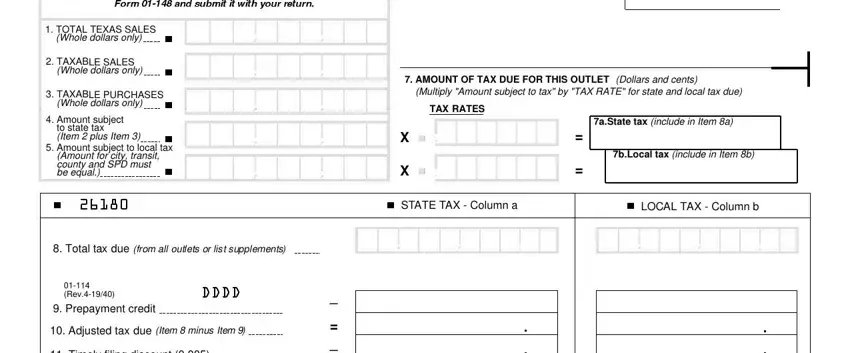 The system will request for more info to be able to easily fill in the segment 01, 114 (Rev, 15, a 15, b Mail to: Comptroller of Public, T Code Taxpayer number Period, and Taxpayer name.

Through section I declare that the information in, Taxpayer or duly authorized agent, Date, Daytime phone (Area code & number), and Make check payable to: STATE, identify the rights and responsibilities.

Step 3: Select "Done". Now you can transfer your PDF document.
Step 4: In order to avoid any kind of complications as time goes on, try to generate no less than a few duplicates of the file.